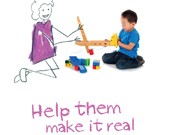 Calderdale needs more adoptive parents.
Nationally, there is an acute shortage of adopters and Calderdale Council is tackling the problem by launching a local campaign to recruit more.
The Council has streamlined the way it recruits and assesses adoptive parents, reducing the expected average time it takes for someone from starting the assessment process to becoming an approved adopter to six months. During this time potential adopters will learn more about the rewards and challenges of adopting a child and will receive preparation and support from the Council's adoption team. The Council launches its new recruitment campaign on Monday 5 August 2013.
Members of the Council's adoption team and Calderdale Councillors will be getting out the message:
'Adoption: help them make it real'. Team members are available to give expert advice and support to people who are interested in adoption, and during the last week in August will be on hand in locations across the borough to give information and answer questions.
The launch events will take place at the following locations:
Halifax
Brighouse
Hebden Bridge
Todmorden
Calderdale Council's Leader, Cllr Tim Swift, says:
"We want people who are able to make a difference to children's lives and who wish to build or extend their own family to think positively about adoption.
"In Calderdale, at any one time we have approximately 40 children in need of a permanent, loving adoptive home and in recent years we have recruited and approved approximately 12 adoptive families each year. This means that many children need to be placed with families who live outside the area. Our aim is to treble that number to place more of our children with families in the local region which will minimise the disruption for the child and also help us to more easily support the new family.
"We're launching our new adoption campaign to attract more people who are thinking about committing to becoming adopters but who may in the past have been put off by lengthy timescales. We are working hard to make sure that when people do make an enquiry, the path to becoming an adoptive parent is more streamlined whilst also making sure they receive all the information and preparation they need to support them.
"We are very fortunate in Calderdale to have a large number of successful and committed adoptive parents, many of whom already support our recruitment process by talking to new potential adopters at our information evenings and at our 'preparation training'."
The new campaign includes:
New advertising material strategically placed on billboards, buses, lampposts, roundabouts and more
Adverts placed in the local media and other publications
Clearer information on the Council's website
New information packs
Council staff will be issued with information on how people can become adoptive parents. People should look out for Council employees wearing the: 'Ask me about adoption'badges.
Calderdale Councils Cabinet Member for Children and Young People's Services, Cllr Megan Swift, says there is an urgent need to recruit more adoptive parents.
"We have a significant number of young children each year who are unable to return to live with their birth families. For those children the very best option is for them to be placed in a permanent adoptive family who will care for them into adulthood and be there for them throughout their lives. We know that the outcomes for children who are adopted are very good and that for many families adoption is a way of building their 'hoped for' family or for experienced parents to extend their family further.
"We work very hard to find the right adoptive family for all our children with an adoption plan, but due to a shortage of available families this often means placing children across the country. We hope to increase the number of families coming forward in Calderdale and our surrounding areas in order to place children more locally and for us to better support those families through our own adoption service.
"We have a very experienced adoption team who offer preparation training for all our adoptive families and work with them very closely throughout the assessment process and in considering the 'right' child for their family. We also offer ongoing support with finances and care where and when it is required, ranging from support groups through to therapeutic support where needed."
Anyone who is interested in adoption should visit Adoption or contact the Council on 0845 245 6000