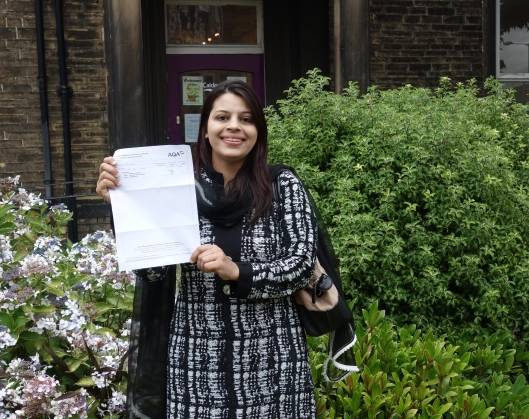 Teenagers aren't the only ones getting their GCSE results today. Adult learners across Calderdale are also finding out if they made the grade.
Riyma Raziq, age 35 from Elland, is celebrating after getting an A* in GCSE maths and a B in English, which she studied at Calderdale Council's Adult Learning Centre in Halifax. Riyma has an extra reason to be proud of her success, as she was pregnant while studying and gave birth just two days after her last exam. Read her story below.
This year 36 adults did GCSE English and maths through the Council's adult learning service, and more classes were provided than ever before due to high demand. All learners passed; 82.6% achieved grades A* to C in maths, and 69.2% got A* to C in English. Both figures are higher than the national average.
Calderdale Adult Learning offers GCSEs in English and maths. The courses are for people wanting to gain a nationally recognised qualification to help increase their job prospects, progress at work or access further study, as well as to improve their skills for everyday life.
Accredited courses are also available in 'Functional Skills' – courses in English and maths from beginners up to Level 2. They aim to build learners' confidence to prepare them for GCSEs.
Kevin Cheng, who manages Calderdale Adult Learning, says:
"We provide a wide range of courses to meet our community's needs. Courses take place in our adult learning centres in Halifax, Brighouse and Todmorden. They give people an opportunity to improve their skills with expert help and interact with other learners in a group environment. Our friendly tutors can help people work out their starting point and choose the best course for them."
To find out where Calderdale's adult learning centres are, and for more information on the wide range of courses available, head to the Adult Learning page on the Council's website. For enquiries, email cyps.cal@calderdale.gov.uk or call 01422 392820.
Riyma's story
"I want to be a primary school teacher, so I need my GCSEs in English, maths and science. When I found out about the courses at Calderdale Adult Learning, I called the Council straight away.

"I met with a tutor who helped me choose the best courses for me. I started GCSE maths and English classes last September at Horton House Adult Learning Centre in Halifax.

"I was volunteering as a non-teaching assistant at Cross Lane Primary School at the time, so the evening classes were perfect for me because I could fit them in around work.

"The best part was the tutors. At first I was nervous because it was a different environment, and I wondered if I would be able to do the work, but my tutors really helped me through and motivated me from the start. They gave me constant feedback on my work and helped me to improve, which prepared me for the exams.

"It was great being around other learners who were my age and in a similar situation to me. We all helped each other, had fun during classes and have stayed in touch.

"Being pregnant while studying wasn't a problem for me – I just carried on, even when I was overdue during my exams.

"Now I have a gorgeous baby boy and I'm a step closer to my dream career. Doing the classes has increased my confidence and skills in English and maths, and as soon as I have my GCSE science qualification I'll be going to college for teacher training.

"I would definitely recommend Calderdale Adult Learning to other people – in fact, my sister-in-law is about to enrol. I'm missing classes so much that I'm already looking into other courses that I can sign up for!"