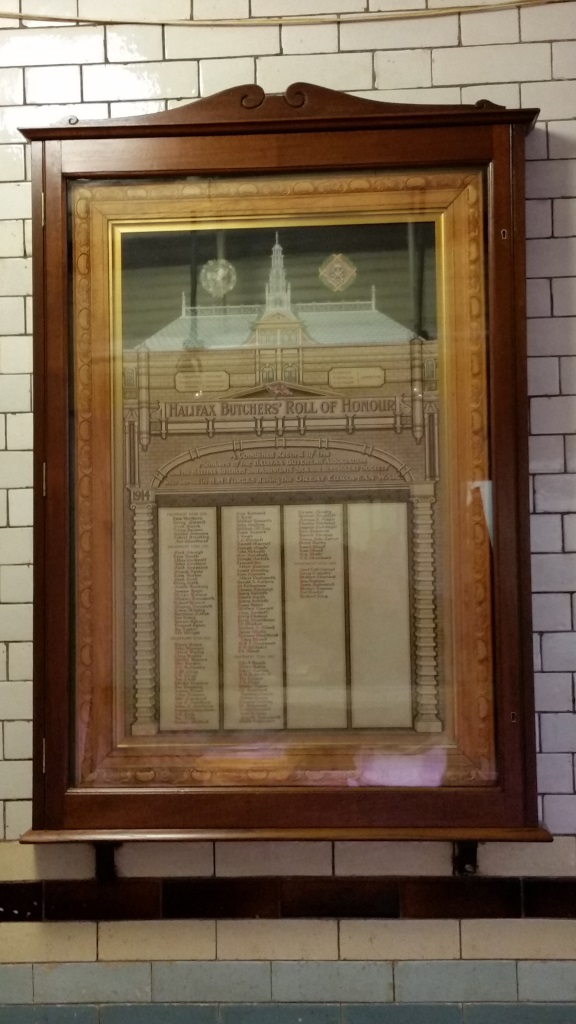 There are dozens of war memorials all over Calderdale. Many are in the places you'd expect, such as in parks and Churchyards, but others are in more unusual places.
One of the more intriguing memorials is the Butchers' Roll of Honour, which is in Halifax Borough Market. This plaque is on the wall towards the top end of the market and features a list of the members of the Halifax Butchers' Association, and the Halifax Butchers and Assistants Sick and Benevolent Society who served during the First World War. 
The Roll of Honour has recently been restored as part of Calderdale Council's programme to restore all of the memorials in the borough, of which 15 are memorials to the First World War. 
The work was overseen by Calderdale Council's Funeral Services Manager, Dave Clay and War Memorials Trust volunteer, Paul Clarke. The cabinet housing the scroll has been repaired and the glass cleaned to make the inscriptions stand out. 
The Butchers' Roll of Honour differs from many other memorials in the borough, as it was clearly designed during the war. The list of names inscribed on the Roll is not of those who died, but rather the butchers who enlisted in each year of the war (although unfortunately it's likely that some of the names on the Roll did not make it back). The date on the left of the Roll is 1914, but the end date is left blank. 
Dave Clay said:
 "The Butchers' Roll of Honour might not be one of the more famous memorials in Calderdale, but it is a really interesting feature of Halifax Borough Market – situated in an area of the Market which still houses butchers stalls today.  

"The restoration work on the Roll was carried out earlier this year, ensuring it was in a good condition to mark the centenary of the First World War. 

"Calderdale Council is restoring all the memorials in the borough, some with Council funding and others with the help of a grant from the War Memorials Trust. We're working hard to make sure that by the end of the centenary period in 2018, all the memorials in Calderdale are back to looking their best."
To view the historic Butchers' Roll of Honour, pay a visit to Halifax Borough Market. With its exquisite Victorian architecture dating back to the early 1890s, you can soak in years of history, as well as benefitting from a unique, friendly shopping experience.