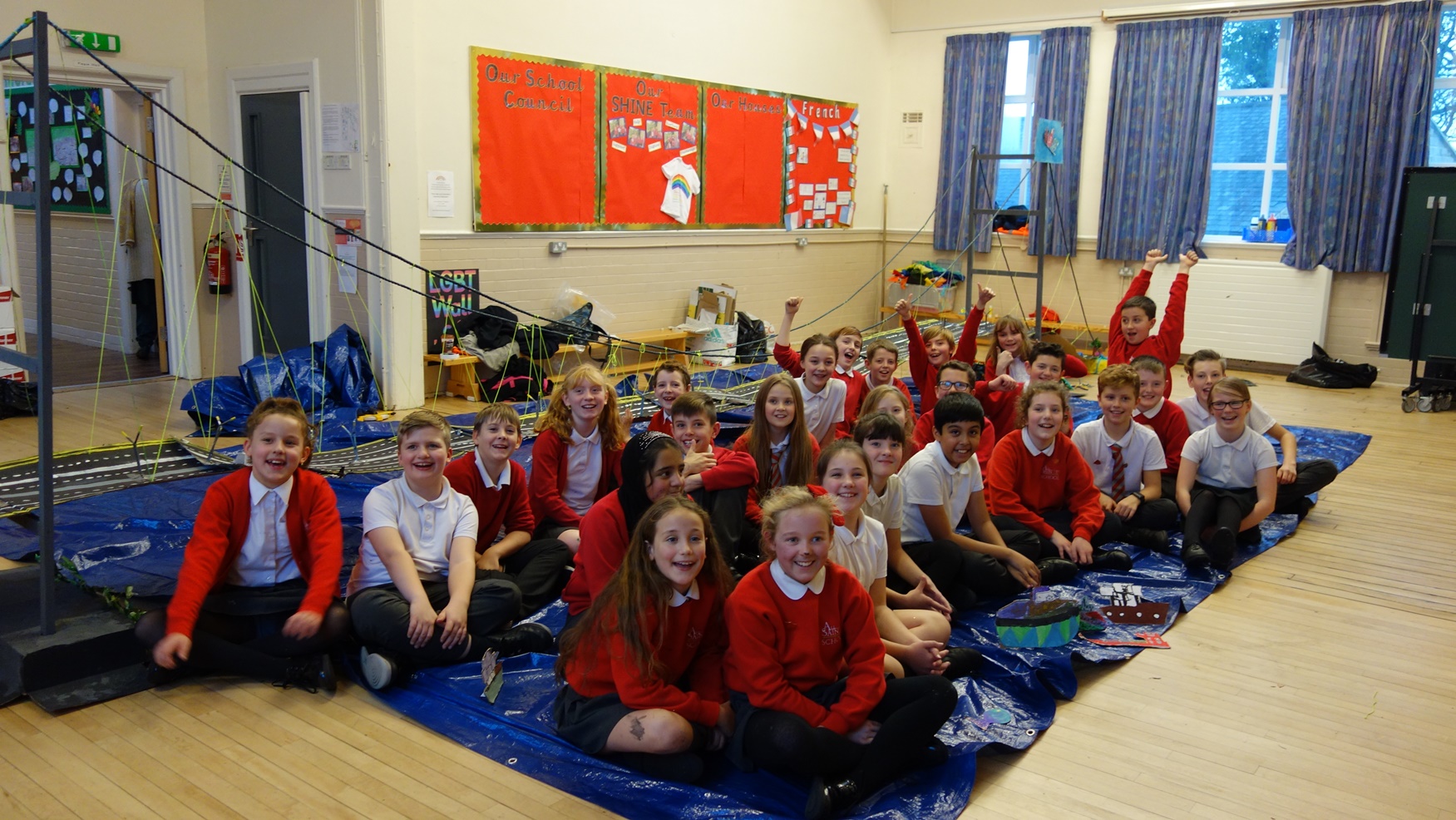 Pupils at All Saints' Junior and Infant School in Halifax have been getting creative by building a model of Yorkshire landmark, the Humber Bridge, entirely out of recycled materials.
The school is taking part in the Big Build competition, run by construction industry mascot, Ivor Goodsite. Big Build aims to get children thinking creatively about the environment and people's impact upon it.
To support the school, Jackson Civil Engineering, the contractors for the A629 Salterhebble to Shaw Hill project, and Calderdale Council's major projects team were on hand to help students with their model and share their construction and project management knowledge.
The task of building a model of the Humber Bridge, the UK's longest single-span suspension bridge and the eighth longest in the world, has given students an exciting opportunity to learn more about the construction industry. All of the students got really involved, building, painting, drawing and coming up with some very innovative solutions.
Calderdale Council's Cabinet Member for Regeneration and Economic Strategy, Cllr Barry Collins, said:
"With the Salterhebble section of the A629 scheme now in its final few weeks, I'm glad our project team and contractors were still on hand to help All Saints' School with its entry to the Big Build competition.

"Pupils really enjoyed the experience and also learned about the construction industry and the importance of sustainable development."
Calderdale Council's Cabinet Member for Children and Young People's Services, Cllr Megan Swift, said:
"Pupils at All Saints' did a great job building their model of the Humber Bridge. They also had a really useful insight into the varied roles within the construction industry – which may have given students ideas for career options to pursue in the future."
Jackson's Section Engineer, Liam Gallagher, said:
"It has been amazing seeing the excitement and awe on the children's faces when we go to see them each day and set them tasks to get the build complete. Whether it be making street lights out of straws or painting cardboard to create a dual carriageway, the children have been fantastic and are a credit to the school.

"None of this would have been possible without the help of the children, parents, teachers, members of the Council's major projects team and the Jackson team, who have helped throughout this big build, everyone has pulled together as team."
Nicola Dumbreck, Deputy Head Teacher at All Saints' CE Junior and Infant School, said:
"As a school, we are working hard to ensure the curriculum we offer our pupils is broad, balanced and rich. Thanks to The Big Build project, and the support from Jackson's, we have been able to bring our Creative Curriculum alive and add further substance to develop our pupils' design and technology, art, problem solving and team work skills.

"We believe that memorable experiences like these boost children's engagement and confidence, for all children, and we are delighted with the outcomes that have been produced. Thank you to all the staff for supporting the school's first Big Build, but a special mention must go to our amazing children."
The A629 Salterhebble to Shaw Hill project is part of Calderdale's Next Chapter, a portfolio of projects aimed at achieved a sustainable future for our borough. To find out more visit www.calderdalenextchapter.co.uk(external link) 
ENDS