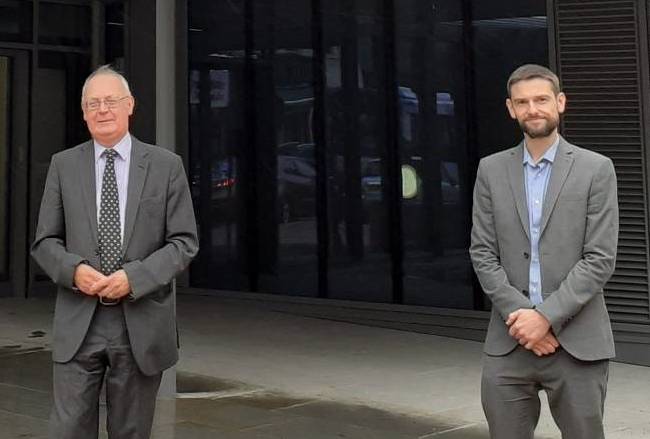 The brand new Trinity Sixth Form Academy in Halifax town centre is ready to welcome its first students this September, as Calderdale Council has handed over the state-of-the-art building to Trinity Multi-Academy Trust.
This key milestone follows the completion of the multi-million-pound construction project to transform the former Central Library into a top-class learning facility and to help regenerate the town.
Spaces throughout the building have been specifically designed to enhance the learning experience through abundant daylight and natural ventilation, creating a welcoming, healthy environment. A new glass atrium in the centre of the building, open from the ground floor right up to the roof, gives a wonderful feeling of space that is bound to inspire students for years to come.
The central Halifax location and close proximity to excellent transport links are proving to be attractive benefits for students, and further demand is anticipated now the building transformation is complete. Trinity Sixth Form Academy has opened a late applications process on its website at https://sixth.trinitymat.org/(external link) for those wanting to apply for a place from September 2020.
The location was also chosen to help boost economic growth by increasing footfall, spending and jobs in the town, and to support the Vision2024 for Calderdale through the Council's Next Chapter programme to transform the borough through major capital projects.
Cllr Jane Scullion, Calderdale Council's Cabinet Member for Regeneration and Resources, said:
"We're delighted to hand over the running of this fantastic new facility to Trinity Multi-Academy Trust. Bringing this key site back into use will add to the vibrancy and prosperity of the town, which is more important than ever at the moment."
Cllr Adam Wilkinson, the Council's Cabinet Member for Children and Young People's Services, added:
"We know that Trinity Multi-Academy Trust will do a great job of running the new sixth form centre and helping young people to achieve their best. We're really excited for students to start experiencing the new building from September. It will add to the great existing post-16 options already available to young people in Calderdale."
Michael Gosling, CEO of Trinity Multi-Academy Trust, said:
"We are delighted that our vision for a new specialist post-16 college for the young people of Calderdale has been delivered, and extremely proud to be part of the wider regeneration of the town, and the combined impact it will have."
The Trinity Sixth Form Academy partnership project has been completed by Calderdale Council, Trinity Multi-Academy Trust, Rastrick High School, LDN Architects, Blacc Ltd and a range of local contractors.
The new sixth form centre adds to the fantastic range of post-16 facilities available across Calderdale, giving local young people more choice to continue their studies in either a school or college-based setting. This helps to keep students and talent within the borough. The other post-16 providers in Calderdale are Brighouse High School, The Brooksbank School, The Crossley Heath School, North Halifax Grammar School, Ravenscliffe High School and Sports College, Ryburn Valley High School and Calderdale College.
More information:
www.sixth.trinitymat.org(external link)
http://calderdalenextchapter.co.uk/projects/halifax-northgate-house(external link)