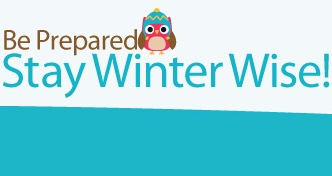 Residents across Calderdale can find all the information they need to be winter wise this year.
Winter is on its way and temperatures have really dropped in recent weeks. Calderdale Council is busy making sure it's prepared for a period of bad winter weather and is advising residents to do the same.
After the success of last year's Winter Wise booklet, the Council has updated the winter website – providing lots of practical advice to help protect and prepare for the coming cold weather.
The advice includes having regular hot meals, layering clothing and keeping active. We recommend that people ensure they have enough medication to last if they can't leave the house and stock up on non-perishable items. We are also advising that people check on their older or vulnerable neighbours, offering assistance when needed, for example clearing paths or moving bins.
The guide is available online and information is on display in public buildings and doctor's surgeries around Calderdale.
If we do have a snowy and icy winter, the Council has gritters and drivers ready for action when they need to treat the roads on our gritting routes. During winter the gritting team are in constant touch with the Met Office and base gritting actions on its forecast. They also make sure that the 600 salt bins across Calderdale are full.
The Leader of Calderdale Council, Cllr Stephen Baines, said:

"During bad weather it's important that do all we can to keep people safe. We work hard to make sure we are as prepared as possible, and we're advising residents to prepare for bad weather too.

"The advice on our winter website will help reduce risk should a period of bad weather hit."
Head to www.calderdale.gov.uk/winter  for information including disruptions, closures and travel advice. For updates during bad weather you can also follow @Calderdale and @Calderhighways on Twitter.