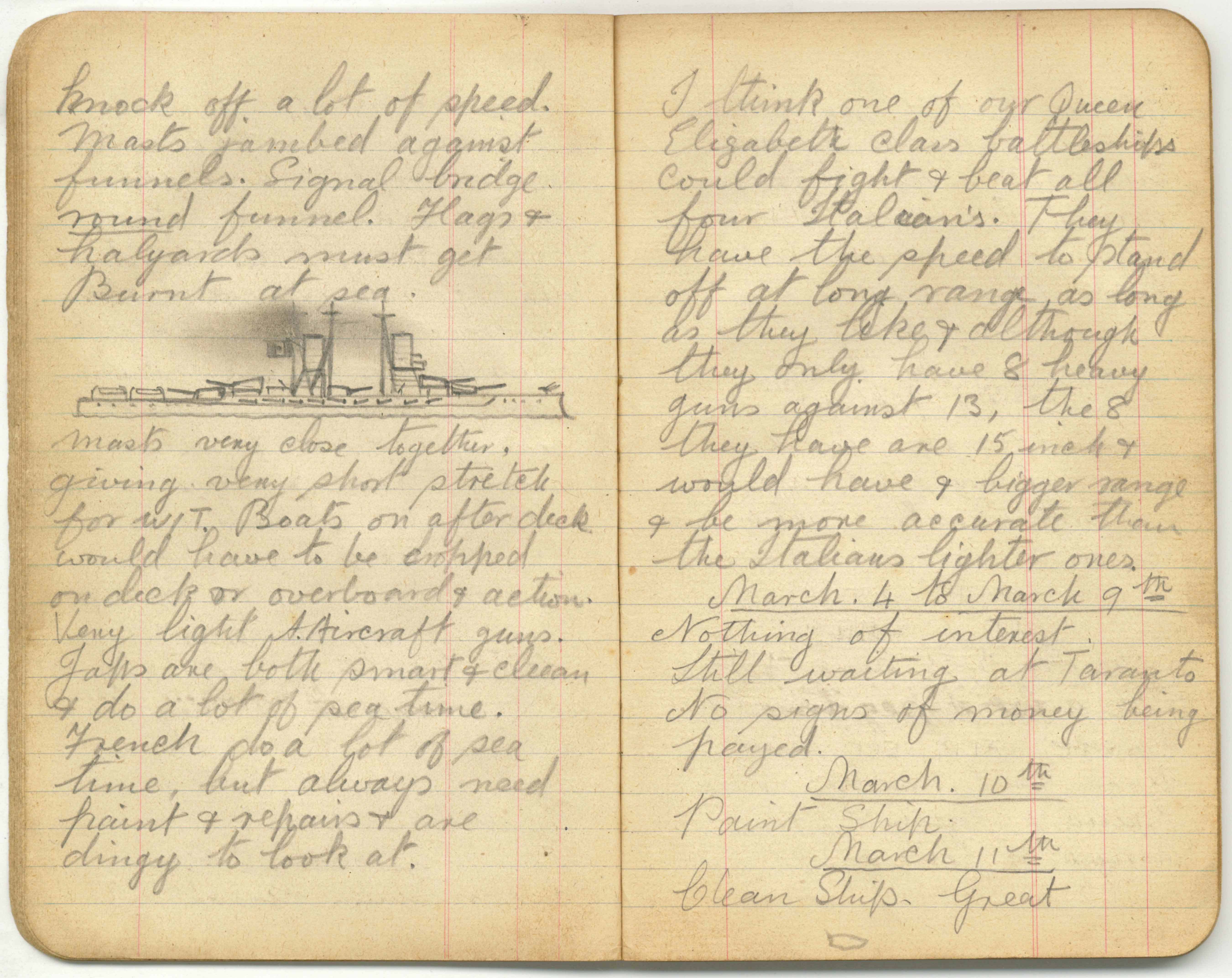 The King and Country exhibition at Bankfield Museum has now been open nearly 5 months and over 10,500 visitors have seen the fascinating collection of objects and artefacts on display to mark the centenary of the First World War.  
Of the 60 interesting and poignant stories that feature as part of the exhibition, one stands out as being particularly intriguing.  An unknown sailor's diary is on display, giving a frank and descriptive account of life in the British navy at the time of the First World War. 
The diary was discovered in the attic of a house in Halifax, and despite numerous attempts to discover the owner, or anyone who has any clues about who could have written it, the author still remains a mystery. 
The diary gives a day by day account of life on a naval ship during the War. Almost every day has an entry, and the content of the entries vary from the mundane "March 10th – Clean ship. Great." to the more serious and dangerous "May 12th – At 2.37am crashed into an American Destroyer…Smashed a huge hole in our bows and holed her engine room.". The diary also contains intricate drawings of boats he encounters and sketches of scenes in dock and on the sea. 
Calderdale Council's Head of Neighbourhoods, Andrew Pitts, said: 
"The King and Country exhibition at Bankfield Museum offers a fascinating insight into life during the First World War, both at home and abroad. The sailor's diary provides one of the most thorough accounts of life serving as an officer during the War, and is particularly intriguing because of the mystery surrounding its owner." 
The owner of the diary is David Greenwood, a former naval officer himself, who has yet to find any real information about who the diary belonged to. 
David said:
"The diary is an incredibly interesting read. It's from 1918, and there's an entry almost every day, including Armistice Day. There are also vivid drawings to accompany some of the entries, which are very good. 

"I was given the diary in the 1980s and tried to find who it belonged to, without much success. I did my own research looking through naval records and matching details up, and I believe that the sailor was on board HMS Engerdine – it was a seaplane carrier and there were not many around at that time. 

"I'd given up hope of finding out any more about it really, but when I saw the 100 years commemoration exhibition was taking place at Bankfield I thought it was time to get it back out for other people to enjoy. Perhaps someone visiting may know something more." 
A full copy of the diary is available in the Research Room as part of the King and Country exhibition at Bankfield Museum.  
Bankfield Museum is open Tuesday – Saturday from 10am – 4pm and entry is free. For Christmas opening times visit www.calderdale.gov.uk/council/councildepartments/bank-holiday