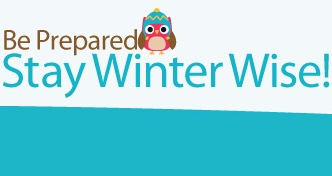 Residents across Calderdale have chance to win six fantastic prizes this winter. All households in Calderdale should have received their handy guide to keep safe, warm and healthy this winter produced by Calderdale Council and Calderdale Commissioning Group (CCG). 
Last year there were 31,100 excess winter deaths in England and Wales in 2012/13 – this is a 29% increase compared with the previous winter when there were 24,200 deaths. The cold weather increases the risk of heart attacks, strokes, flu and other illnesses and older people are particularly at risk during this time.
Your Stay Winter Wise guide provides lots of practical advice to help protect and prepare for the coming cold weather. The advice includes having regular hot meals, layering clothing and keeping active. We are also advising people to prepare, ensuring they have enough medication to last if they can't leave the house and to stock up on non-perishable items. We are also keen that people check on their older neighbours and offer assistance when needed, for example clearing paths or moving bins. 
Calderdale Council's Leader, Cllr Tim Swift, said: 
"We are already getting excellent feedback on the winter campaign. The Council is already preparing for winter, but we want to make sure our residents are also doing everything they can to prepare and protect themselves and their family and neighbours." 
We are eager to get people's feedback on the guide, including whether it is useful and whether it can be approved. As an incentive we are offering prizes including a winter hamper worth £100, family tickets to the Dick Whittington Panto at the Victoria Theatre and annual family passes to the beautiful Shibden Hall, which always looks spectacular this time of year. Email winterhamper@calderdale.gov.uk or post your feedback to Communications Team, Third Floor Northgate House, Halifax, HX1 1UN. Don't forget to include your feedback, name and contact details. Winners will be selected randomly on 19 December and the hamper will be delivered by 24 December. 
Visit www.calderdale.gov.uk/winter for more information on the Winter Wise campaign.
 Be prepared this winter; be winter wise!