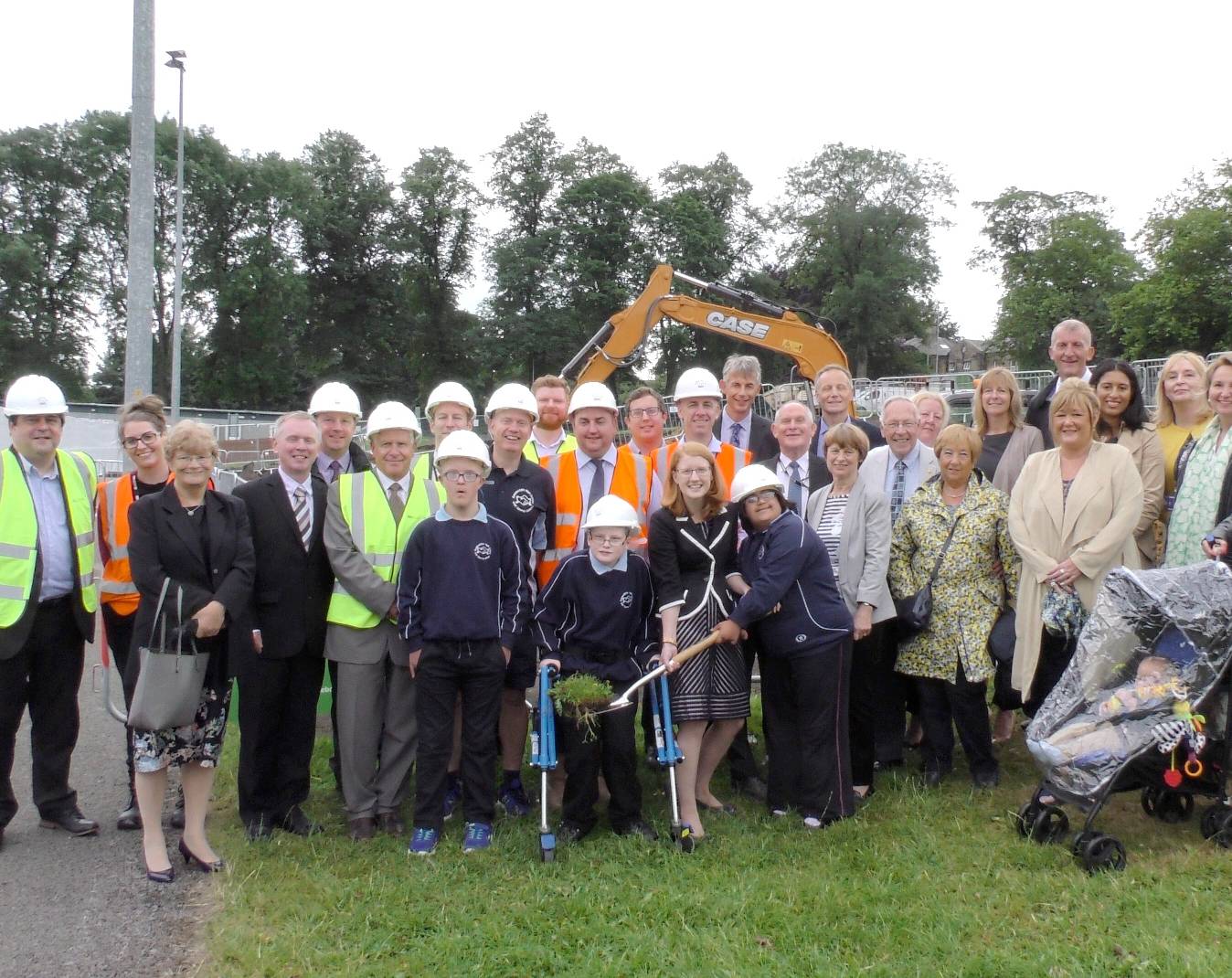 Construction of a £2.8 million state-of-the-art sixth form centre for Ravenscliffe High School and local people has started.
Calderdale Council has invested £1.6 million into creating an exciting new facility that will benefit both the school – which is the borough's only secondary special needs school – and the wider community. The Council has also provided the site for the new centre, alongside its athletics track at Spring Hall near to Halifax town centre.
The project is also being funded by significant contributions from the school, its many supporters and Sport England.
A special 'turf cutting' ceremony took place at the track on Friday 21 July to mark the official start of the project. Ravenscliffe High School students dug the first hole in the ground for the foundations, joined by Holly Lynch MP; Cllr Megan Swift, Calderdale Council's Cabinet Member for Children and Young People's Services; and representatives from Calderdale Council, Ravenscliffe High School, the construction contractor Esh Group(external link) and the building sponsors.
Watch the Council's video of the event on YouTube(external link).
Cllr Megan Swift said:
"I'm delighted that work is now underway on the Council-led Ravenscliffe@SpringHall project. It was wonderful to be part of such a special moment with those who have worked so hard to get this off the ground. Ravenscliffe High School and its sponsors have done a brilliant job raising their £1.2 million contribution. The school is now working hard to raise up to a further £500,000 for furniture and equipment.

"We launched the project to address increased demand for places at the school, which has real ambition for its students. The impressive new sixth form centre will not only provide a top-class learning space where young people can continue to make great progress; it will also be a place for local people of all ages to enjoy."
Features of the new facility will include modern classrooms, a striking new external courtyard, a café for students and local people overlooking the athletics track finish line, and a brand new changing room for students and all users of the track. The building will be highly energy efficient, with excellent accessibility throughout. Its track-side location will boost opportunities for sport and physical activity for all abilities.
Martin Moorman, Headteacher of Ravenscliffe High School, said:
"I think we all secretly wondered if we could actually pull off this challenge when we launched our appeal to supplement the funding provided by Calderdale Council, back in 2014. Our huge team of supporters have decided to back us magnificently and so many of them need to reflect with pride on their contribution to providing this very special moment. We are very grateful.

"It is impossible to name every single individual and group of people who have supported us on this journey, but we were delighted to be joined symbolically at the turf cutting by representatives from Calderdale Rotary, Lloyds Banking Group, Covea Insurance and Danny Sawrij and the organising team from Leo Group, who backed us so brilliantly just last week with a summer ball which raised £265,000 alone.
"In the tougher financial times of the last three years, it is a real thrill to recognise the 'can do' spirit shown by so many people to support our vision of providing a resource to be proud of for both the Ravenscliffe community plus the wider Calderdale community who will now be able to access an athletics track with an appropriate infrastructure of changing rooms, showers, café and accessible training / coaching rooms."
The new facility is expected to be completed by summer 2018, and open for the new school term in September 2018.