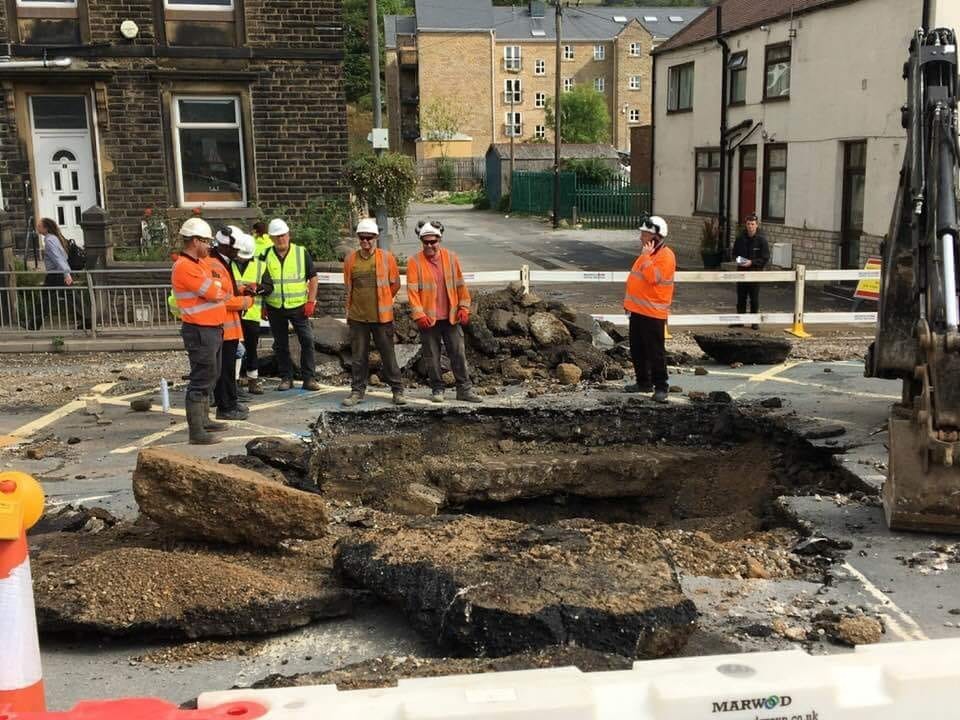 Following the significant damage caused to the A646, Burnley Road in Mytholmroyd, it is likely that the road will remain closed until at least Friday 7 September. 
Initial assessments have shown significant damage to the road surface, sewers and power cables which will require complex repair processes. Yorkshire Water is working to repair the damage and has agreed to undertake 24 hour working to ensure this is completed as quickly as possible. 
Staff from the Council and partners from Yorkshire Water, West Yorkshire Police, West Yorkshire Fire Service, Northern PowerGrid(external link) and the Environment Agency have all been assisting on site and will continue to monitor the situation. 
Diversion routes are in place via Littleborough, but motorists are recommended to avoid the area if at all possible and to plan alternate routes to get to all the villages and towns in the Upper Valley of Calderdale. People are also advised to travel outside of the rush hour if they're able. 
Bus companies have been made aware of the issue and routes 590, 592, 597, 900 and 901 are all affected. For the rest of the week, people are advised to use train services through the valley or make use of active travel options such as walking or cycling if possible or for shorter journeys. 
Yorkshire Water has confirmed that water supplies are affected and bottled water is available at Grange Dean Medical Centre in the village. The Council has been assisting Yorkshire Water to identify vulnerable residents who may require additional support and bottled water is being delivered to these residents.  
The closure is also affecting waste collections and residents are advised to leave their rubbish out as normal and it will be collected as soon as it is possible to do so. 
Updates will continue to be issued on social media and at www.eyeoncalderdale.co.uk(external link) and the Council will do all it can to ensure those affected are kept informed.
 The Leader of Calderdale Council, Cllr Tim Swift, said: 
"We're aware of how disruptive this road closure is and are working with our partners to ensure the damage caused is fixed as soon as possible.

"Unfortunately, due to the severity of the damage to the road and utility cables, we expect this closure to last a few days. We have requested round the clock working which has been agreed to ensure the work is completed as quickly as possible. 

"We'll continue to liaise with Yorkshire Water throughout the closure period and will continue to provide updates for residents and local communities who we know will be seriously disrupted by this water main burst."