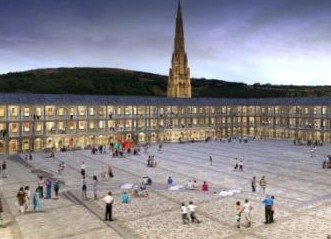 Nearly 70 businesses attended an event last week to find out about opportunities to help transform the Grade I listed Piece Hall and create a new, state-of-the-art Central Library and Archive in Halifax. 
On Friday 7 March 2014, tradespeople from across Calderdale, Yorkshire and beyond met the shortlisted main contractors bidding for the contract for the two projects that will help create a vibrant, world-class cultural quarter. 
The contractors are looking for a range of suppliers in a multitude of areas, and the event at Heath Training Centre in Halifax was a chance for organisations to discuss their skills and supplies, and register their interest in the project. Attendees included stonemasons, electricians, joiners, plumbers, paint suppliers, security firms and hoteliers. Feedback was very positive from the bidders and suppliers. 
Calderdale Council's Leader, Cllr Tim Swift, said: 
"I'm pleased that the event went so well and lots of businesses took part. It was a fantastic chance for tradespeople to discuss how they can contribute to, and benefit from, the exciting Piece Hall transformation and Central Library and Archive project. There's so much regeneration going on in the area and we're committed to making sure local companies have every chance to be considered for any potential opportunities."
 Work on the Piece Hall transformation and new Central Library and Archive will start later this year. The Piece Hall and library will open in spring 2016. The Piece Hall project is being funded by Calderdale Council and a £7 million grant from the Heritage Lottery Fund. The Grade I Listed building will be restored and revitalised, creating a 21st century heritage visitor attraction, with a state-of-the-art interpretation and learning centre, a new east extension and a redesigned courtyard. The new Central Library and Archive will be wholly funded by the Council. It will be a striking building which provides state-of-the-art facilities for the community, supporting the Piece Hall transformation and helping to create an improved pedestrian route from Halifax train station to the town centre.