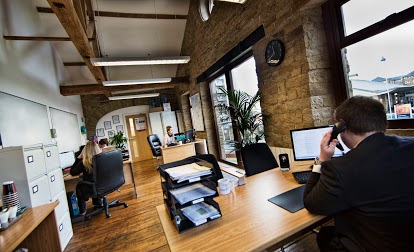 Calderdale continues to  punch above its weight in terms of new business start-ups both regionally and nationally. During  the past few years the borough has frequently been in the top three best performing areas in  the Yorkshire and Humber region. 
During January the Council's New Enterprise Business Start Up programme received a record high of 96 new enquiries, bringing the total to nearly 3,000  enquiries since 2009. The Council's service provides information, guidance and advice to anyone in the Calderdale area interested in becoming self-employed. 
The programme includes regular informal 'Start Your Own Business' drop-in sessions around the Calderdale area at various locations. Anyone unemployed or employed, can call in and receive free expert advice, ask questions and take away useful factsheets. The programme also offers free, confidential 1-to-1 meetings, 'starting a business' workshops and details of useful local business network opportunities. 
Calderdale Council's Cabinet Member for Economy and Environment, Cllr Barry Collins, said: 
"The Business Support Team is one of our real success stories, continually producing great results, in support of people who want to start  their own business. 

"Record enquiries and a healthy birth rate of new ventures not only reflect Calderdale's creative, entrepreneurial spirit but also help to underpin the future of our community." 
James' story 
James Howard set up his own business, Direct Card Solutions in 2012 and benefitted from Calderdale Council's New Enterprise Business Start Up service. He met with Calderdale Council's Business Enterprise Officer, Eric Binns, and found the advice he was given invaluable in setting up his company. 
James spoke about his experience with the team: 
"I'd moved from Wolverhampton to the Calderdale area in 2012 and was keen to start my own business but didn't know where to start. I rang the Council, and they referred me to their Business Support Team and to Eric Binns . I was looking to set up a business but had no contacts. Eric guided me in the right direction, and advised me of local networking events and useful contacts. He also gave helpful advice on business planning, marketing and managing finance.

"I'd always been employed previously; I'd never had my own business before. It was the first time and without guidance I felt isolated. I had a couple of 1 to 1 meetings with Eric, and I'll be eternally grateful to him for the connections and advice that he gave me. I needed confidence and the advice he gave was vital, and paramount in me setting up the business. As a consequence, I now have purpose built offices in Brighouse and provide payment services to businesses, chip and pin solutions and e-commerce – dealing with businesses all over the UK. I have five members of staff and we're still growing! We're recruiting for sales reps at the moment plus we're expanding, opening a new site in Birmingham and employing a rep in Liverpool also." 

"I'd definitely recommend the service to anyone who was looking to get a start in business, or just after some reliable advice."
Any Calderdale resident considering self-employment or anyone interested in setting up a new business in the area can contact Calderdale Council's Business Support Team on 01422 392222. The Team provides direct support as well as helpful links to partners like  the West Yorkshire Enterprise Agency , Mid-Yorkshire Chamber of Commerce and Elsie Whiteley Innovation Centre. 
For further details of the help available visit Business support