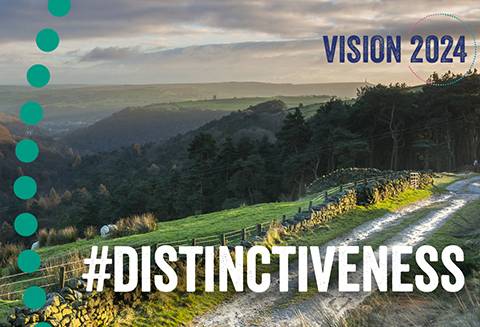 Plans to build on Calderdale's bumper tourism figures and develop the area as a distinctive, must-see destination will be discussed by the Council's Cabinet on Monday 15 April.
Tourism makes a significant contribution to the local economy. It's worth a massive £344 million – £96 million more than in 2010 – and supports around 5000 full time equivalent jobs in Calderdale. Visitor spend increased by 5% between 2016 and 2017.
A proposed new Visitor Economy Strategy for 2019 – 2024 shows how the Council could work with other organisations to grow Calderdale's visitor economy by £15 million per year; to increase the number of people visiting Calderdale; and to encourage more repeat visits.
Mark Thompson, Calderdale Council's Director – Regeneration and Strategy, said:
"Our tourism figures show that Calderdale is a thriving visitor destination, appealing to both a national and international audience. We hope to build on this by continuing to develop the borough as a unique place to visit, and by supporting our talented and enterprising tourism businesses to grow.

"We recognise the growing importance of culture and arts to Calderdale's distinctiveness and its appeal to visitors and local people. We're keen to develop this through our ongoing support for those who hold cultural activities, events and festivals."
The contribution of culture, heritage and arts to Calderdale's visitor economy is a key focus for the proposed Visitor Economy Strategy over the next five years. The reopening of the transformed Piece Hall in 2017 is a prime example of its importance. More than two million people visited this world-class destination within its first year of reopening, and it is strengthening the local and regional economy, enhancing local pride and putting Halifax and Calderdale on the map nationally and internationally.
The upcoming new HBO and BBC series, Gentleman Jack, which will explore the life of diarist Anne Lister, will help to boost cultural and heritage tourism through increased visits to Shibden Hall and other parts of Calderdale. The challenge will be to get the maximum benefit from this increased national exposure over the coming years.
More than 100 annual events and festivals take place across the borough's public spaces, supporting cultural tourism and bringing local people together. The Council has awarded over 100 grants, worth £221,000 in total, to 71 festival organisers since 2014. Making the most of this high-growth area is an important part of the strategy, with a focus on the public, private and voluntary sectors working together.
The talent, enterprise and creativity of local businesses will help to boost the visitor economy and contribute to the Vision2024 for Calderdale. In the year 2024, the borough celebrates its 50th birthday, and a key aim for that time is that Calderdale will stand out and be known. Proposals to grow the tourism business sector through a skills development programme, by working with education providers and creating more and better tourism job opportunities would help to nurture what Calderdale does well.
Where do we want to be by 2024? How will the Calderdale of 2024 be different from the place it is now? What ambitions do we share? Join the conversation by following #VisionCdale2024 on social media and visit www.calderdale.gov.uk/vision.
The proposed Visitor Economy Strategy 2019 – 2024 will be discussed at Calderdale Council's Cabinet meeting, which will take place on Monday 15 April from 6pm at Halifax Town Hall.