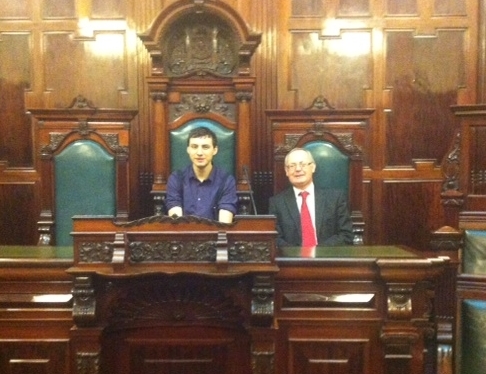 Local children and young people took over Calderdale Council for the day on Friday 22 November.
 The Council organised this as part of Children's Commissioner's Takeover Day 2013, a national event led by the Children's Commissioner for England which gives children and young people the chance to shadow jobs, get involved in decision-making and offer their opinions on key issues.
 26 young people from schools across Calderdale spent the day shadowing people who work for the Council, including the Chief Executive, the Leader, the playgrounds manager and the fitness manager.
 Calderdale Council's Cabinet Member for Children and Young People's Services, Cllr Megan Swift, said:
 "We were delighted to get involved in Children's Commissioner's Takeover Day. It gave young people fabulous hands-on work experience, an insight into how the Council works to help our communities, and a chance to meet a range of people and build their confidence. It was useful for Council staff to get the views of young people and a fresh perspective on their jobs.

 "I'd like to say a big thanks to all the staff and young people who took part. It was great to see the youngsters excited about the meetings they attended, blogs they helped to write, places they visited and games of football they played!"
 Ashley, age 18, shadowed Calderdale Council's Leader, Cllr Tim Swift. Ashley said:
 "I really enjoyed working with Cllr Swift. We went to meetings and visited some of the new developments in Halifax, including Customer First. I got a good insight into how the Council works and how decisions are made. It was a unique opportunity and very worthwhile for me."
 Cllr Tim Swift said: 
"Taking part in Takeover Day is a great experience. It opens up the Council to bright, imaginative and questioning young people who really make us think about what we are doing and how and why we do it." 
Maggie Atkinson, Children's Commissioner for England, said:
 "Takeover Day provides a brilliant opportunity for children and young people to make a difference to their schools and communities, put their views across and challenge the stereotypes about them that we hear too often. Children and young people have so much to offer. They bring ideas, imagination and energy which can really make a difference to organisations.

 "I am urging everybody to be brave enough to get children and young people into decision making. More importantly, try to make the day part of ongoing, not one-day-only, involvement of young citizens in your work."