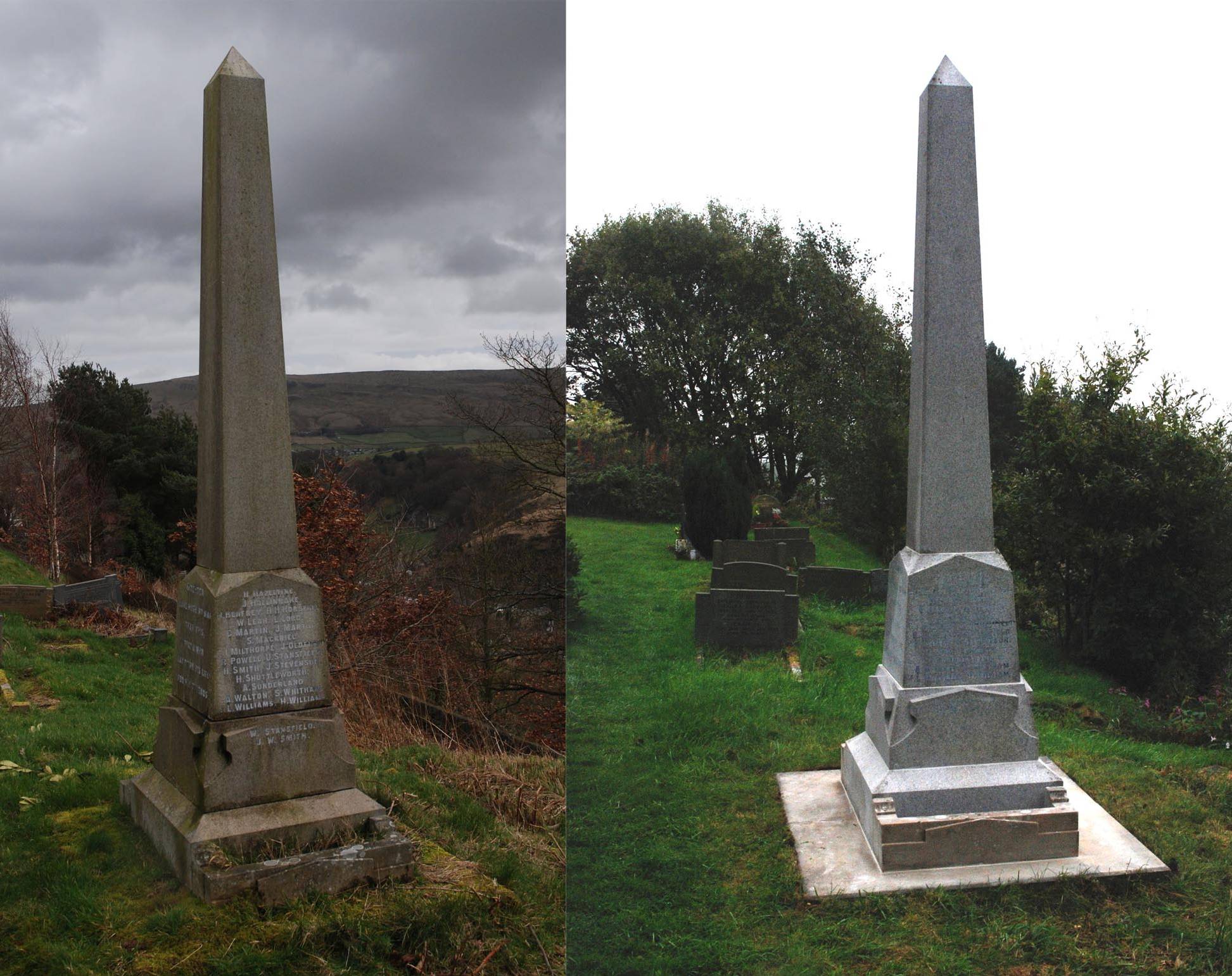 Respecting those who died for us
Our war memorials are looking cleaner and brighter thanks to work by Calderdale Council to restore them to their former respectful glory. 
Since February 2014, 11 memorials have been restored, and a further two will be brought up to standard by November – in time for Remembrance Day.
As part of the Council's work to mark the 100th anniversary of the First World War we are working with the War Memorials Trust to maintain all 28 of our war memorials.
The memorials restored so far this year are Cornhome, Rishworth, Triangle, Crow Wood, Southowram, Copley, Shelf, Cross Stone in Todmorden, Halifax Cenotaph, Bradshaw and Bailiff Bridge.
The Shelf memorial originally had a sundial on top, but it has been missing for years. The Council is trying to track down old photos of the memorial to find out what the sundial looked like, and is asking local people for any information or images that might help. The aim is to build and re-install one which is faithful to the original.
Specialist stonemasons are carrying out the restorations, which can take up to three days per memorial. As they are so delicate they each need to be cleaned using bristle brushes, water and good old-fashioned elbow grease.
One of the masons helping on the project has kindly volunteered to do this year's last two restorations – Rastrick and Clifton – at no cost to the Council.
Calderdale Council's Cabinet Member for Communities, Cllr Marcus Thompson, said:
"We want to make sure Calderdale's war memorials are part of our communities for years to come. They play an important and valued role in remembering those who sacrificed their lives in war, so we have invested in a four-year programme of restoration works to give them the care they deserve. The specialist stonemasons have done a fantastic job so far, and it's great to see memorials across the borough restored to a respectful standard."
The Council is applying for grants from the War Memorials Trust to part-fund the restoration work, which is taking place over four years to make sure Calderdale's memorials are up to scratch in time for the centenary of the end of the First World War. So far a grant has been awarded to fund half of the cost of restoring the memorial in Cornholme.