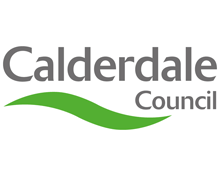 Residents in Siddal, Halifax, could benefit from improved roads and pavements in their neighbourhood if proposals are approved by Calderdale Council's Cabinet on Monday 15 September 2014.
Some of the roads and paths in Siddal are in very poor condition, causing problems for local services such as home care access and recycling collections, a risk of trips and falls, potential damage to cars, and difficulties for people using prams and wheelchairs.
The Council has £150,000 funding left from the former Regional Housing Board, which could be used to tackle the issues if agreed by Cabinet. Siddal has been put forward for the work because the steeply sloping streets are amongst the poorest condition in Calderdale.
The funding would be used to carry out improvement works including road resurfacing with traffic calming benefits; new, lower kerbs; and better drainage and lighting. Residents would be asked to help shape the design of the improvements as part of a consultation before final decisions are made.
Cllr Scott Benton, Calderdale Council's Cabinet Member for Corporate Asset and Facilities Management, Housing and Environment, said:
"When roads and paths are rundown, not only do they cause problems for residents, they can also create a poor impression of Calderdale as a whole. This can have knock-on effects on house values. We want people to feel proud to live in Calderdale, and tackling the most damaged streets in the borough would bring wider benefits for our communities."
The roads affected are private, meaning that the Council is not usually responsible for maintaining them. Also, the funding for improvements is very limited, so to make sure it benefits as many roads as possible, residents would be asked to contribute towards half of the cost of the works. It is expected that this would be offset by their house value rising in excess of the cost. In a previous consultation, 75% of residents said they would be happy to contribute to the cost.
The streets being considered for improvement are Browning Avenue, Cleveland Avenue, Longbottom Street and Ashgrove Avenue in Siddal.