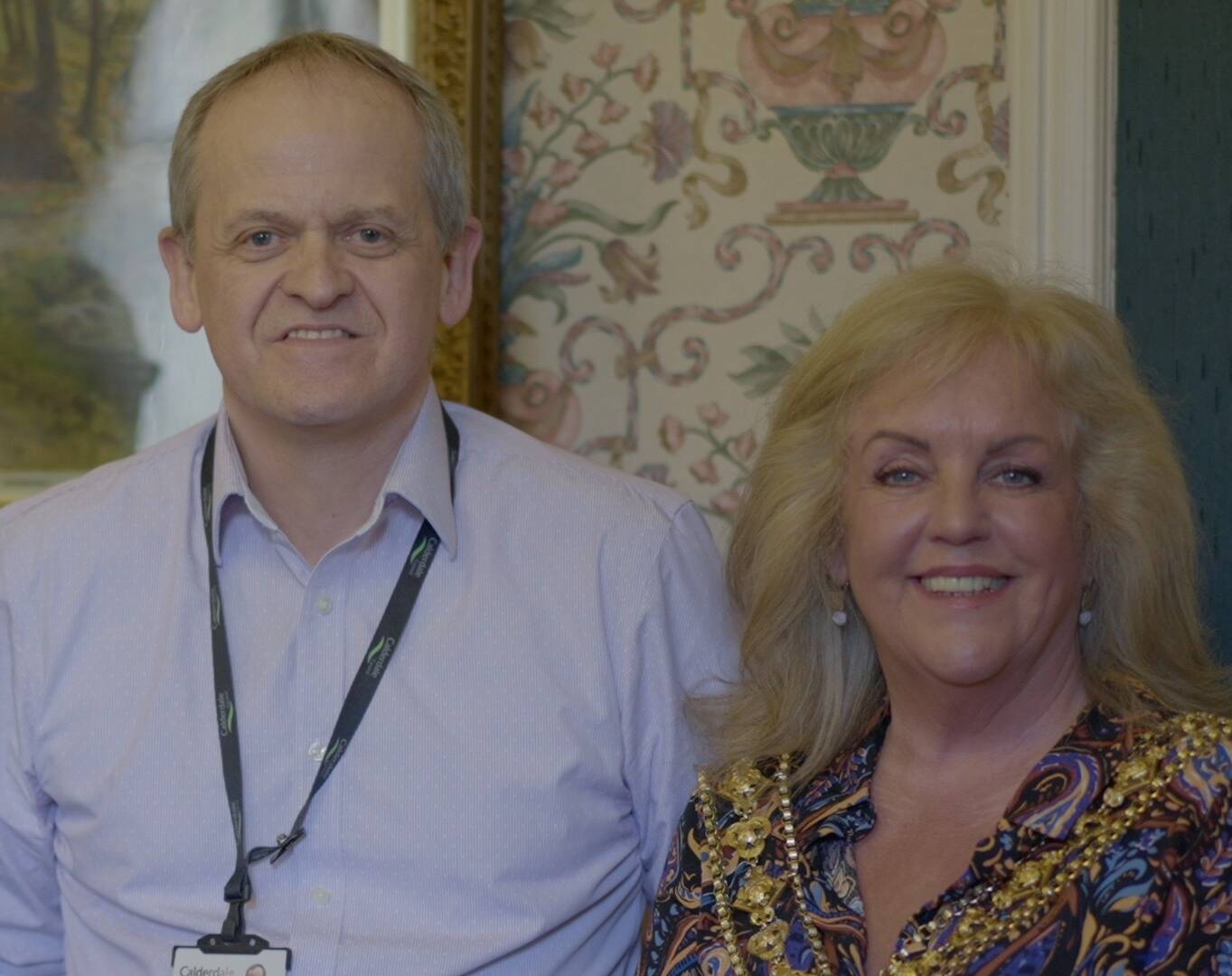 Eighteen Calderdale Council employees were recognised for a combined total of nearly 800 years of service at an event at Halifax Town Hall yesterday (Thursday 30 March).
The Council's Long Service Award Ceremony celebrated staff who have worked at the Council for 40+ years. This came after an event in January 2023 to recognise staff for 25+ years of service.
The Mayor of Calderdale, Cllr Angie Gallagher, made a speech at the ceremony giving her heartfelt thanks for the commitment of the long-serving staff. She says:
"I was so pleased to be part of this important celebration of service and successes in the magnificent setting of Halifax Town Hall. Congratulations to all our long-serving staff on achieving this significant milestone in their careers.

"Their 40+ years have been one heck of a journey and we honour them for their contribution in maintaining performance standards, their commitment to excellence, and the loyalty and dedication they have all given to Calderdale. I think I speak for everyone when I say thank you for all that they do."
Robin Tuddenham, Calderdale Council's Chief Executive, spoke at the event about the valued contributions of each colleague:
"This inspiring event reminded us all about what makes a career in local government so meaningful. The dedication of colleagues to public service makes Calderdale a better place, and in recent years, has played a vital part in our Vision 2024 for Calderdale.

"Looking around the room, I was reminded of the vast range of talent within our workforce. From adult social care and libraries, to finance and gardening, services across the whole Council were represented. I am proud of everything that they, and the whole Council, do for our communities.

"One thing's for sure, local government is very different from what it was 40 years ago. Our ability to adapt, innovate and meet challenges, with Calderdale's kindness, talent and resilience, is what makes our organisation special and helps us make a difference to communities every day."
Peter Vardy, Philip Johnson, Keith Whittaker and Paul Greenwood are some of Calderdale Council's longest serving members of staff. Peter, Philip and Keith all joined within a month of each other back in 1977, and are still doing their bit for Calderdale to this day.
Peter Vardy – Senior Events and Film Officer
Peter is approaching his 46th year at the Council. During his time in the tourism team, he has been at the forefront of major events in Calderdale, including the Olympic Torch relay in 2012, the Tour de France in 2014 and the Tour de Yorkshire. He has worked with local event organisers to safely deliver thousands of events, and most recently has been central to putting Calderdale on the map by making high-profile filming happen – including Happy Valley, Gentleman Jack, Ackley Bridge, The Gallows Pole and Marvel's Secret Invasion. Peter has developed the Film Calderdale(external link) brand and website to promote the borough's distinctiveness as a film-friendly destination.
Peter says:
"Little did I know when I started working for the Council that the experience would be as wide and varied. One day you are driving and shaking hands with the future King of England, and in what seems like the blink of an eye you are supporting the making of internationally acclaimed film and TV. My role with the Council has centred on making things happen."
Philip Johnson (Senior Operative) and Keith Whittaker (Operative) in Public Services
Keith and Philip are celebrating almost 46 years of service, after starting their gardening roles at around the same time in 1977 at Woodhouse Nursery, growing and maintaining bedding plants. Both currently based at Manor Heath, they continue to help this popular Calderdale park look its best, producing stunning floral displays and maintaining the Jungle Experience and Walled Garden. By brightening up the area for local people and visitors, they contribute to the Council's priority for thriving towns, and support the Active Calderdale movement by attracting people to get out and about in parks and open spaces.
Paul Greenwood – Finance Manager
Having worked at the Council for just over 45 years, Paul has developed from Payments Clerk in 1978, and subsequent roles in Internal Audit and Central Accountancy, to become Finance Manager. He has had financial responsibility for major capital schemes such as highways, West Yorkshire-plus Transport Fund schemes and the LED street lighting programme. The talent that Paul has built up over the years, and his kind approach, means he provides fantastic support to all Council services, helping the Council to balance its budget and have a strong and resilient financial position.
Paul says:
"It has been a privilege to work in the public sector and in particular support Calderdale Council to provide the range of services to residents throughout the borough."
The work of Council staff supports the Vision 2024 for Calderdale themes of kindness, resilience, talent, enterprise and distinctiveness. The year 2024 marks Calderdale's 50th birthday. Where do we want to be by 2024? Get involved with the debate on Twitter with #VisionCdale2024 and find out more at www.calderdale.gov.uk/vision