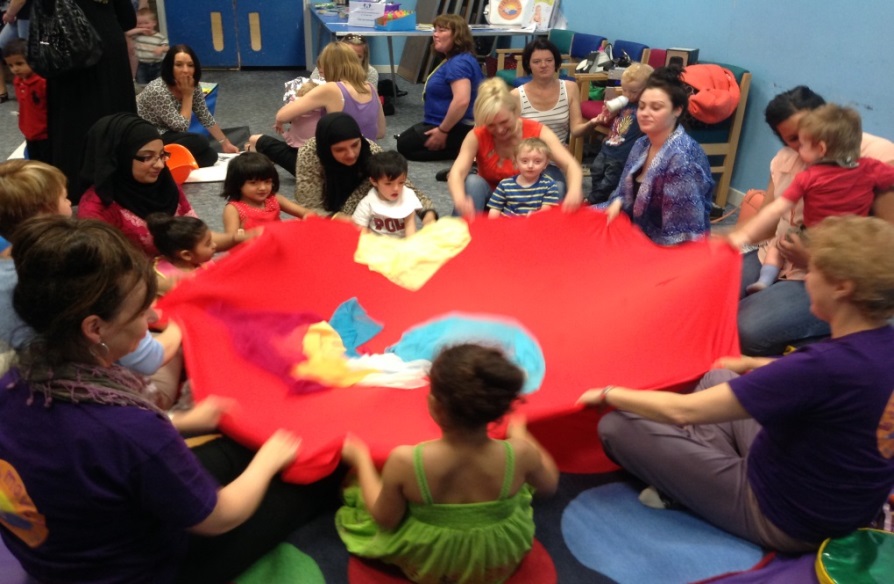 Parents and children who use Calderdale Council's Portage and Early Years Support Service have enjoyed a fun, family morning to celebrate National Portage Week.
Portage is a home visiting educational service for pre-school children who need more time and support to learn basic skills during their early years. The children develop and learn through activities that are play based and designed to be fun.
20 families attended the event at North Bridge Leisure Centre in Halifax, where many were meeting for the first time.
During the morning, the children explored the service's new range of equipment, purchased through a Capital Equipment Grant, whilst the parents/carers networked with each other, making new friends and sharing their Portage experience.
The families had the opportunity to experience a taster session from Baby/Toddler Moves – a company dedicated to raising awareness of the benefits of babies engaging more in physical development – which was greatly enjoyed by the children and adults. There was also the chance to gain ideas for cheap sensory items that can be made at home.
A variety of table top displays were available for the parents/carers, that included information about the National Portage Association, Calderdale Council's Portage Service and Calderdale Parents and Carer's Service.
One of the parents visiting the event said:
"It was a fantastic morning with lots of opportunities for parents and children to engage in multi-sensory and social activities. There was a happy, fun atmosphere and lots of happy, smiley faces."
Another spoke of the Portage service:
"Being involved with the Portage is one of the best things could of happened for my son. It has been brilliant."
Calderdale Council's Cabinet Member for Children and Young People's Services, Cllr Megan Swift, said:
"The Portage team provide an invaluable service for parents and carers looking after a child with additional support needs. Their home visits can further the child's development and also provide a reassuring presence for the rest of the family.
"The celebration event was a great chance for other Portage families to get together, share their experiences and make friends, knowing the children were enjoying themselves and learning together."
For more information about Portage visit www.portage.org.uk