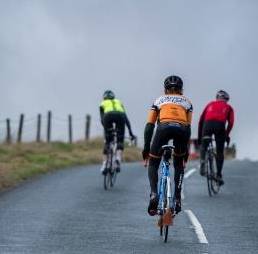 CityConnect has extended its Bike Friendly Business scheme to all businesses across West Yorkshire
Bike Friendly Business will mean a huge boost in support to West Yorkshire businesses wanting to encourage more of their employees to cycle to work.
Any business operating in West Yorkshire is now eligible to benefit from the improvements offered by the scheme. These include free consultation from cycling development advisors and the chance to secure a £5,000 grant towards improvements for staff cycling facilities.
Local businesses that have already benefited from the scheme include the Oak Church in Stanningley, Jacobs Consultancy, Steer Davies Gleave and Leeds Beckett University.
Councillor Keith Wakefield, West Yorkshire Combined Authority Transport Committee Chair said:
Active travel is a key element of local transport and the Combined Authority is committed to working with public and private sector partners to ensure we can make the Leeds city region a world-leader in cycling and walking.

We are already developing world-class cycling and walking infrastructure and through the Bike Friendly Business, we will work with companies to make commuting by bike more attractive and convenient. And the schemes and facilities developed through the Bike Friendly Business can in turn helping businesses to recruit locally and make jobs more accessible for surrounding communities.

On a wider basis, supporting local people to access employment and training through active travel modes, we will see an improvement in physical and mental health for more people who can benefit from CityConnect initiatives.
Jason Colbeck, Transport Coordinator at Leeds Beckett University said:
Being a Bike Friendly Business has been a fantastic experience for the University. It has allowed us to celebrate the excellent cycling facilities and initiatives we currently offer our students and staff, and our University has been awarded a Silver Award for its commitment to helping people cycle. More importantly, the scheme has provided a network for sharing ideas, resources and best practice, and helped us to improve. We look forward to continuing to work with CityConnect this year, to ensure we do everything we can to enable more people at our University to cycle, and become an even more bike friendly business.
By extending the Bike Friendly Business programme, CityConnect aims to help businesses address the transport barriers faced by people looking for work, whether they are jobseekers or apprentices, and open potential job opportunities to those people. Being able to cycle to work means people can access employment without the outlay of travel and parking. It also means people working less social hours have the flexibility to travel without relying on public transport.