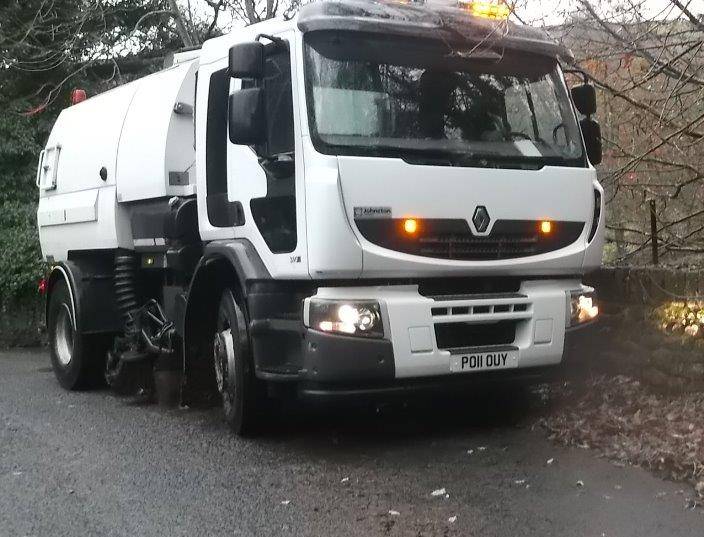 Spring may traditionally be the season to get things clean and tidy, but Calderdale Council is getting a head start on the usual spring clean, by focusing our efforts on cleaning the borough before winter fully sets in. The Council is committed to doing all we can to keep the borough clean and is committing extra resources which have been out and about since Monday night to clear fallen leaves. We will be deploying more staff over this weekend, with extended working hours over coming days. 
At this time of year, fallen leaves are our main problem. Since the start of November the Council's Safer, Cleaner, Greener teams have been out in force manually clearing leaves and using gully wagons and sweepers across Calderdale.  
An additional sweeper has also been introduced to supplement the two large and four small sweepers that are usually used. This extra vehicle will run until just before Christmas when the vast majority of leaves will have already fallen and been cleared. 
So far, over 100 tonnes of leaves have been collected by the large sweepers every week, for the last three weeks, with this figure likely to be increased for this week. This figure doesn't include the leaves cleared by hand and the small sweepers. 
The sweepers have been focusing on flood-prone areas as a priority, and have given extra attention to these areas following the bad weather earlier this week. 
The Leader of Calderdale Council, Cllr Tim Swift, said: 
"We know how important it is to clear debris and fallen leaves as quickly as possible, to ensure drainage can work as intended – an issue of particular importance in flood-prone areas. 

"Council teams have been working hard to deal with the large amounts of leaf fall that has occurred since the start of this month. The weather this week has meant that extra resources have been needed to deal with all the leaves brought down by the heavy wind and rain, and these crews will continue to work hard through this week and the weekend.

"Our staff have agreed to work extended days and weekends over the next fortnight. This shows the 'can do' approach and commitment to Calderdale of our Safer, Cleaner, Greener team." 
It is important that people report any blocked gullies to the Council to ensure resource is directed where needed. This can be done online at www.calderdale.gov.uk – search for 'blocked gullies'. 
To see our sweepers in action, follow #CleanCdale on twitter for photos and videos of Council staff hard at work.