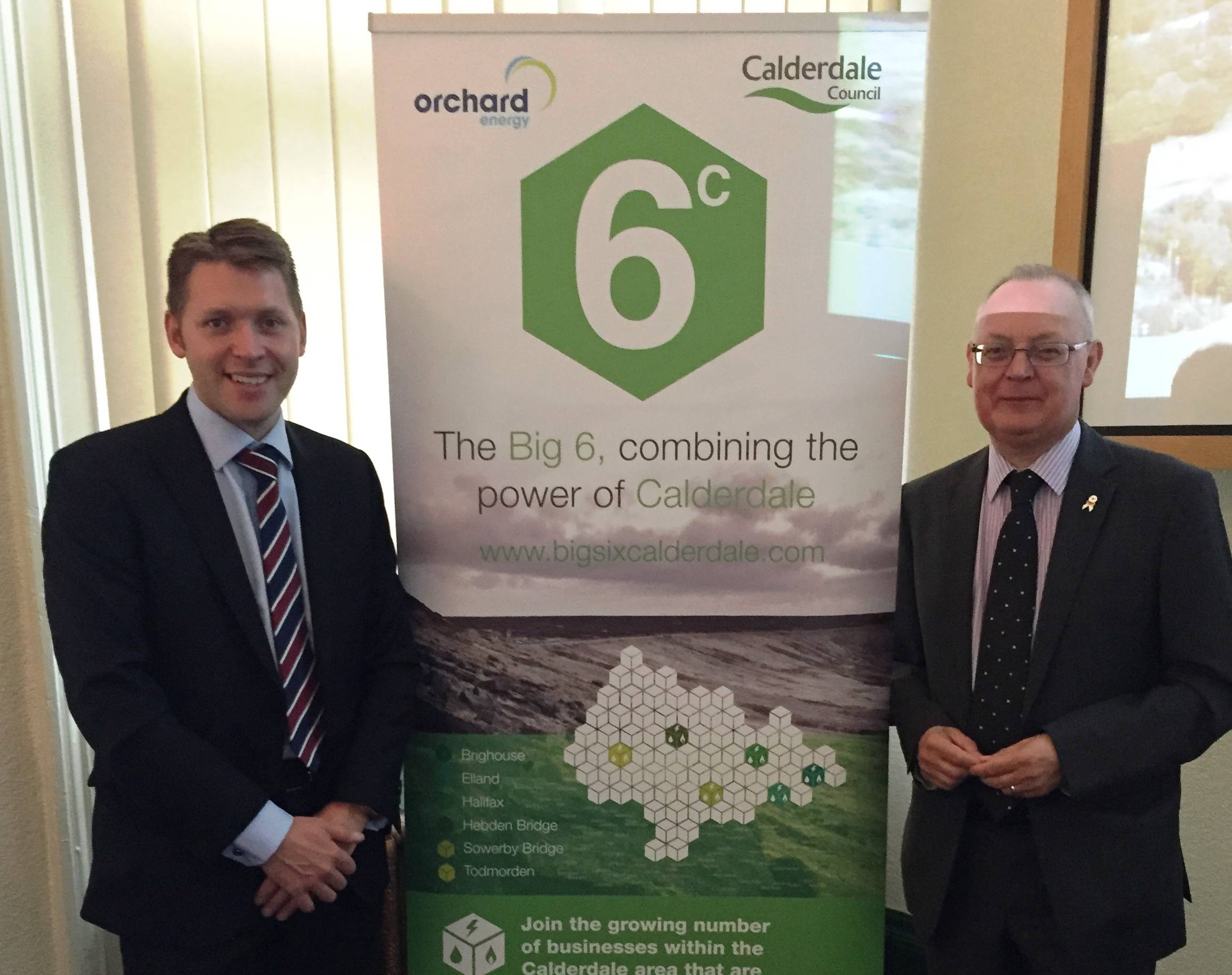 An exclusive energy buying consortium has officially launched that will enable businesses across Calderdale to pool their resources together and benefit from greater energy buying power and significant savings on their energy bills.
The Calderdale Energy Purchasing Club is a partnership between Calderdale Council and local energy experts Orchard Energy and was unveiled today at a breakfast networking event held at Halifax Town Hall, attended by Calderdale businesses, local councillors and representatives from the Council and Orchard Energy.
The opportunity is available to all Calderdale businesses and will be introduced at roadshows in six locations throughout the borough: Brighouse, Elland, Halifax, Hebden Bridge, Sowerby Bridge and Todmorden. By joining forces with others in the region, businesses will get access to better deals on their energy bills – the biggger the hub, the bigger the savings – as well as long-term stabilty with their energy prices.
Elland-based energy management specialists, Orchard Energy, already have long-standing customers in Calderdale, and will provide a dedicated account manager who will work closely with each business that becomes part of the consortium to create long-term strategies that will lead to measureable energy savings. Calderdale Council and Orchard Energy have already negotiated a plan to purchase directly from energy companies to provide local business users some of the lowest priced energy in the UK.
Interested businesses will have the choice between a flexible or traditional fixed contract. The flexible option is ideal for those with an appetite for risk, that want to profit from big savings. Busineses can maintain their individuality by being able to manage their own trades, but also benefit from the micro management of costs through their dedicated account manager, who can also, along with a flexible pricing analyst, advise on the best time to purchase. Credit issues can also be absorbed by the whole group, as well as third party costs, which can either be passed through or fixed.
The fixed contract, ideal for smaller volume clients, is a straight forward process that allows businesses to secure a future fixed price billed rate and a price guarantee, even if the market should fall before the contract goes live – the dedicated account manager will work hard to beat the original offer. Small businesses get access to high volume benefits for low energy consumption, there are no complex market analysis and third party costs can also be passed through.
Cllr Barry Collins, Calderdale Council's Cabinet Member for Regeneration and Economic Development, said:
"Calderdale has a thriving business community of all sizes and from a wide range of sectors. In particular we have a high population of manufacturing businesses that are heavy energy users. This exclusive initiative has been designed to bring together local businesses that want to reduce their overheads and play an important part in improving their local environment. With support from Orchard Energy, Calderdale businesses will reap substantial long-term financial benefits. This builds on, and will help to boost, the Council's Environmental Business Awards scheme, which provides free environmental accreditation and expert advice to local businesses to help them be more energy efficient and save money."
Gareth Henderson, managing director of Orchard Energy, said:
"We have been working with businesses across Calderdale for over 10 years, making significant savings on their energy bills by helping them find the best deals. We know the market inside out and what contracts work for each of our clients. The Energy Purchasing Club is a great way for small businesses to benefit from the perks that bigger businesses get, as well as an opportunity to increase their efficiency, which helps to reduce uncertainty in this current economic climate."
If you are interested in becoming part of the Calderdale Energy Purchasing Club, call 0844 581 0844 to speak to a local expert or email big6@orchardenergy.co.uk to see if your business is eligible.
For more information go to www.bigsixcalderdale.com(external link) or follow us on Twitter @EPCCalderdale for the latest updates.