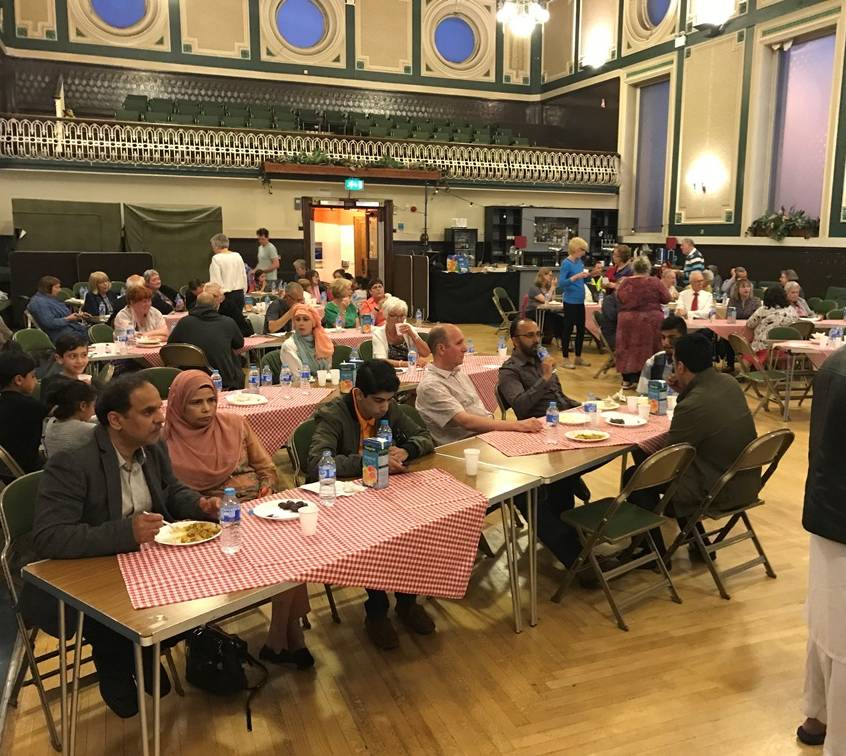 Over 100 local residents gathered in Todmorden Town Hall on Thursday 31 May to share an Iftar dinner together.
Iftar is a sunset meal enjoyed by Muslims when breaking their fasts, which they observe for 30 days during the holy month of Ramadan.
The event was funded by Calderdale Council and organised by Integrate Todmorden, a local community group dedicated to breaking down racial and religious barriers in the North West and Yorkshire.
Cllr Susan Press, Calderdale Council's Cabinet Member for Communities and Neighbourhood Services, said:
"We were delighted to support this event. It was all about bringing communities together and building mutual understanding, by opening up conversation and debate – as well as having a great time and enjoying some delicious food! It was fantastic to see people of all faiths and backgrounds sharing the Iftar feast."
Attendees learned more about Islam. The event was based on Islamic teachings that encourage mosques to be more than just places of worship, but also schools, community centres, homeless shelters and more.
A big focus of the event was on the importance of community cohesion and young people, with a local 15-year-old speaking movingly about what it means for him to fast and be a young British Muslim in the UK.
Nadeem Mir QPM, Chair of Integrate Todmorden, said:
"There's so much misunderstanding about the Muslim community these days, that people often miss a simple but crucial fact: we're British too.

"Todmorden is a wonderfully diverse community, and it's all the better for it. Events like this provide a safe space for people to discuss and learn about different cultures, breaking down stereotypes.

"The Quran teaches us to be kind and generous to our neighbours, of all faiths and none, and that's exactly what this open Iftar event was about."