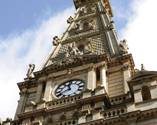 For only the second time in its 42 year history, Calderdale Council will not hold its next Full Council meeting in Halifax Town Hall's historic Council chamber. 
The meeting, which will take place from 6.30pm on Thursday 29 September 2016, will instead be held in the King's Centre in Park Road, Halifax. 
This will allow the Council chamber to be transformed into a cinema for a special screening of the 1957 classic 12 Angry Men, as part of Square Chapel Centre for the Arts' 'Other Rooms' programme. 
Square Chapel has temporarily moved out of its historic home next to the Piece Hall to allow the builders to complete the ambitious Cornerstone extension and the refurbishment of the Grade II* listed building. 
Until the work is completed, Square Chapel is based at the Orangebox Young People's Centre in Halifax.   Although there is no auditorium within its temporary new home, Square Chapel is still running a full programme of film screenings and performances throughout September by sharing alternative spaces and venues across the town. 
Mayor of Calderdale Council, Cllr Howard Blagbrough said: 
"We're delighted to support Square Chapel's 'Other Rooms' programme which is bringing Halifax's stunning architecture and beautiful spaces to a new audience.  It's such a brilliant idea showing how old buildings can be given a new purpose. 

"The Council has a strong commitment to supporting the culture, arts and heritage of Calderdale so when Square Chapel approached us we were really proud to be involved. 

"I'm just disappointed I won't be able to take part because of my commitments at Full Council!" 
Square Chapel's Director, David McQuillan said: 
"When we started planning 'Other Rooms' we knew we had to do something in the Council chamber; in a town blessed with many stunning spaces this is one of the most breath-taking. 

"We're absolutely delighted to be screening there and we're really lucky here in Calderdale that alongside their other vital business, our Council genuinely supports, prioritises and recognises the importance of arts and culture. 

"This is the most exciting time I can remember in Halifax and there's a real sense of momentum, partnership and collaboration building. We can't wait to see our beautiful auditorium again in October, but we're also having amazing fun exploring the other historic spaces in the town. 'Other Rooms' has been a phenomenal success so far thanks largely to the amazing buildings, organisations and people we have here. 12 Angry Men will be one of the highlights of this season, and with many of the other shows sold out, this is one of your last chances to experience 'Other Rooms'."
12 Angry Men will be screened in the Council chamber at Halifax Town Hall at 7.30pm on Thursday 29 September 2016.  Tickets cost £12 (£10 for concessions) and can be booked online at www.squarechapel.co.uk(external link) or by calling the box office on 01422 349422.
Throughout September Square Chapel Centre for the Arts is screening and performing 13 immersive pop-up films and plays in 'Other Rooms', spaces and venues across Halifax. To view the full programme visit www.squarechapel.co.uk(external link)