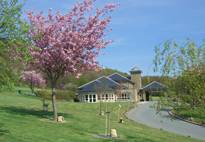 A new infant chapel has opened at Park Wood Crematorium, specially designed for smaller ceremonies. 
The new room, called the Snowdrop Chapel, is now open for small groups of families and friends to remember infants. The name has been chosen as the poem 'The Little Snowdrop' is read out during these services. 
Calderdale Council's Cabinet Member for Neighbourhoods and Communities, Cllr Susan Press, said: 
"Losing an infant is a heart-breaking thing for any parent to have to go through. At such a time we felt it was more appropriate for families to remember the child they have lost in a small peaceful room." 
The Snowdrop Chapel has seating for 12 people, and a small amount of standing room. It has been designed following consultation with a local funeral director; Chaplain, George Spencer; and the Obstetrics and Gynaecology Bereavement Officer, Anna Slee both from Calderdale and Huddersfield NHS Trust. Their opinions, guidance and suggestions have been used in design plans for the room. 
The windows have been decorated with coloured motifs, donated by local business, Briggs Priestley, to ensure a level of privacy in the chapel. The community group Calder Quilters have also worked on three quilted pictures which will be hung on the wall in the design of a living flame. 
Local landscape prints and floral arrangements have been donated by staff in Bereavement Services and the Bereavement Officer at the hospital. A piece of granite has also been given by a local stone mason for the wall plaque. 
As a lasting reminder, each family will be given a wildflower memorial token which when planted in the garden will grow in the shape of a heart or butterfly, together with a copy of the Little Snowdrop poem if they wish.