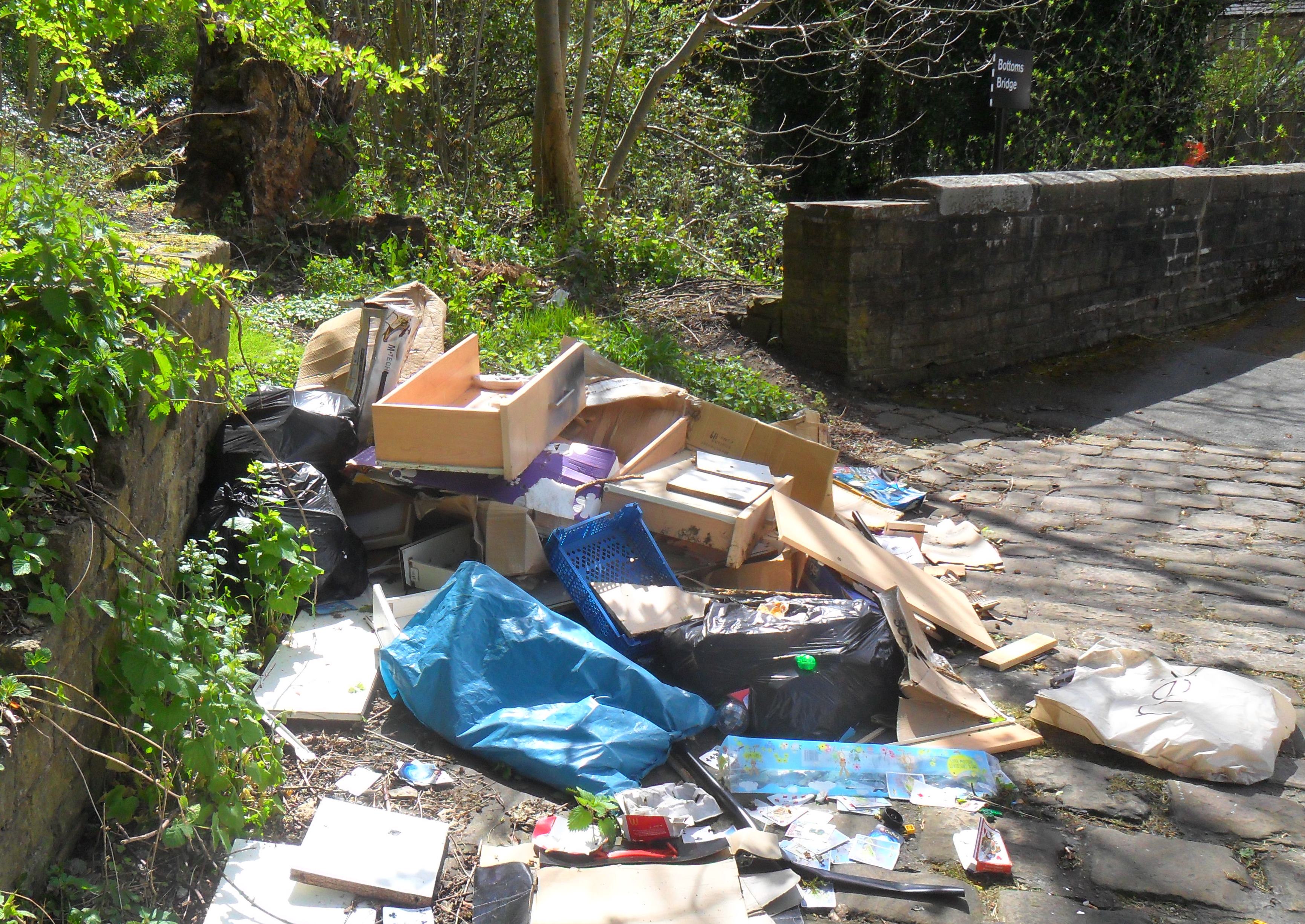 Calderdale Council is continuing to crack down on fly-tipping in the borough, and has recently brought cases against two local men. 
In cases heard by Halifax Magistrates on Friday 15 January, Mr John Bagley of Halifax pleaded guilty to a fly tipping offence under the Environmental Protection Act 1990, and in a separate case Mr Jody Newall of Bradford pleaded guilty to one offence of fly-tipping in Siddal, Halifax. 
Mr Bagley was given a community order for 12 months with the requirement that he completes 50 hours of unpaid work. He was also ordered to pay £600 in costs and a £60 Victim Surcharge. He had charged a resident to take her waste to the tip and instead had dumped it in Spring Hall Lane, Halifax. 
Mr Newall was given a two month curfew order from 7pm to 7am and was also ordered to pay costs of £250 and a victim surcharge of £60, for dumping a boiler flue, a bag of radiator valves, cardboard packaging, broken furniture and several black domestic sacks. 
The Council does all it can to stop fly-tipping, and will not hesitate to prosecute those responsible. 
In all cases, having as much information as possible helps to bring successful prosecutions, so the Council is urging people to come forward if they witness any fly-tipping. The following details are required:
The day, date, time and location of the fly-tipping
A description of any people involved
What was fly-tipped and how much
Details of any vehicle involved, including registration number, colour, make and model
You can report fly-tipping through the online form at www.calderdale.gov.uk or by calling the Council confidentially on 01422 288001. If you see someone fly-tipping, never approach them and don't touch or sort through the waste as it may contain dangerous materials.
Calderdale Council's Cabinet Member for Regeneration and Economic Development, Cllr Barry Collins, said: 
'These prosecutions show that the Council will take action against those who blight our streets and countryside with rubbish. Fly-tipping spoils our local environment, is harmful to wildlife and costs a lot of money to clean up.  

"We would also advise residents to be very careful before paying someone to dispose of any rubbish for them – check that they have a waste carriers licence. If they don't, then there is a strong possibility that your rubbish and confidential waste could end up dumped in the countryside.  

"The Council has five Household Waste Recycling Centres, and operates a bulky waste collection service which is often cheaper than the fees being charged by these unscrupulous fly-tippers."