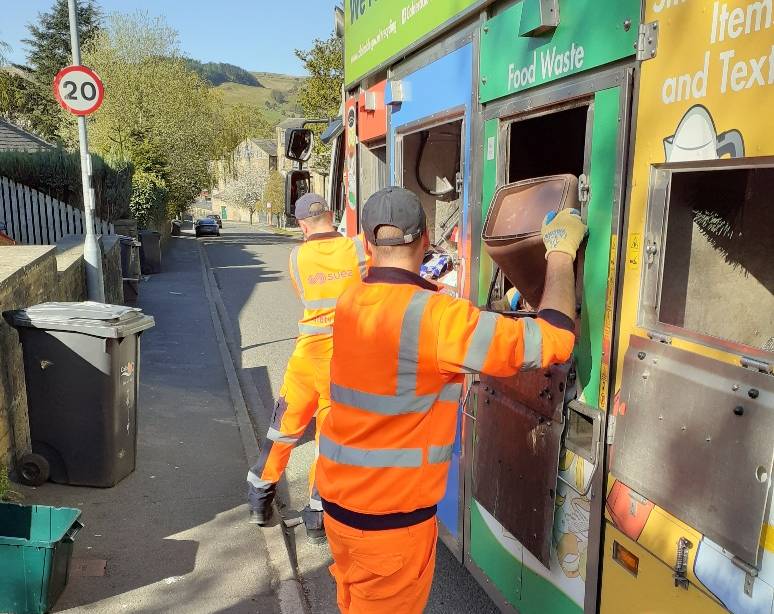 Calderdale Council's waste and recycling collection service will be discussed at its next Cabinet meeting.
Waste and recycling is the biggest service that the Council provides in terms of volume, with over 7.5 million scheduled collections from 95,000 households every year.
The Council's current waste and recycling collection contract has been with SUEZ since 2016. The original contract term is due to end on 31 July 2024, so options need to be considered now to ensure the service continues to run efficiently and effectively. Cabinet Members will discuss their preferred option at their meeting on Monday 12 June.
The contract covers weekly recycling and fortnightly waste collections from all Calderdale homes, plus collections of garden waste, bulky household waste and clinical waste, and delivery of bins and recycling containers. It also includes the operation of five Household Waste Recycling Centres across the borough, a Transfer Loading Station and Materials Recycling Facility.
The contract with SUEZ brought improvements to the service, including the ability to recycle more items to reduce waste and benefit the environment, new and improved vehicles, and in-vehicle technology to allow real-time reporting by crews. It also introduced a chargeable garden waste collection service and a re-use shop at Brighouse Household Waste Recycling Centre.
Calderdale Council's Cabinet Member for Public Services and Communities, Cllr Jenny Lynn, said:
"Calderdale's waste and recycling collections support our priority to take action on climate change, with less than 1% of waste going to landfill and a consistently high recycling rate that's been the best in West Yorkshire for over 10 years and in the top 50 of all councils in the country for the last two years.

"This is thanks to local residents for recycling so efficiently, as well as the fact that such a wide range of materials can be collected at kerbside.

"As we look ahead to the future of the waste and recycling collection service, the preferred option will be the one that builds on these strengths, provides good value for money and guarantees a regular and reliable service for residents."
The options being considered for the future delivery of the waste and recycling collection service are:
Extending the current contract with SUEZ for two years. Continuing the current service is recommended to give time for greater clarity around Environment Act changes, to provide the best value for money and to give more time to look into potential future options such as partnering with another council. Discussions with SUEZ have stressed the need for any extension to provide good value for money and a reliable service to residents.
Seeking a new contractor through a tender process. Uncertainties in the waste management industry, including recruitment challenges and possible changes to waste and recycling requirements through the Environment Act, could lead to a reduced number of companies bidding for a contract. This could reduce competition and drive up the contract cost.
Forming a Local Authority Trading Company, which would be a partnership with another council with trading capabilities. This would make it easier for the Council to make any changes in line with priorities, and would have lower procurement costs.
Bringing the service in-house to be provided by the Council. Discussions across the Council have highlighted this as a possibility in the future, but it would be risky in the short-term due to the cost and challenges of being ready to deliver in this way by 2024.
Calderdale Council's Cabinet meeting is on Monday 12 June at Halifax Town Hall from 3pm. The meeting can also be viewed online at https://calderdale.public-i.tv/core/portal/home(external link)