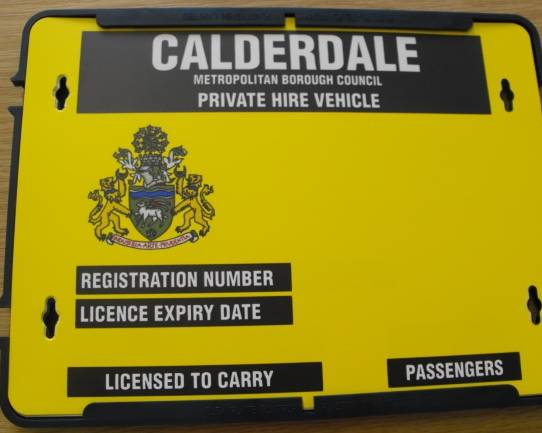 Taxi drivers will find it easier and cheaper to license their cars, and passengers will feel more confident that they are travelling in safe taxis thanks to a new licensing scheme introduced by Calderdale Council.
New, improved taxi and private hire plates came into place on 1 October 2014, which contain clearer information for public safety; cost half the original price for licence holders; and can be renewed much faster.
The licensing of hackney carriage and private hire vehicles is carried out by the Council's licensing team. Previously licence plates were provided by an external company, but now the Council is cutting the cost by creating them in-house, and is printing more information on them.
The plates now show the expiry date, licence number and registration number of the licensed vehicle – an improvement from the old plates which only showed the licence number and registration number. By including the expiry date, passengers can be confident they are travelling with a licensed driver in a roadworthy car. The benefit for drivers is that the plate acts as a reminder of when it needs renewing. 
This comes after the Council consulted with licence holders and members of the public earlier this year. Almost everyone said they wanted the new scheme to be introduced to benefit licence holders and taxi users.The new scheme was approved by the Council's Licensing and Regulatory Committee in April 2014.
Chair of the Licensing and Regulatory Committee, Cllr Robert Thornber, said:
"We recognise the important role that taxis play for residents and visitors travelling around Calderdale. Public safety and a high standard of taxi service is paramount, and through our new licensing scheme we have stepped up work to ensure this. By introducing the new plates, we have streamlined the process, saved time and money and can pass on those savings to licence holders."
The new plates are issued by the Council's transport service at Battinson Road, Halifax, following a successful compliance test. This means that drivers can start using their licensed vehicle straight away. It also means that if there is a problem with the vehicle, when it has its compliance test the plate can be easily removed there and then and the taxi can no longer be used until it meets the Council's policies.
Sajid Ramzan from the Halifax Taxi Owners Association said:
"We are extremely happy with the new plates. Having the expiry dates on them means that people can be confident they are travelling in a roadworthy taxi with a licensed driver."