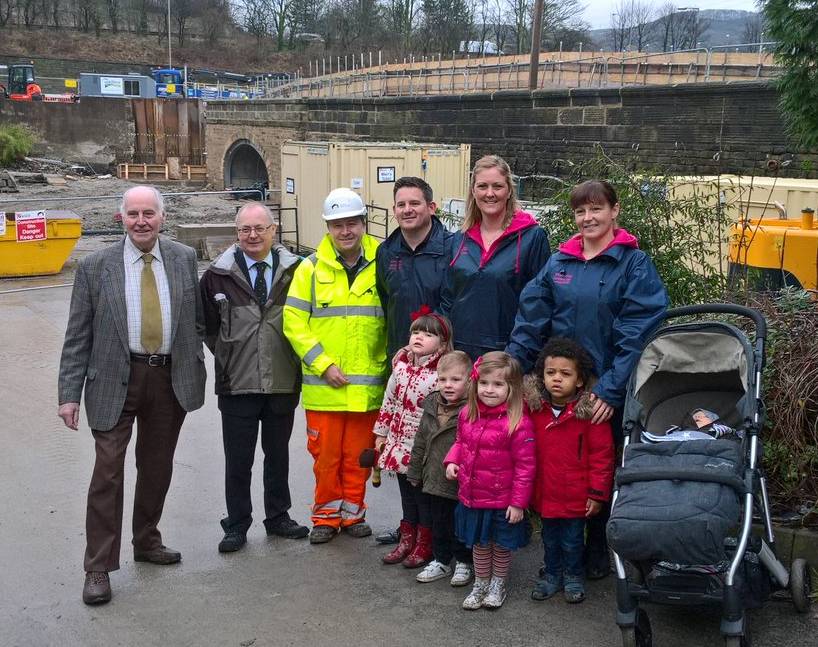 On Tuesday 17 January 2017 Elland Bridge opened to pedestrians and cyclists. The first people to walk across the newly rebuilt bridge were Joe Braithwaite, Chair of Elland and District Partnership, Joanne Wood and her colleagues and children from Elland-based Waters Edge Day Nursery.
Take a look at the video(external link) of the first pedestrians crossing the newly rebuilt Elland Bridge.
Cllr Tim Swift, Calderdale Council's Leader, said:
"This is good news for local residents and businesses. We know they are eager to see the bridge fully open, and this latest milestone gives a clear message that work is nearing completion. We're now very much in the final phase of restoring and strengthening Elland Bridge, and we expect it to reopen to traffic at the end of January 2017.

"Rebuilding Elland Bridge has been a complex and careful process. The outcome will be a much stronger bridge for Elland, which retains the historic features of the original but with much greater resilience against any future flooding. This is part of our work across Calderdale to do everything we can to minimise the impacts that floods have on our communities."
Graham Ramsden, project manager for the Canal & River Trust, added:
"We're delighted that local people can now use the new bridge. We know how important the bridge is locally so this is a really significant moment with the full opening to traffic also just around the corner. People will still notice ongoing works taking place around them, to surface the road and build the towpath underneath, but we hope they enjoy being able to use the bridge once again."
The rebuilding of the bridge is being financed through the Department for Transport flood recovery fund.