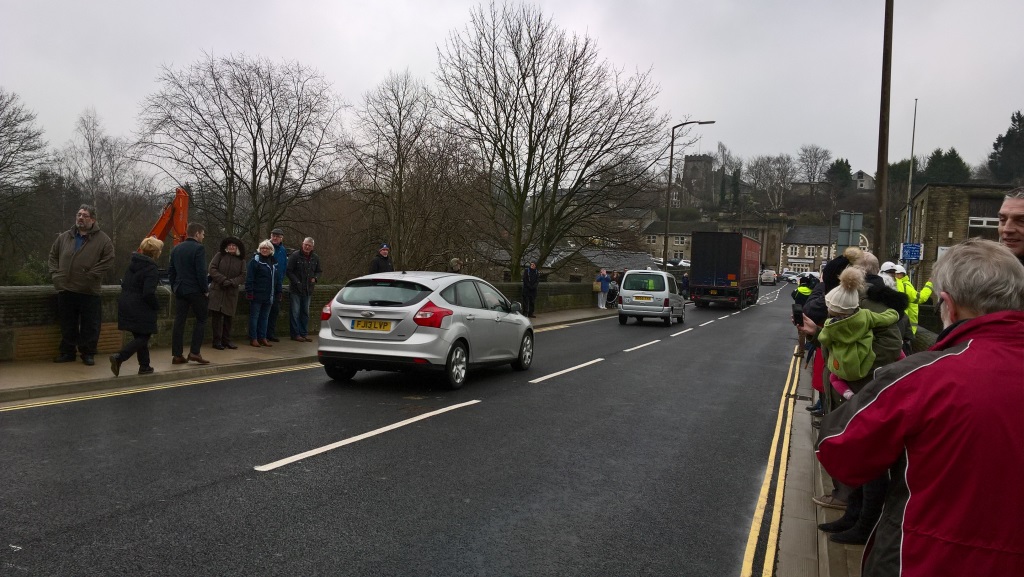 Dozens of local people gathered today (Wednesday 8 February) to see Elland Bridge reopen to vehicles for the first time since it was destroyed by the Boxing Day 2015 floods.  
Cllr Tim Swift, Calderdale Council's Leader, and Simon Bamford, director of asset delivery for the Canal & River Trust, declared the bridge open after cutting a ribbon, and the local Brooksbank School Sports College brass band played as the first vehicle drove over the newly rebuilt bridge.  
A minibus carried people from all parts of the Elland community, from businesspeople and community groups to school students and nursery children, as onlookers gathered to cheer them on. Elland C of E Junior and Infant School choir sang the song that they had written about Elland Bridge.  
The reopening of the bridge to vehicles comes after it opened to pedestrians and cyclists last month, and will be followed by an official opening ceremony in the coming weeks to celebrate the full completion of the bridge and reopening of the canal and towpath.   
Cllr Tim Swift, Leader of Calderdale Council said: 
"This is a hugely important day for Elland. The community has been incredibly resilient since the devastating floods, but we know that everyone has been eager to see the bridge fully open. Now that we've reached this major milestone the community can start to properly get back on its feet.  

"The Council and the Canal & River Trust have worked extremely hard to reach this stage, as we know how important the bridge is for residents, businesses, commuters and tourism. The rebuilt bridge will be much stronger and more flood resilient, whilst preserving most of the original historic features, and it will serve the community well for many years to come." 
Simon Bamford, director of asset delivery for the Canal & River Trust, said: 
"We couldn't be happier that the main road works have been completed and that local people can once again drive over Elland Bridge. This has been a complicated and challenging project but the local community have shown great patience and understanding and we're very grateful for their support. 

"With the road now open we'll be focussing on completing the remaining works at canal level, building the new towpath underneath the bridge and repairing the canal bed which was damaged during the floods. The whole project is expected to be finished by March." 
Work to rebuild Elland Bridge started quickly after the 2015 floods, and every step has been taken to keep the community as connected as possible, with temporary footbridges in place throughout.  
Rebuilding the 1811, Grade II listed bridge has been a very complex and careful process. For example, around 25 major utility cables and pipes had to be redirected. To preserve the historic features, all of the original stone has been reused on the new bridge.  
The work has been financed through the Department for Transport flood recovery fund.