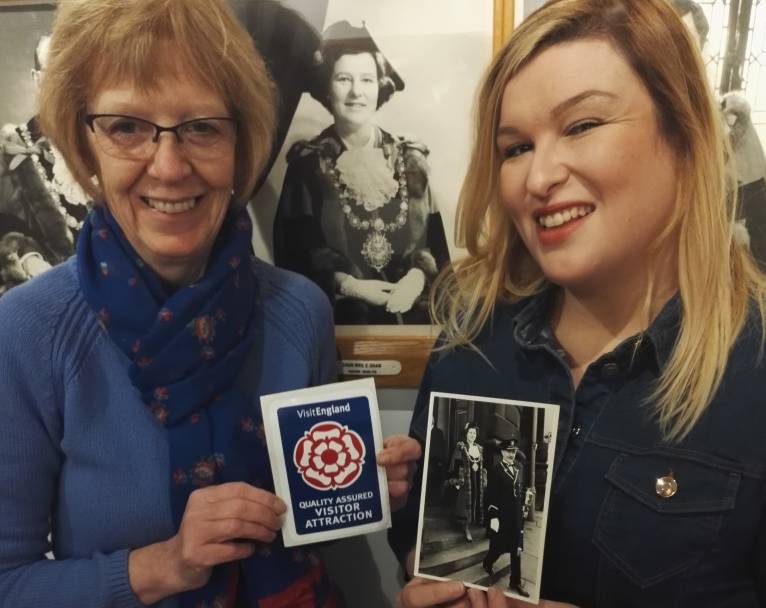 Visitors to Todmorden Town Hall now have extra assurance that they're in for a great time, as the building has received a visitor accreditation from Visit England. 
The Visitor Attraction Quality Assurance scheme is the sign of a quality visitor experience. In a mystery visit from an unannounced assessor, the whole visitor experience was tested, as the assessor interacted with staff as a normal visitor, rating everything from the welcome received, to the promotional material available.  
After the successful visit, staff and volunteers at Todmorden Town Hall were delighted to be awarded the Quality Rose Marque, with assessors particularly commending the building's facilities, cleanliness and the quality of its tours. 
Calderdale Council's Cabinet Member for Neighbourhoods and Communities, Cllr Susan Press, said: 
"I'm delighted but not surprised that Todmorden Town Hall has been awarded this prestigious visitor accreditation. The range and quality of the facilities available really deserve to be commended, and particular thanks must go to the wonderful volunteers who give their time to make the tours really something special." 
The next free tour of Todmorden Town Hall in on Sunday 5 March at 2pm, and ahead of International Women's Day on Wednesday 8 March, focusses on the women who shaped the valley. The tour will include an exhibition of mementos from Eunice Shaw, who served as Mayor of Todmorden from 1969-1970. 
Anyone with their own memories in and around Calderdale or with any items they'd like to share, can also bring them along on the same day from 1-3pm, and use the free digital scanning services of Pennine Horizons to preserve the memories in digital format to keep them safe for future generations.  Scanned images will be added to Pennine Horizon's digital archive and can be viewed online at http://www.pennineheritage.org.uk/collections(external link)   
March also includes a Total Tour of Todmorden Town Hall, with the opportunity to see inside the former caretaker's flat, former holding cell in the cellar and also the bathroom in the attic. The next Total Tour is on Sunday 19 March and tickets cost £6.50 and must be purchased ahead online from https://www.ticketsource.co.uk/todmordentownhall(external link) 
For more information about Todmorden Town Hall or to become a volunteer contact Daniel Jessop, Volunteer and Events Co-ordinator Daniel.jessop@calderdale.gov.uk, 01706 548105, 07912 891370.