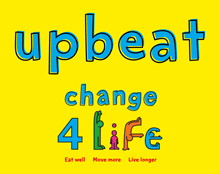 Families in Calderdale enjoyed a day of fun at Upbeat and CREW's first fundraising Garden Party on Friday 23 August.
 The event was a huge success, raising over £1,500 to buy more defibrillators and place them permanently in the venues where the Upbeat and CREW classes take place.
 The event was supported by Halifax RLFC, and the West Yorkshire Fire Service – who brought their fire engine, West Yorkshire Police and the Positive Pooches Canine academy – who did a dog handling demonstration in the main ring. Many others also contributed with jewellery stalls, face painting and a podiatrist all donating 10% of their takings on the day to the cause. 
 Upbeat is a community initiative, run by Calderdale Council that helps people of all ages, including children, families, adults and older adults become more physically active and lead a healthier lifestyle.
 Upbeat holds 60 classes per week, in 15 venues all across Calderdale, but currently has only three defibrillators. Many Upbeat clients either have heart disease, or are at risk of developing it, so some are at high risk of heart incidents during exercise. Because of this, portable defibrillator machines are required at all the classes.
 Calderdale Council's Cabinet Member for Communities, Cllr Steve Sweeney, said:
 "Events like this are a great way to bring communities together, and I'm pleased that the garden party was such a success. The event raised enough money to purchase a new defibrillator, which can be taken to Upbeat and CREW classes across Calderdale, and may one day save a life."
 CREW (Cardiac Rehabilitation, Exercise and Walking), is a charity which was formed in 2001. CREW is affiliated to the British Heart Foundation as a 'Heart Support Group' and obtained Registered Charity Status earlier this year.
 CREW runs exercise classes across Calderdale for people who have, or are at risk of developing heart disease. Their classes are taught by Upbeat's instructors – who are all qualified to the highest standard in cardiac rehabilitation. They also run a weekly walking group.
 Chairman of CREW, John Tudor, said of the garden party:
 "The day was a triumph for teamwork and effort involving all concerned. The ultimate message that 'defibrillators save lives' was picked up by all the revellers, and their generosity is to be applauded, as the money raised will enable CREW to install a defibrillator in a Halifax based community Hall, for the use of Upbeat instructors and the users of the centre, in the hope that they never have to use it!"
 For more information on Upbeat, visit www.calderdale.gov.uk/sport and click on the Upbeat tab, or call Upbeat on 01422 284411. For more information on CREW, visit their website www.crewheartsupport.co.uk(external link)