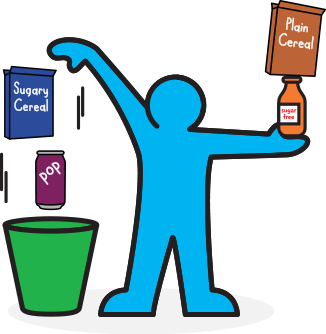 You know the feeling. The festive celebrations are over and you feel like you've overindulged. January is a great chance for you to trim the waist, get your energy back and save your money for something special.  
Calderdale Council is giving local people handy tips to help them feel fantastic by eating healthier, exercising more, cutting out alcohol and stopping smoking in January.
 As part of Public Health England's new Change4Life campaign, Smart Swaps, the Council is encouraging families to make one small swap to cut sugar and fat from their everyday snacks, drinks and meals. Throughout the 31 days of January, thousands of people across the UK will swap unhealthy foods for healthier choices. There are five food swaps to choose from:
 Sugary drinks to diet, sugar free or no added sugar drinks, or to milk or water
Cheese to reduced fat cheese
Sugary cereal to plain cereal
Whole milk to semi-skimmed; or semi-skimmed to 1% fat or skimmed milk
Butter to lower fat butter or spreads
 Sign up to Smart Swaps at https://registration.change4life.co.uk/(external link) and you will get a FREE Smart Swapper packed with tasty swap and meal ideas for you and your family, together with fun fridge magnets and money-off vouchers to help you start swapping. 
If losing weight is one of your goals for the new year, you can choose from FREE 12 week vouchers for Slimming World or Weight Watchers, a FREE 10-week Upbeat programme including access to Council leisure facilities or FREE weight management sessions at your local GP practice. Simply text C4L to 81025 or call 01422 281529 now for free advice about the choices available. 
The Council is also backing Alcohol Concern's Dry January(external link) campaign, encouraging people to banish the booze this January. It will kick off your healthy start to the new year by helping you sleep better, lose weight, brighten your skin and hair and be hangover free.
 Calderdale Council's Director of Public Health, Paul Butcher, said: 
"We all want a healthy start to the year, and January is a brilliant time to do this with a friend, family member or colleague and prove to yourself that you can. By making a few small changes like swapping sugary drinks, cereal and cheese to healthier options, you can make a big difference to your health and wellbeing."
 Calderdale Council's Cabinet Member for Health Inequalities, Cllr Simon Young, added: 
"We want people in Calderdale to eat healthily, be physically active and have a healthy weight, and we're hoping this campaign will encourage our communities to make simple food and drink swaps. The government is trying to take more than 500 million calories out of the nation's diet in January and we want Calderdale to be a big contributor to this."