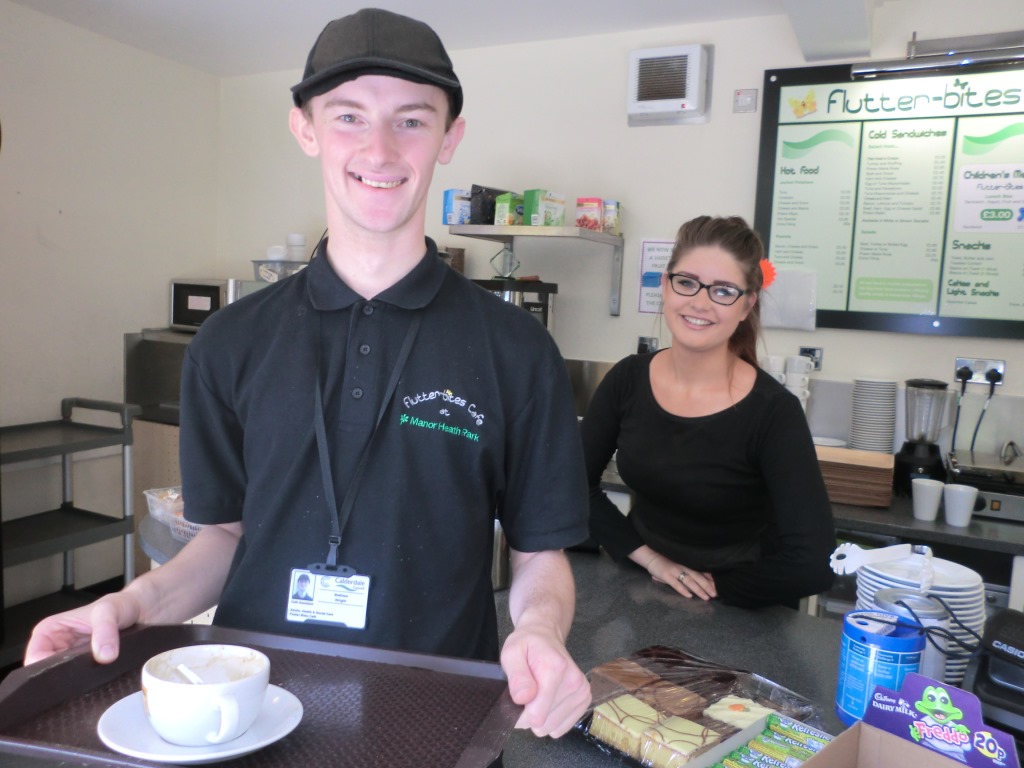 A popular café in Calderdale, serving tasty snacks and providing employment for people with learning disabilities, has shown it's a real recipe for success, as it celebrates its fifth birthday this week.
Flutter-bites café in Manor Heath Park, Halifax, was created by Calderdale Council to provide training and paid work for people with learning disabilities, and to modernise an existing building to rejuvenate the top area of the park.
For the past five years the café has been transforming lives. 12 people with learning disabilities currently work in the café, in a supportive environment where they gain knowledge, practical experience, formal qualifications and life skills. Some employees have worked there for the whole five years, and their development has been remarkable. Read Mathew and Melissa's stories below.
The café has learning and development at its heart. The Council works closely with Ravenscliffe High School to provide students with genuine work experience in the safe environment of Flutter-bites, helping to shape their future career options. Students are also employed from schools across Calderdale to give them part-time jobs at weekends and in the summer holidays
, 
building confidence in their working ability. Even the café's patio area was designed by students working with the Council's parks team, and helped them gain their NVQ qualifications.
Staff and guests will be celebrating the café's fifth birthday at a special event on Saturday 19 July at Flutter-bites. There will be delicious refreshments and stalls selling gifts, including jewellery made by a local artist. Everyone is welcome.
The café provides a range of drinks, fresh healthy snacks and home-cooked light meals. It's a great place to relax and have a chat in peaceful surroundings after a walk in the park. There are seats inside and a partly covered outdoor patio area.
Calderdale Council's Cabinet Member for Adults, Health and Social and Care, Cllr Bob Metcalfe, said:
"Flutter-bites is a wonderful facility and I'm delighted it has reached its fifth anniversary. It is a huge success, attracting more and more customers over the years and giving people with learning disabilities real learning and employment opportunities.
Our feedback from customers is consistently great – they can be sure to receive top-quality food, drink and service. The staff learn customer care and catering skills whilst getting to know people in a supportive environment, helping them feel more involved in the community."
Calderdale Council's Cabinet Member for Communities, Cllr Steve Sweeney, added:
"Flutter-bites is just one of the fantastic facilities that make Manor Heath Park a great attraction. It's near to the Jungle Experience and offers views of the beautiful park and its magnificent flower displays. By creating a café, we've helped to make the park a place where visitors could easily spend a whole day."
Mathew's story
Mathew Wright, an adult with learning disabilities, has worked at Flutter-bites for five years and is a valued member of the team. His working skills have developed over the years and he is always ready for a busy shift. Mathew has made lots of new friends and in particular enjoys talking to the many dog walkers who regularly visit the café. Mathew says:
"I like being part of the team and seeing the café being busy. I have gained many new skills serving customers and making sure the café runs smoothly. Having money in the bank is fantastic and working at Flutter-bites is an important part of my life."
Melissa's story
Melissa
Rawthorn is enjoying her second summer working as a casual member of staff at Flutter-bites. She has just finished her A Levels at college and hopes to go to university in September. Melissa says:
"Everyone in the team is so lovely and friendly and it's a nice environment to work in. I enjoy working with such a diverse group of people and particularly with those who come to Flutter-bites on work experience."
Flutter-bites summer opening times:
Monday to Friday: 9.30am – 4pm
Saturday to Sunday: 9.30am – 5pm
During school summer holidays, Monday to Sunday: 9.30am – 6pm