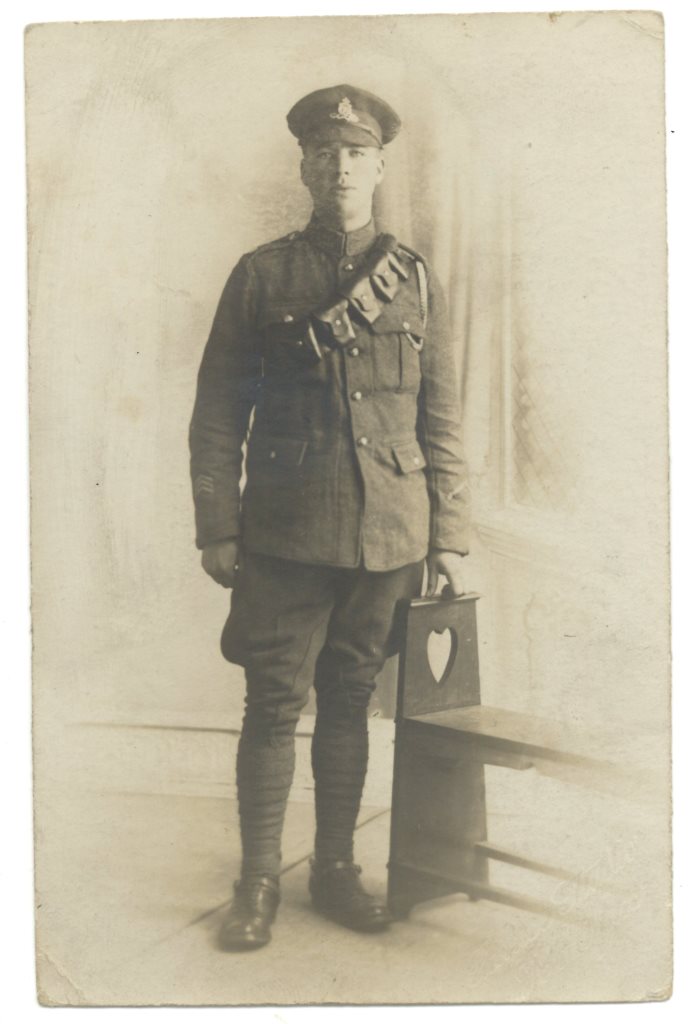 Three generations of a Calderdale family will put the finishing touches to the new exhibition at Bankfield Museum, Halifax, which marks the centenary of the First World War.
The last few objects for the exhibition will be put on display by the son, grandson and great grandchildren of their owner, Arthur Smith from Halifax, who fought in the war as a Gunner in the Royal Artillery.
The Smiths, along with over 50 other Calderdale families, have contributed wartime stories and objects from their ancestors to bring the new exhibition to life. They will get their first glimpse of them on display at a special event at the museum on Thursday 24 July. The private opening event is a chance to thank everyone who has played a part in creating the new gallery, and every local person who has shared a story has been invited.
Calderdale Council set up the 'For King and Country' exhibition to commemorate the area's contribution to the First World War, by sharing over 60 local stories, hundreds of objects and various archives from the Council's museum collections. Following a successful Heritage Lottery Fund bid, the third floor of the museum has been renovated, which includes new display cases, brighter surroundings and the uncovering of a huge dome window in the ceiling, which was hidden for years.
The exhibition officially opens to visitors on Saturday 2 August. A special day of activities and demonstrations, from museum curator John Spencer and First World War re-enactors, will mark the occasion from 10am to 4pm, and visitors will have their first chance to see the new exhibition. Museum staff will be on hand to answer any questions. Entry and all events that day are free and for all ages.
Calderdale Council's Cabinet Member for Communities, Cllr Steve Sweeney, said:
"Excitement is building as we get closer to the opening of the new exhibition. It's looking great and will be a valuable way for people to learn more about how the war affected our communities. Local people are at the heart of the exhibition and I'd like to thank everyone who has contributed – without their stories and objects we wouldn't have such a fascinating exhibition."
Through the new exhibition, the Council hopes to encourage people in the region to research their own family's involvement in the First World War, and a new research room in the gallery gives advice on how to do this.
Arthur Smith's grandson, Richard Smith, has been researching his grandfather's Great War diaries and family history for many years, and has contributed stories and objects to the exhibition. By researching and recording his grandfather's experiences, Richard wanted to pass on his learning to his family. He says:
"I wanted a record of all we had, that could then be passed onto my sons, one of whom is named after Arthur, and to my sister's girls, my lovely nieces, for they never knew their great-grandad and what he went through in those remarkable years. So that they may have some understanding of their connection to all that happened 100 years ago.

 

"I hope to both help and inspire other people who may have similar family histories or stories of the Great War that have been imparted onto them, to then share their findings because they all need to be recorded before so many become lost in time and forgotten."
The Council is still interested in hearing more stories from the region – not just of those who served in the military forces, but also those who contributed to the war effort through work, volunteering, nursing and fundraising, as well as those who stayed at home, were children, unable to serve or objected to military service. Get in touch at 
greatwar@calderdale.gov.uk
The 'For King and Country' exhibition will be open Tuesday to Saturday, 10am to 4pm. Entry is free. Head over to 
http://museums.calderdale.gov.uk
 for more information and a list of centenary events being held at Bankfield Museum.