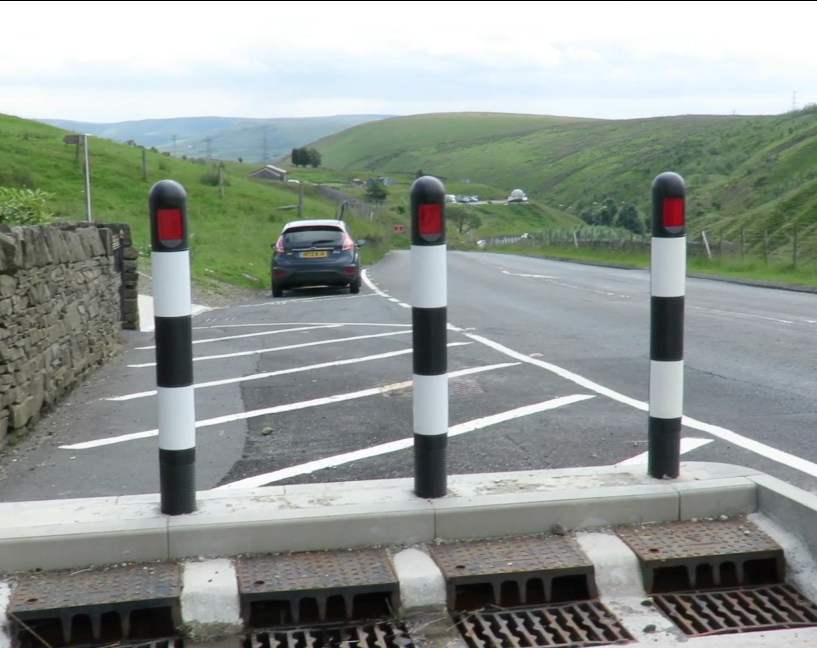 Press release from the Environment Agency and Calderdale Council
A flood risk reduction scheme in the Bacup Road area of Todmorden is now complete.
The scheme was developed by the Environment Agency and Calderdale Council in response to the floods of 2012 and 2013 where properties and businesses in an around the Bacup Road area were badly affected.
The work has concentrated on a 2.2 mile section of Bacup Road between Gauxholme and the Todmorden Astronomy Centre on the Yorkshire-Lancashire border.
Improvements have been made at 22 locations to manage water coming off the moors and improve capacity in the existing culverts. New road drains have been installed, and headwall structures and trash screens placed at culverts allow safer access to remove any debris that could cause a flood risk.
Environment Agency Project manager, James Walton said:
"The contractor worked in particularly challenging environments to construct these schemes and we were grateful for the patience shown by local residents and the cooperation of landowners to enable the works to be carried out."
In December, the Bacup Road scheme, although partially complete, was put to the test during the floods and performed as designed.
Now that the work has completed they have been formally handed back to Calderdale Council.
Calderdale Council's Leader, Cllr Tim Swift, said:
"We're pleased that the scheme is now complete and has already proven to be effective, as part of the Council and Environment Agency's joint work to help reduce flood risk. It's not possible to totally remove the risk of flooding, so we encourage residents and businesses to do all they can to be prepared, reduce their own risk and keep up to date with flooding related information at www.calderdale.gov.uk/flooding."
As well as planning major schemes for the Calder Valley including Hebden Bridge and Mytholmroyd, teams are now looking at the next programme of medium scale works which form part of the Upper Calder flood risk reduction scheme.
A scheme is being developed to reduce the risk of flooding which causes major disruption to traffic along the A646 trunk road. This road, between Hebden Bridge and Todmorden regularly floods and pools in the dip outside Brearley Mills, Eastwood.
A scheme is also being proposed along the same trunk road at Woodland View.
A video of the Bacup Road flood risk reduction scheme can be viewed here: https://www.youtube.com/watch?v=Q3XmoO9T734(external link)