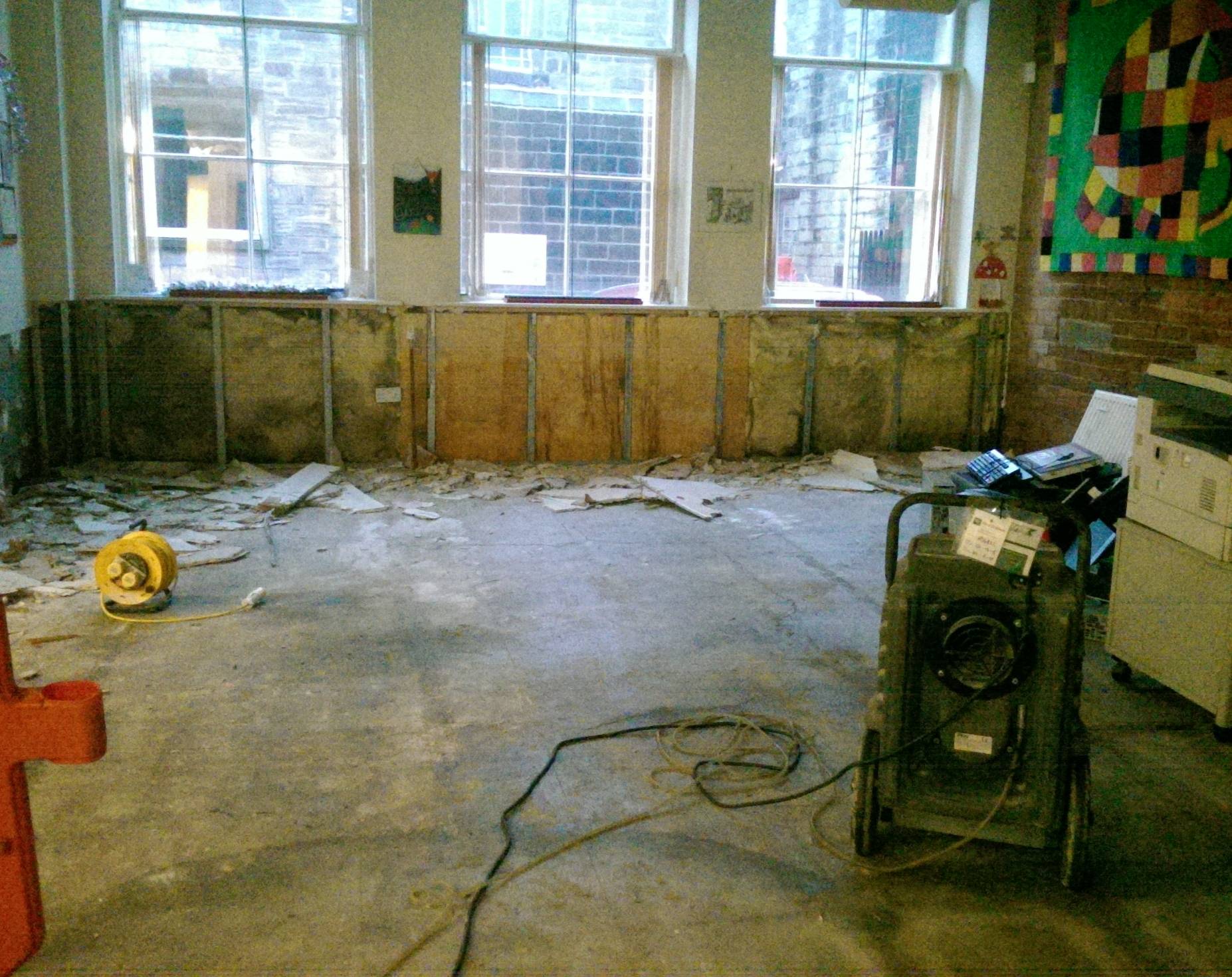 Library services in Hebden Bridge are getting back on their feet after the Boxing Day floods caused over £100,000 of damage to books, equipment, fixtures and fittings.
Calderdale Council teams have been working tirelessly to clean up after the deluge and to keep providing services for local people while Hebden Bridge Library is closed for repairs.
Around 5000 books, DVDs and CDs were ruined. The shelving, other furniture, counter and self-service machine were also damaged beyond repair. Although some of the metal display shelves were able to be cleaned and will be reused, the children's area was completely destroyed.
Repair work includes removing flood-damaged plasterboard and pumping flood water out of the cellar and the lift to ensure the library fully dries out.
From Friday 8 January there is a drop-off point to return borrowed books and other items at Hebden Bridge Town Hall, and Todmorden Library is open for additional days on Tuesday 12 and Tuesday 19 January, from 10am to 5pm.
The Council hopes to have the first floor of Hebden Bridge Library up and running by 25 January. This is to make sure local people can access many of the services normally available, including IT. Replacement books and other materials are being ordered plus new furniture and a range of other items and display equipment. There will be temporary access via the Hope Street entrance. Unfortunately for the time being there will be no lift access in the building due to the flood damage.
The library will offer standard services (adult and children's stock, DVDs / CDs, public PCs and wi-fi) but due to space restrictions the regular Monday morning Busy Babies sessions will not take place there. Hebden Bridge Town Hall has provided a room for the sessions on Monday 11 and Monday 18 January, from 11.00am to 11.40am.
The ground floor of the library is scheduled to reopen in spring 2016. This is to ensure full drying-out before key fixtures can be installed, including a completely new children's area, replacement counter and self-service facility.
Cllr Steve Sweeney, Calderdale Council's Cabinet Member for Communities, said:
"Like so many other buildings across the borough, Hebden Bridge Library was severely damaged by the floods. Incredible teamwork has gone into ensuring that local people continue to access some library services, and we are grateful to Hebden Bridge Town Hall for helping us to provide alternatives. Unfortunately we can't say for certain when the library will be fully open over two floors again in Hebden Bridge. We thank people for their patience and support during the repair period."
The other libraries in Calderdale are open as normal, and Mytholmroyd Library is now doubling up as a centre where flood-affected people can get information and support.
The visitor centre in Hebden Bridge was also severely affected by the floods and has been closed throughout the recovery period. Everything in the building needs to be replaced and the building needs to be completely dried out, which will take time. However, there will be a limited operation at the visitor centre from Monday 11January from 11am until 2pm each day. Staff will be on hand as a point of contact for local businesses and visitors to the town, and they will have an up to date list of businesses that have reopened. Enquiries can also be emailed to HebdenBridge.TIC@calderdale.gov.uk. Halifax and Todmorden visitor centres are open as normal.