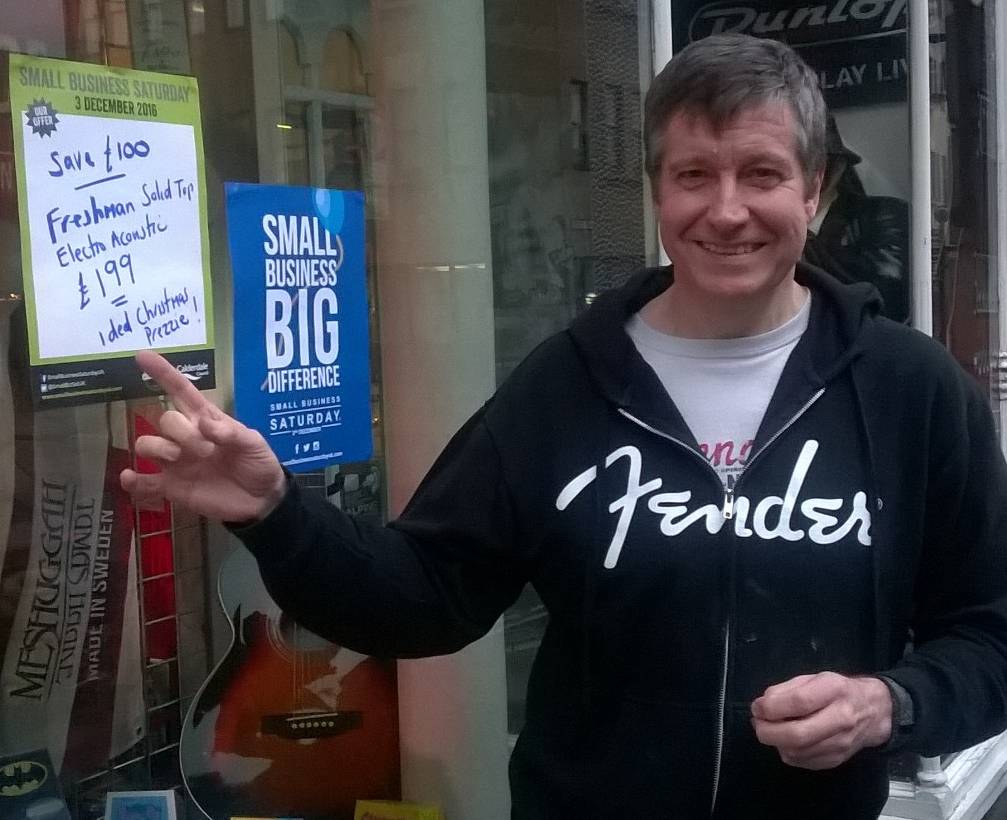 Businesses in Calderdale are getting ready to celebrate Small Business Saturday, on Saturday 3 December. 
Small Business Saturday is a campaign all about celebrating small businesses and encouraging people to support them by shopping in their local area. 
Calderdale Council has pledged to support Small Business Saturday and you can too. So far 28 Calderdale businesses have signed up for at www.smallbusinesssaturdayuk.com(external link), but there's no limit to how many can get involved. 
The Council's business team has been out and about dropping off posters and flyers, all aimed at helping businesses make the most of Small Business Saturday. Further posters or information can be obtained from Eric Binns, Enterprise Officer for Calderdale Council on 01422 392222, or email eric.binns@calderdale.gov.uk
One Calderdale business which has already signed up, is Guitar Zone in Halifax town centre. The owner Chris Fairley said: 
"I've been getting involved with Small Business Saturday for three years now, and I think each year it gets bigger and better. The word is spreading about the great offerings of small, independent shops like mine, and by advertising discounts and promotions all on one day, you can attract new customers who could potentially continue to shop with you all year round.  

"I'd definitely encourage people to sign up. There's nothing to lose!"
Calderdale Council's Cabinet Member for Regeneration and Economic Development, Cllr Barry Collins, said:
"Calderdale is crammed full of successful small businesses and there are plenty of ways to support Small Business Saturday – buy your Christmas presents locally, look for local shops and businesses that can provide you with that amazing gift to give, or even treat yourself. 

"Shopping locally not only reduces environmental impact, it also means we are likely to attract and keep one-of-a kind and distinctive businesses that make our community unique."
To find out how you can get involved go to www.smallbusinesssaturdayuk.com(external link) to register your business in the small business finder, find other small businesses local to you, order a marketing pack, pledge your support or join in the activity through social media using #SmallBizSat.