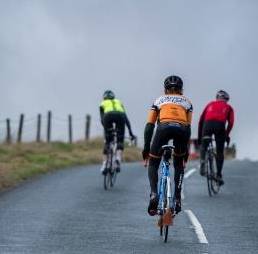 Calderdale Council has released its road closure information for the Tour de France early, allowing people to plan ahead and make the most of the race weekend on Saturday 5 and Sunday 6 July. 
During this weekend there will be a lot of extra traffic on the roads across Yorkshire so plan your journeys carefully. You will need to allow extra time to get around especially if you are travelling or living close to the route.
The route will be closed to traffic from the early hours of Sunday morning until late afternoon.  Bus and train companies are also planning for the extra people in Calderdale as spectators will get to the best spots early to see the race.
The TdF race route closures are:
A6033 from the borough boundary at Cock Hill to its junction with the A646 at Hebden Bridge
A646 Hebden Bridge to Mytholmroyd. (Access will also be restricted along the A646 between King Cross and Todmorden)
B6138 from Mytholmroyd to its junction with the A58 at Blackstone Edge
A58 from Blackstone Edge to Ripponden
B6113 from Ripponden to West Vale, Greetland
B6114 from junction with B6113 to Queen Street, West Vale, Greetland
Queen Street, West Vale, Greetland
Green Lane, Greetland
Hullenedge Lane, Elland
Hammerstones Road, Elland
Blackley Road to borough boundary at Ainley Top
Any roads linked to the route will also be closed where the road meets the race route, and access roads to the route may also be closed. For the current list of closures visit Visit Calderdale – Road closures(external link)
Watching the race is free – you don't need to buy a ticket to stand on the roadside and watch the race. The roads usually remain open for walkers and cyclists long after they have been shut to traffic but get in position early, as the Tour Publicity Caravan drives along the route about two hours ahead of the riders.
 The athletes and their support vehicles need plenty of space so there will be no parking on the race route.  In the coming weeks we will get in touch with people who live on the route giving more information and alternative parking options.
 Many towns and villages across Calderdale are planning events with big screens, food and entertainment.  Further details will be published closer to the race at visitcalderdale.com
 Leader of Calderdale Council Cllr Tim Swift, said: 
"We are looking forward to welcoming the Tour de France in Calderdale; it will be a fantastic day for the region. We are releasing road closure information early to allow everyone to start planning now how they can make the most of this amazing event. 

"Arrangements will be made to ensure access for emergency and care services are maintained on race day. We are working in partnership with the race organisers, emergency services, emergency planning, housing associations and health care providers to ensure that all essential services can carry on during the event." 
 The TdF is a huge, fun event so enjoy yourself and release your inner cyclist!  Keep up to date via social media @InnerCyclist for all things cycling in Calderdale or @letouryorkshire for general information.  See visitcalderdale.com(external link) for all the local tour news including road closures.