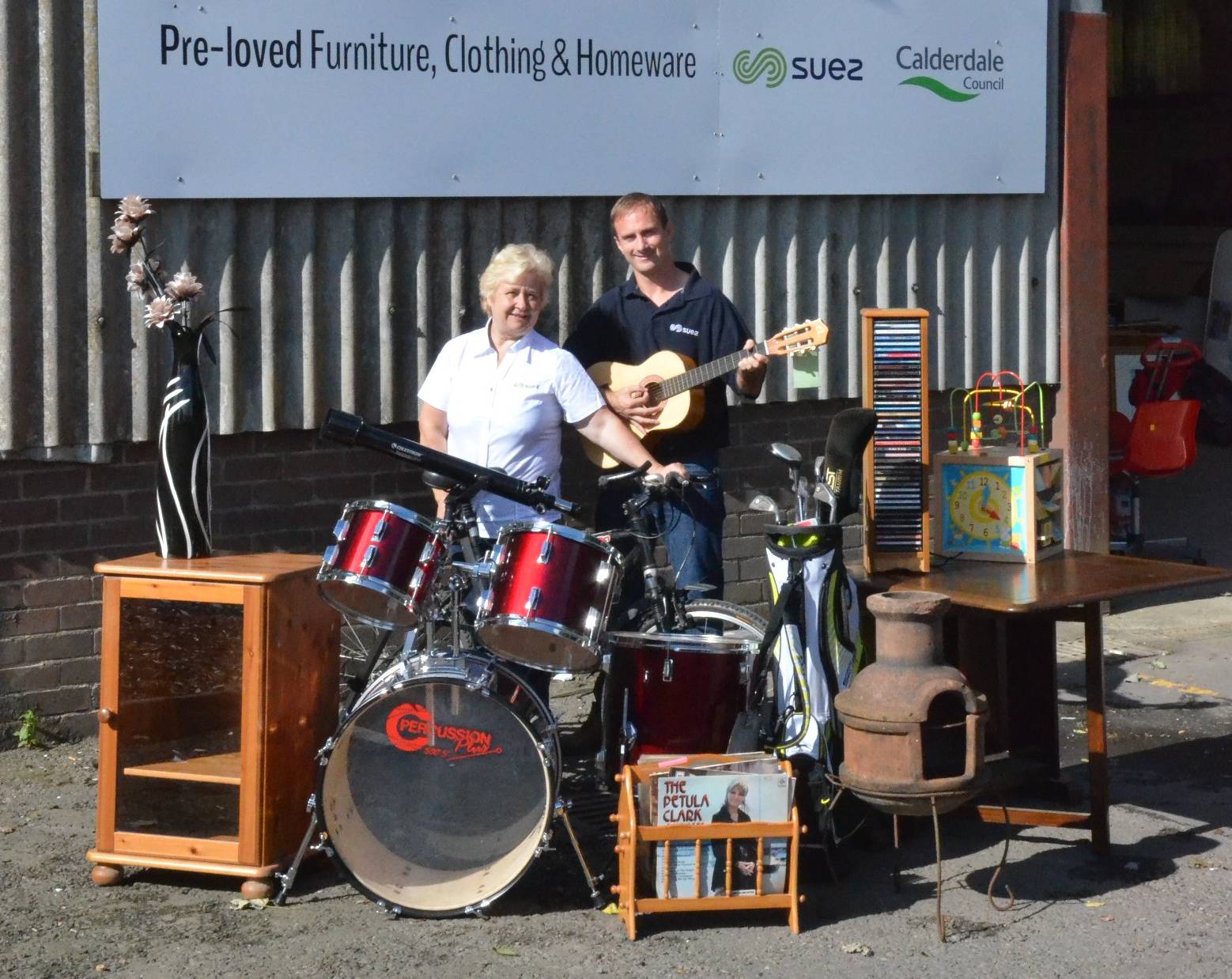 For the first time, Calderdale residents have a chance to provide a new home for a wide range of pre-loved homeware, furniture and clothing recovered from the Council's Household Waste Recycling Centres.
From 11 August 2016, the new 'Revive' re-use shop will open for business at the Atlas Mill Road Household Waste Recycling Centre in Brighouse, offering an eclectic range of items for sale to Calderdale residents with a keen eye for a bargain.
Revive aims to find a new home for a wide range of unwanted but still usable items that are brought to the Council's Household Waste Recycling Centres every day, including golf clubs, crockery, mirrors, tables, chairs, cabinets, fishing rods, jeans, shirts and more.
These items would usually be recycled. However, the introduction of new 'bric-a-brac' containers at Household Waste Recycling Centres means these items can now be recovered and offered for resale through the Revive shop at a fraction of what they may cost new.
Cllr Barry Collins, Calderdale Council's Cabinet Member for Regeneration and Economic Development, said:
"Re-using is even better than recycling, and we all know the saying 'One person's rubbish is another person's treasure', so we're hoping to encourage people to place their unwanted, good-quality items into the bric-a-brac containers for the Revive shop, rather than throwing them into the waste skips. The Revive shop will give people a handy place to find some bargains, and help us create less waste."
SUEZ senior site manager, Gary Schwandt said:
"We try to recycle as much as possible, but sometimes people throw things away that they no longer want or need, but which are in perfectly good condition. By finding these items a new home, we can reduce the cost to the environment in eliminating the resources needed to process them and the cost to the public purse of waste disposal. We hope that the opportunity to purchase these goods will ensure they are put to good use, help local people on a budget, save the Council money and help the environment."
Revive will sell selected items that have been discarded by local residents at the Borough's five Household Waste Recycling Centres as well as some items that have been collected through the bulky waste collection service.
Each item will be checked for quality and safety before it is made available for sale, but residents should also make their own checks before purchasing. There are no current plans to sell electrical items and these will continue to be dealt with according to the Waste Electrical and Electronic Equipment (WEEE) regulations.
Revive accepts card and cash payments and receipts will be provided for all sales. Due to its location within the Household Waste Recycling Centre there is no pedestrian access to Revive. Free parking is available on site and the shop will be open five days a week during site operating hours.
| | | |
| --- | --- | --- |
| Day | Summer opening times | Winter opening times |
| Thursday | 8.00 am to 5.00pm | 8.00am to 4.00pm |
| Friday | 8.00 am to 5.00pm | 8.00am to 4.00pm |
| Saturday | 8.00 am to 4.00pm | 8.00am to 4.00pm |
| Sunday | 9.00am to 4.00pm | 10.00am to 4.00pm |
| Monday | 8.00 am to 5.00pm | 8.00am to 4.00pm |
Summer refers to the period when clocks change to British Summer Time. Winter refers to the period when the clocks revert to Greenwich Mean Time.
For further information, please visit the Council's website atwww.calderdale.gov.uk/recycling.