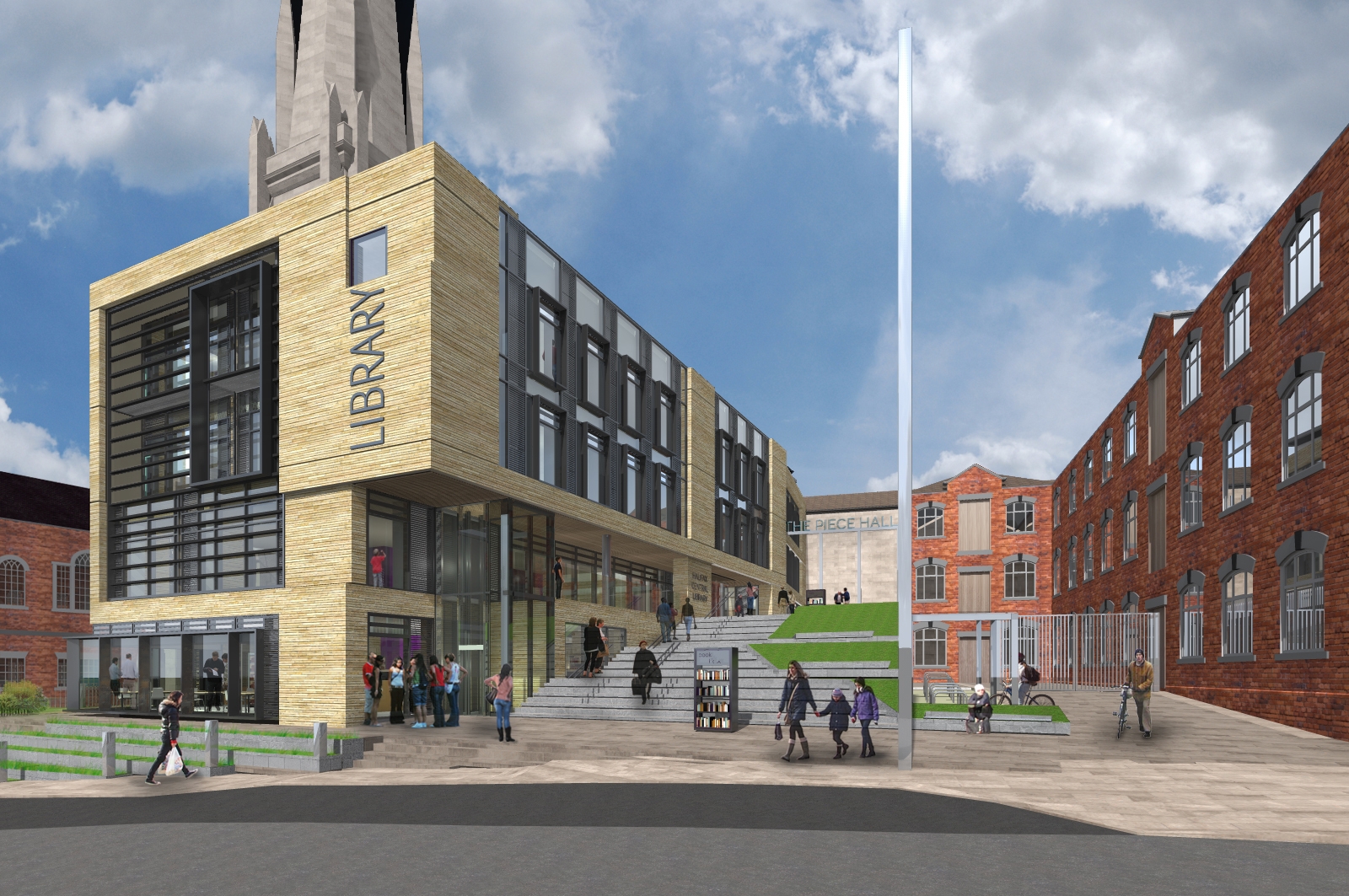 A range of green technologies are being installed in Halifax's new Central Library and Archive, so that it will be one of the most environmentally friendly buildings in Calderdale. 
New buildings are assessed by BREEAM (Building Research Establishment Environmental Assessment Methodology) and then rated according to their level of sustainability.  Plans are in place for the new Central Library and Archive to achieve the prestigious BREEAM Excellent rating. 
Leader of Calderdale Council, Cllr Tim Swift said: 
"One of our goals as a Council is to become much more sustainable and this is exactly the type of project where we want to demonstrate what can be done.   

"The Central Library and Archive will be a fascinating building, combining the remains of the beautiful old Square Church with the very modern new-build of brick, steel and glass.  Added to this the use of the latest environmental technologies and it becomes a real flagship building for Calderdale and one of which future generations can feel proud." 
The new Central Library and Archive is being fitted with a ground source heat pump and solar panels so it can generate its own heating and renewable energy.  
Drilling rigs have created 16 boreholes into the bedrock within the Piece Hall courtyard, drilling to a depth of up to 150 metres to install pipes for the ground source heat pump.  These will be used to recover latent heat for the library and archives' heating system. Ground source heat pumps produce lower levels of carbon emissions than heating by gas or electricity. 
The roof of the library will be fitted with 115 solar panels, saving energy and providing a CO2 reduction of approximately 20% compared to a similar, standard building.  Although there will still be some requirement to draw electricity from the national grid, this will be significantly reduced.   
The building will also be self-ventilating, providing a comfortable environment for people visiting the library and archive. 
Main contractor GRAHAM Construction is well under way with the build of the new Central Library and Archives. The steel framework has been built and the concrete floors are now in place. 
Local studies will be on the lower ground of the new library, adjacent to the West Yorkshire Archives.  At ground level there will be a reception area, the children's library and the Visitor Information Centre.  
The first floor will accommodate adult fiction and an area for 13 to 16 year olds, alongside a digital media area.  
The second floor will hold the adult non-fiction collections, areas for quiet study, and an IT section for use by individuals or groups.
The new Central Library and Archive is being wholly funded by the Council. Find out more at New Central Library and Archive. 
Take a look at how the site is changing and developing on our Twitter(external link) and Facebook feeds(external link) and YouTube channel(external link).