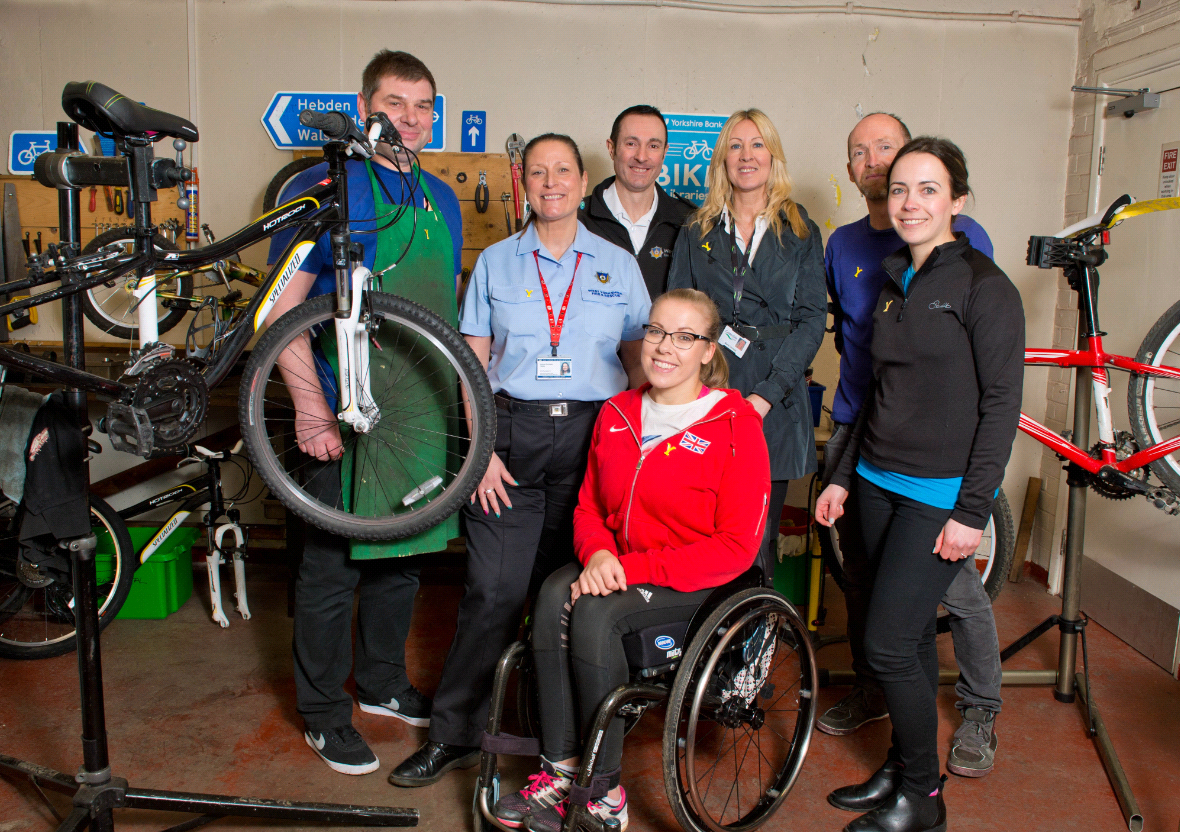 Press release from Welcome to Yorkshire
The award-winning Yorkshire Bank Bike Library project has raised the bar again – as gold-medal Paralympian Hannah Cockroft MBE and current Junior Time Trial World Champion Tom Pidcock have joined as ambassadors.
The two athletes have given their backing to the project, which has one simple aim: to make sure every child in Yorkshire has access to a bike, for free.
To mark her support, Hannah – who was recently named Sunday Times Disability Sportswoman of the Year – visited her local bike library and donation station at Halifax Fire Station to find out more about how it benefits her own community.
And Tom – who clinched victory in the under-23 category at the UCI Cyclocross World Cup round in Namur, Belgium, last year – met children learning to ride bikes at lessons provided by BeCycling Bike Library.
Hannah said:
"It's fantastic to see such an innovative and active facility in my own community and I really enjoyed visiting the bike library, meeting the people who work on the scheme and finding out more how it benefits local children.

"I encourage everyone in Yorkshire to make full use of these bike libraries!"
Tom said:
"I think the Bike Library project is a great way for kids of all ages to learn how to ride a bike. The popularity of cycling in Yorkshire since the 2014 Grand Depart has been incredible and now we have the Tour de Yorkshire to look forward to every year.

"I believe the interest levels will continue to grow over the next few years and I look forward to encouraging and inspiring as many kids as I can to start cycling."
Sir Gary Verity, Chief Executive of Welcome to Yorkshire, said: "I'm delighted we have two more sporting stars giving their backing to the Yorkshire Bank Bike Library project.
"Both Hannah and Tom are proud of their Yorkshire roots and I'm sure they were delighted to see for themselves the benefit these bike libraries offer to communities – and how the public get behind the project by donating their old bikes. It's such a heart-warming project and I'm proud to have Hannah and Tom on board."
Helen Page, Group Innovation and Marketing Director at Yorkshire Bank, said:
"It's great Hannah and Tom are showing their support for Yorkshire Bank Bike Libraries. Having two inspirational sporting figures see first-hand the benefits that the bike libraries are bringing to our local communities is fantastic."
Since it launched just three years ago, the Yorkshire Bank Bike Library project has gone from strength to strength and there are now 49 libraries across all four corners of Yorkshire.
Old and unwanted bikes can be donated at 62 donation stations across Yorkshire, where they will be cleaned and repaired before being loaned out to children who don't have bikes of their own.
So far, over 5,500 bikes have been donated by the kind-hearted people of Yorkshire.
For more information, visit bikelibraries.yorkshire.com(external link)