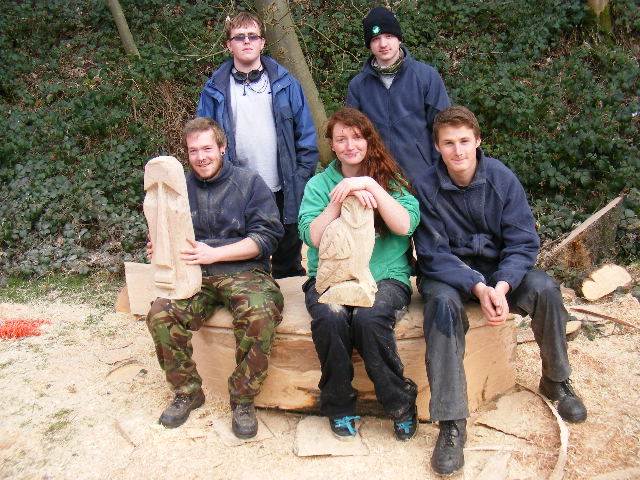 The hard work of young volunteers in Calderdale has been recognised at a special celebration event, held in Halifax on Thursday 6 March. 
Six young people who were not previously in employment or education have been working as volunteers on environmental projects throughout Calderdale, gaining a range of skills in countryside management, construction and horticulture, and receiving valuable experience of the world of work.
 To mark the completion of their 12 week placements on this innovative programme, Calderdale's Community Task Force held an open event where the volunteers showcased the woodland management and construction  works that they have carried out at Southowram Bank.
 Chainsaw sculptor Peter Leadbeater worked with the team to carve a number of sculptures including a bench from the trunk of a beech tree removed from Manor Heath Park. 
In addition to practical environmental task training, the team have received intensive support to develop their job hunting skills. Three young volunteers have secured jobs or work experience placements since working on the programme, whilst one is moving on to study for a degree in Environmental Science. Others will continue to receive intensive support towards employment.
 One volunteer commented, "It's been amazing, I've had a really great time, I love the team and what we have achieved over the 12 weeks", whilst another said "My confidence was a bit low before I joined, but over the course of this programme I have gained more confidence, did really well in my interview and managed to get the position I wanted." 
Calderdale Council Cabinet member for Economy and Environment, Cllr Barry Collins said: 
"The young people volunteering for the Community Task Force have made great personal progress towards employment, whilst carrying out valuable environmental work for Calderdale.  They should be proud of their achievements and I wish them well with their future careers."
The Community Task Force is managed by the Council's Grow Your Future team, and applications are now being invited for the next group of volunteers.  The programme is open to anyone aged 16 to 24, living in Calderdale and not in employment, education or training. For more information contact Becky Watts, Community Task Force supervisor on 01422 393359 or email becky.watts@calderdale.gov.uk.