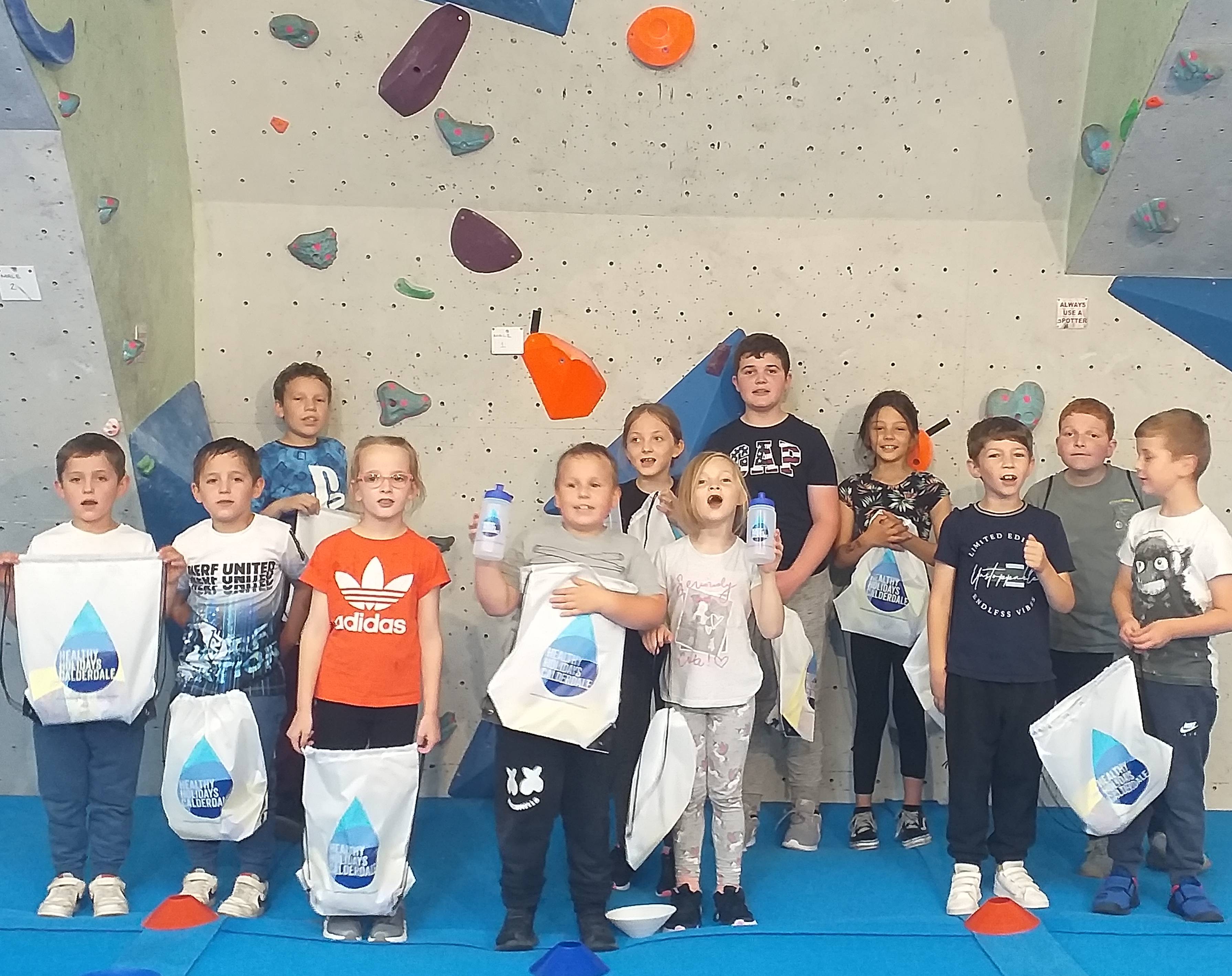 More children and young people are set to enjoy a huge range of activities and healthy meals during the Christmas holidays in Calderdale, after more than 6000 took part in the successful Healthy Holidays summer programme.
Calderdale Council and the Community Foundation for Calderdale teamed up with organisations across the borough to provide 15,000 free activity sessions in 43 venues throughout the school summer holidays, for the most vulnerable children and young people and those eligible for free school meals.
Youngsters had hours of fun, discovered new passions and enjoyed getting active, from team sports, yoga and canoeing, to crafts, music and exploring nature. They received a tasty, nutritious meal at each session and learned about food through fun activities such as cooking, gardening and creating their own dishes.
This was part of the £926,000 Government-funded Holiday Activity and Food Programme in Calderdale for Easter, summer and Christmas 2021, which supports the borough's Never Hungry Again campaign to end child hunger for good.
When asked about the summer programme, 92% of parents and carers reported a positive impact on their children's physical, social and mental wellbeing. 83% of children and young people said they had been able to try out new foods which they enjoyed.
One child, aged 9, who attended the Healthy Holidays programme in Greetland, said: "I wish we could stay even longer, there are so many cool activities to try and it gets me out of the house during the holidays. I love it."
Preparations are now underway for the next Healthy Holidays programme during the Christmas holidays. Whilst the Government's Holiday Activity and Food Programme does not provide funding for half terms, Calderdale Council and the Community Foundation for Calderdale have joined forces to support holiday schemes for the upcoming October half term in areas of highest deprivation, funded by the Never Hungry Again campaign. Holiday schemes between 25 and 29 October can be found at https://cffc.co.uk/october-holidays/(external link)
The Council will also be delivering the national Household Support Fund which the Government announced recently, to support local low-income families with increased fuel and food costs. The Government has allocated £1,833,000 to Calderdale. In line with national guidance, the Council will make at least half of the payments to households with children, and up to 50% to other households in the greatest need of support this winter. The Council will be making direct contact with eligible families and will make payments before the school holidays in October and December.
Cllr Tim Swift, Calderdale Council's Leader, said:
"We're thrilled to be part of the Healthy Holidays scheme, which has put smiles on thousands of children and young people's faces, and supported some of the borough's most vulnerable and disadvantaged families.

"Reducing inequalities is a priority for us. Healthy Holidays is a great example of how, by working together, we can help young people, regardless of their start point, to live a larger life – a key ambition of the Vision2024 for Calderdale. These experiences may open up many opportunities for them in the future.

"Thank you to all the organisations across Calderdale which have helped to give youngsters a good start in life, by providing healthy food and activities in safe and inclusive environments. We know that for many children and young people, this will be the start of developing a love of being active and eating well.

"We know that managing a family budget at Christmas and keeping the kids entertained during the school holidays can be a struggle for many, so we're pleased to be able to offer more Healthy Holidays support this winter."
Steve Duncan, CEO of the Community Foundation for Calderdale, added:
"We encourage organisations that we fund to collaborate with other organisations so that they can help as many people in our community as possible, and it's been great to see so much partnership working delivering the Holiday Activity and Food campaigns. We are looking forward to seeing this approach continue."
Case study – ROKT Climbing Centre in Brighouse
ROKT Climbing Centre in Brighouse was one of the organisations across Calderdale to receive a share of the Holiday Activity and Food Programme grant to host activities. Thanks to ROKT Foundation, this summer around 100 children learned to climb, abseil and boulder, enjoyed healthy meals and learned about food and nutrition. Activities included:
Foodie abseil – children collected food cards whilst abseiling through a chimney to create a balanced meal.
Calorie rope climbing – children split into teams and climbed to use up the most calories, and linked the calories used to common foods.
Making their own healthy fruit juices.
Puzzles and team challenges.
More examples of the activities at ROKT and the children's reactions can be seen in this video

(external link)

.
Katie Kinsella, ROKT Foundation's Director for Community & Business Engagement, said:
"Not only can we help these children eat well by helping out families who need a bit of extra support in the holidays, but they can experience activities they might have never had chance to try.

"By incorporating exciting things likes bouldering, rope climbing, abseiling, drumming and escape rooms, we can show them how being healthy connects to food – hopefully encouraging good habits for a lifetime."