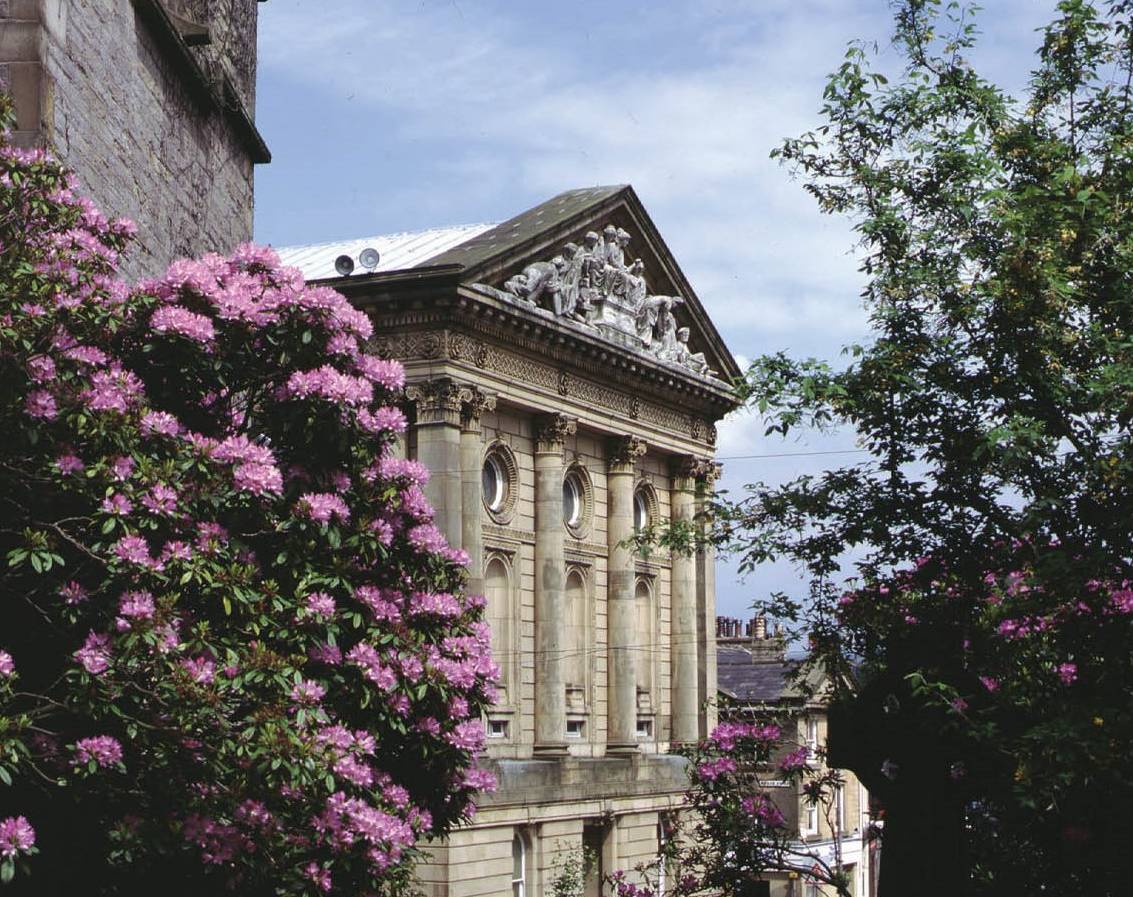 An army of volunteers will bring the heritage of Todmorden Town Hall to life by teaching people about its fascinating history and inspiring them to play a part in its future.
Calderdale Council has been awarded a £45,700 grant to get an exciting new project off the ground, after submitting a bid to the Heritage Lottery Fund (HLF). The Council is contributing a further £3,000.
Visitors to the magnificent Grade I Listed building will step back in time through interactive exhibitions, events and guided tours run by trained volunteers. They will be able to access archive material digitally so they can delve into their family history and find out more about the Victorian Town Hall. They will also have chance to contribute to the collections, and are being asked to share their own stories, photos and memorabilia to keep family memories of Todmorden alive.
Most of the funding will be used to appoint a part-time volunteer and event coordinator to oversee the project. If you are interested in applying for this role, please visit the Council's jobs site.
The project will be officially launched on Friday 7November at Todmorden Town Hall. From 10am to 4pm that day, and on Saturday 8 November, people will be able to see an exhibition of images and artefacts relating to Todmorden and the First World War. The Council has worked with Pennine Prospects to put this together. Pennine Prospects will also be running a 'scan and save' aspect to the exhibition on Saturday 8November, where people can bring their own images and items that can be scanned and added to the digital archive for future generations to see.
Local primary schools are being invited to hold their assemblies in the Town Hall on Wednesday 12 November so that the students can see the exhibition and experience the wonderful building.
Calderdale Council's Cabinet Member for Communities, Cllr Marcus Thompson, said:
"This is a wonderful project, made possible by the grant from the Heritage Lottery Fund. Todmorden Town Hall is an iconic building in the community, with such a fascinating heritage that we want to share with local people and visitors for years to come. Local people will be at the heart of our exhibitions, helping to tell the story of the unique building and giving people a deeper understanding of, and pride in, their town.

"Building on the success of our museums' volunteering programme, we were keen for the project to be delivered by local volunteers. Not only will they develop new skills and knowledge through training and support, they will also pass these on to visitors through an exciting range of tours, talks, events and activities.

 

"We want the project to help the Town Hall thrive more as a venue for celebrations and events, hopefully bringing in more people from Calderdale and other areas."
The exhibition and tours will start by focusing on the role that Todmorden Town Hall played in the First World War – before, during and afterwards. They will link up with commemorative events already planned for Todmorden.
Once the exhibitions are put together they will remain in the Town Hall and will occasionally travel around Calderdale to be placed in libraries, museums and other venues.
Fiona Spiers, Head of Heritage Lottery Fund, Yorkshire and the Humber, said:
"Todmorden Town Hall is a fantastic building that deserves to be enjoyed by everyone. The 'Telling the Story' project will breathe life back into the building by opening its doors more regularly and sharing its stories with more people. We're committed to funding projects that the local community can take pride in and learn about their heritage."
The Council is working with Pennine Horizons Digital Archive (a local, specialist charity who will hold and care for the project's digital records and photos), Todmorden and Hebden Bridge Local History Societies and the Council's Library and Museum Services to ensure that the local heritage is captured and preserved for future generations.
Opened in 1875, Todmorden Town Hall building is listed for its archaeological and historical interest – the interior is still mainly in its original state, with only a few minor alterations to the decor over the years. The splendid first floor ballroom and imposing north entrance hall with its imperial staircase are considered to be of exceptional significance. The building straddles the River Calder, with one part in Lancashire and the other in Yorkshire until the county boundary was moved in 1888. One striking external feature of the Town Hall is the pediment. The fine, carved stonework has two central female figures on a pedestal. The left-hand one represents Lancashire (the cotton spinning industry) and the right-hand one signifies Yorkshire (engineering and agriculture), reflecting the industry of the town and its people.