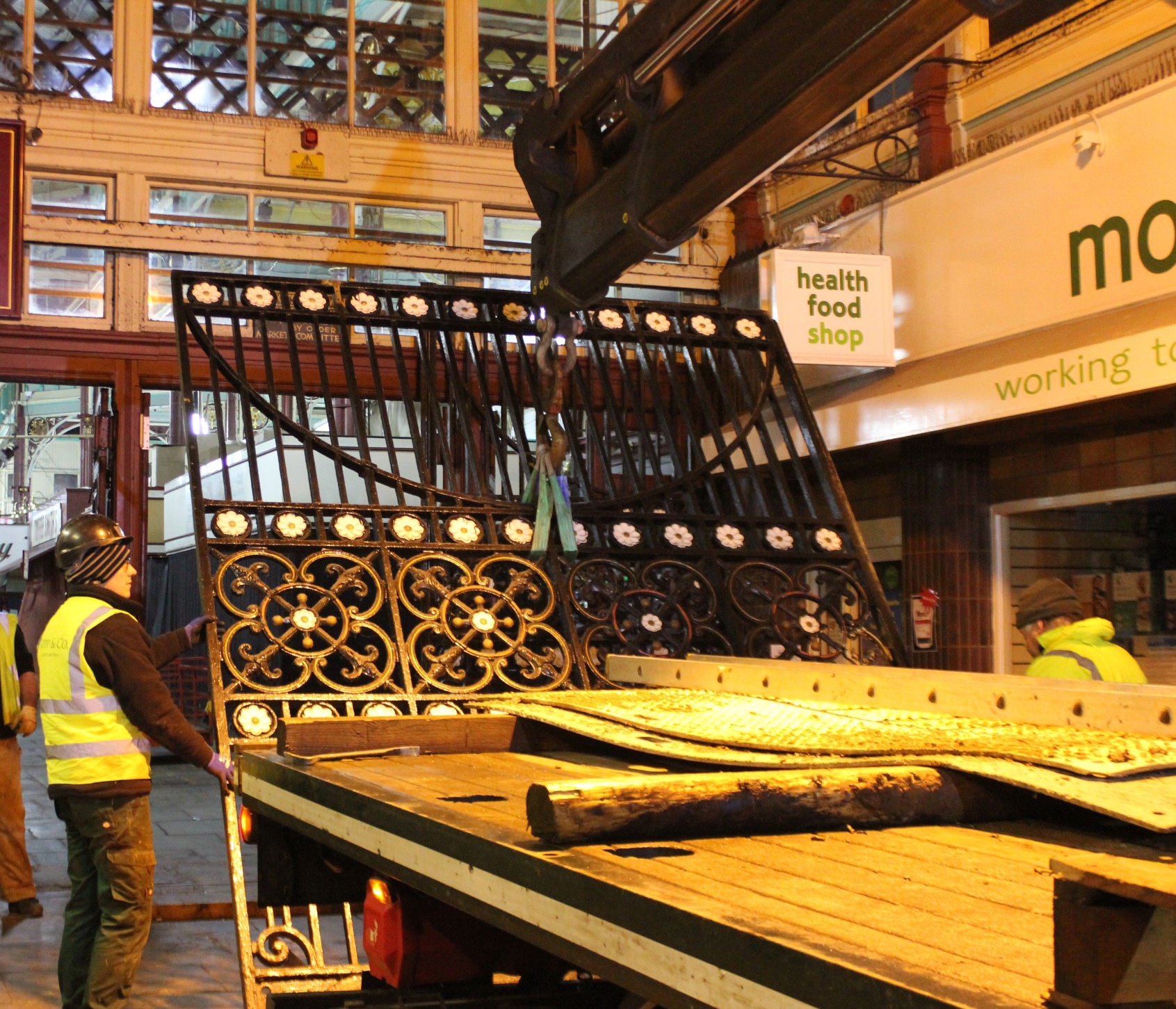 The historic sets of gates at Halifax Borough Market are getting a makeover – carefully being restored to their former glory. 
The eight sets of gates used to secure the market are all original meaning they're over 120 years old. Unfortunately, not only are the gates showing their age, they're becoming more difficult to move, as the hinges have become worn. 
To ensure the gates can continue to perform the function for which they were designed, each set of gates is being removed and restored by specialist contractors, TOPP & Co. whose previous projects include the Houses of Parliament, Buckingham Palace and our own Piece Hall gates. 
The process has already started, with the Russell Street entrance gates being the first to be removed last weekend (Sunday 12 February). The gates were carefully taken down using a hydraulic crane, after first being fitted with a lifting frame to spread the load across the structure and avoid damage. 
The remaining gates will be removed in stages, with each being temporarily replaced with roller shutters. 
Once removed, each gate will be cleaned back to bare metal before repairs are made using traditional techniques and methods. The gates will then be repainted using specialist paints in a colour scheme agreed by Historic England. 
Whilst the gates are down, the stone work in each entrance to the market will be reset and a new hinge system will be installed to make the opening and closing of the gates safer and easier. The entrances will be closed for a short period when this work takes place – this will happen in stages so the market will remain open as usual. 
Each gate will be reinstalled once refurbished and the entrance stonework has been reset. 
Calderdale Council's Cabinet Member for Regeneration and Economic Development, Cllr Barry Collins, said: 
"The gates at the borough market are wonderfully intricate, but over time, wear and tear has taken its toll on the wrought iron and it's now necessary for restoration work to take place on the structures. 

"Once they're all back in place, the newly repainted and repaired gates will be a wonderful feature of the Borough Market, complementing the range of improvements scheduled to take place at this, and other markets in Calderdale."