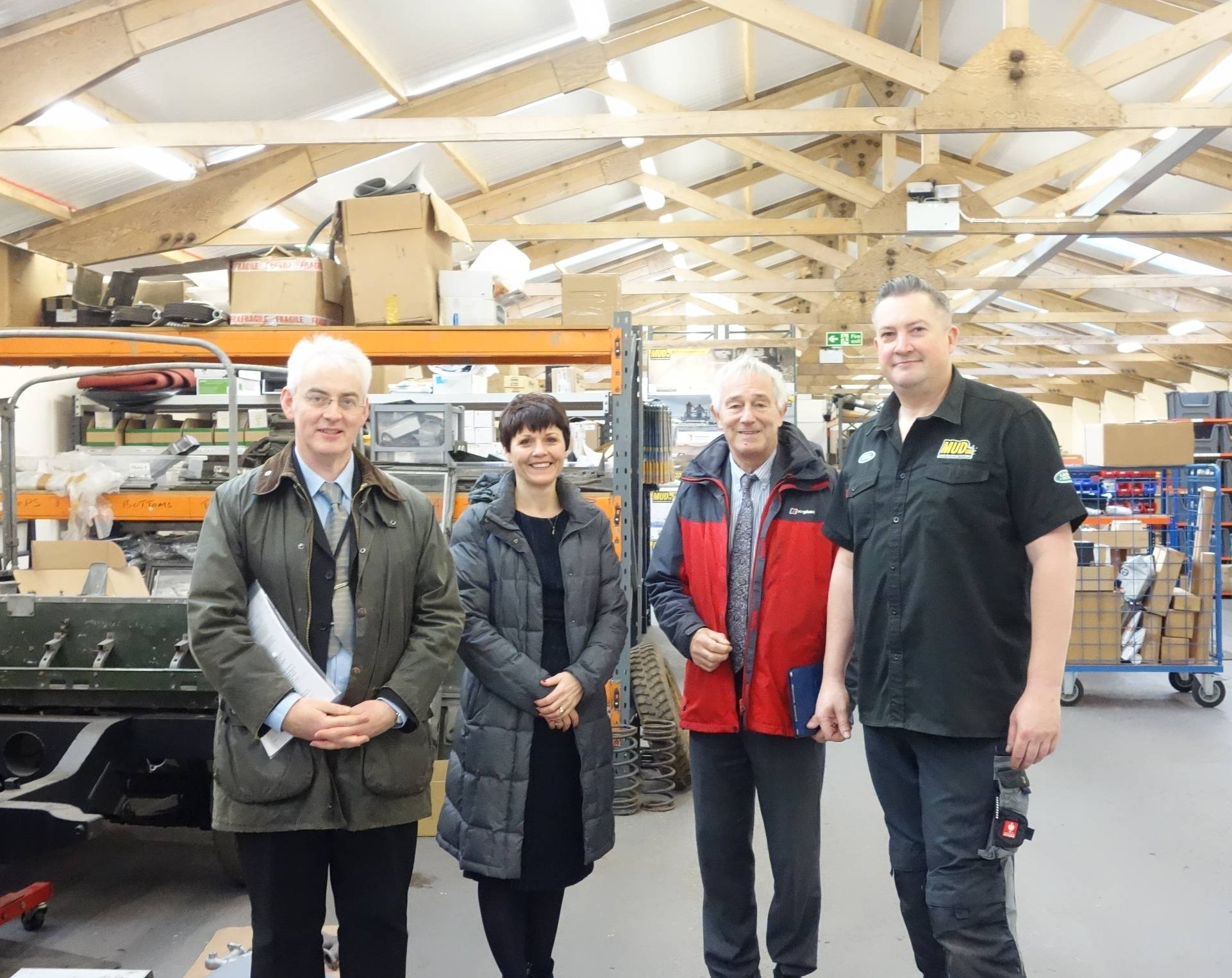 As well as 90% of Calderdale businesses being back in full operation after the 2015 floods, in some cases the flooding has inspired investment and new business opportunities.
Examples include Make Solutions, Blazing Saddles and VisioSound. As a result of the floods, all three businesses now have premises at the thriving Craggs Country Business Park in Cragg Vale, Mytholmroyd. The recently completed park is bringing a welcome boost to the local economy thanks to the vision, creativity and determination of the landowner and support from Calderdale Council. 
The floods prompted the growth of Make Solutions, as they took on contracts and staff from another family company, Halifax Wireform, which had closed down after being flooded. Blazing Saddles has kept its cycle shop in Hebden Bridge, but since it was flooded it has expanded and now runs a test ride centre from a second site at the business park. After being flooded and losing its stock, VisioSound was supported to keep trading in the area by the Council, moving to temporary premises at Topland Country Business Park before settling in bigger, more suitable premises at Craggs with the help of a Council business rates discount. 
The Craggs Country Business Park now employs around 100 people and has been transformed from eight derelict turkey sheds into high quality, modern business units with wonderful views across the valley to the Stoodley Pike Monument.  
Landlord Heidi Bingham bought the site five years ago and a number of businesses were gradually attracted over the next four years. However, just over a year ago, three agricultural buildings still needed to be converted into industrial units to complete the development. Due to the slow property market, Heidi wanted pre-lets before risking investment in the conversions, but this meant that prospective occupiers only had derelict wooden shells to view and this was discouraging them and preventing development.
That's where the Council's site unlocking scheme came in. The Council works with landowners and private developers to identify obstacles stopping sites moving forward for business development. The aim is to transform empty or unused sites into business units to house Calderdale's growing firms, attract new businesses from within and outside the borough and create new jobs.
To enable the development of The Craggs Country Business Park to be completed, the Council awarded a one-year business rates discount to the three units to increase the developer's confidence in letting them, and as a result refurbishment began before tenants were identified. This enabled prospective tenants to see the potential of the location and enabled them to move quickly, leading to accelerated take-up of the new space and the business park quickly becoming fully occupied.
Heidi Bingham said:
"Pre-letting derelict buildings before renovating them was a big risk, and the Council's business rates discount made all the difference. Being able to offer financial help to potential tenants doubled the speed of the business park's progress, enabling both me as the developer and tenants to take a leap of faith.

"I'm delighted with the business park – there's lots of character, unrivalled views, good links to the motorway, a brilliant mix of firms – some trading worldwide – a real business community and a great apprenticeship scheme – we won the National Apprenticeships Awards in the Newcomer SME of the Year category last month. And being able to help flooded businesses has made it even more worthwhile." 
The business rates discount scheme gives a one-year 100% discount on new business rates resulting from new or improved employment floor space. It also encourages the improvement of existing floor space by discounting any extra business rates due to improvement for a year.
Cllr Barry Collins, Calderdale Council's Cabinet Member for Regeneration and Economic Development, said:
"Just over a year on from the floods, the message is loud and clear – businesses want to invest in Calderdale; they want to stay here; they want to grow here. Calderdale has many small businesses which are the backbone of our economy and it's vital that we keep supporting them – for example, by helping to unlock the full potential of The Craggs Country Business Park."
Kevin Baldwin from MUD UK – one of the new unit occupiers and exporter of Land Rover products worldwide – has benefited from the business rates discount and said:
"Moving to The Craggs Country Business Park has doubled the amount of space compared to our previous location, meaning we can order and store more products and benefit from lower unit costs. The business rates discount has been a massive help and has allowed us to grow without the financial impact of higher rates."
For more information about the site unlocking and business rates discount schemes, please contact Calderdale Council's Site Unlocking Officer, Duncan Cooper: duncan.cooper@calderdale.gov.uk / 01422 392254.