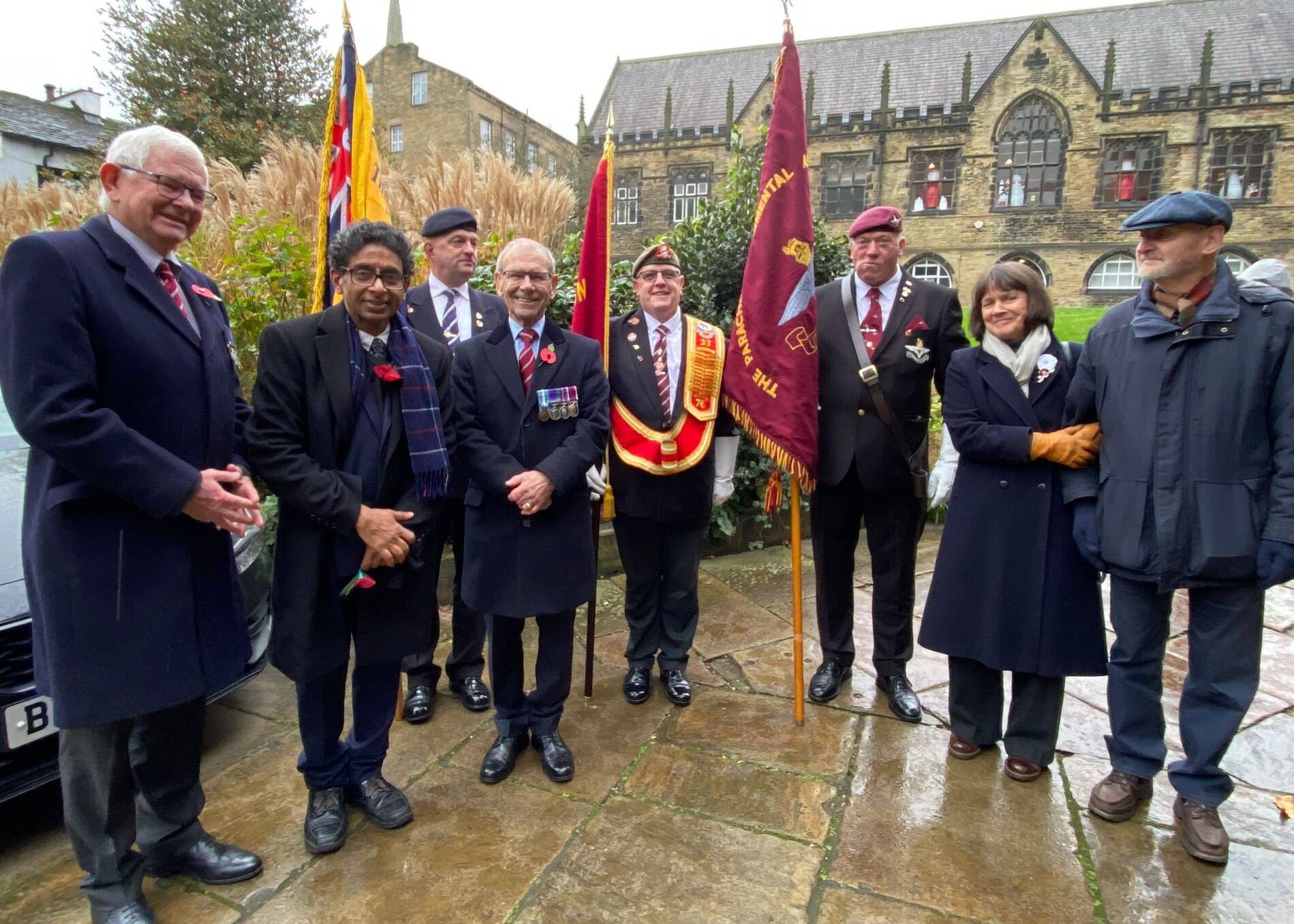 Events in Calderdale are increasing awareness of different faith communities and strengthening connections this Inter Faith Week(external link) (Sunday 12 – Sunday 19 November 2023).
Calderdale's support for the national week officially began on Remembrance Sunday, with Calderdale Interfaith members coming together to attend the civic service at Halifax Minster to honour those who have served and sacrificed. Representatives from Calderdale Council and other organisations were also in attendance.
A Calderdale Interfaith representative read a statement at the Cenotaph, and each faith representative led a prayer from their tradition at the civic service. Everyone came together to remember the contributions of all faiths and none, and to consider how best to create a peaceful and harmonious world.
People from all of Calderdale's diverse communities are invited to join the borough's annual faith walk on Saturday 18 November. It starts at Jami' Masjid Noorani Mosque on Gibraltar Road, Halifax at 1.30pm, and progresses to St Hilda's Church, Gibraltar Road for 2.30pm. The event is an opportunity to listen to speakers talking about their beliefs and to ask questions. The aim is to build better relations and promote social cohesion.
Calderdale's different places of worship welcome school pupils all year round to encourage learning across faiths. During Inter Faith Week, Madni Mosque in Halifax is hosting a visit by local primary school pupils. Children will tour the Mosque, learn about Islam, observe the call to prayer at midday and ask questions.
Cllr Jenny Lynn, Calderdale Council's Cabinet Member for Public Services and Communities, said:
"Calderdale's faith sector plays an important role in bringing communities together to promote a shared sense of belonging and fostering good community relations. It demonstrates the borough's kindness in action and continues our proud tradition of diversity, inclusion and togetherness. We saw powerful examples of this during COVID, where faith communities provided a valuable source of awareness, care and comfort at a very challenging time.

"By supporting Inter Faith Week each year, we hope to strengthen good interfaith relations at all levels, increase awareness of the different and distinct faith communities across our borough; celebrate and build on the contribution that their members make to their neighbourhoods and to wider society; and increase understanding between people of religious and non-religious beliefs."
The Inter Faith Network for the UK leads Inter Faith Week nationally, and contributes to interfaith understanding, harmony and cooperation.
Commenting nationally, The Revd Canon Hilary Barber and Narendra Waghela, Co-Chairs of the Inter Faith Network for the UK, said:
"Inter Faith Week is a fantastic opportunity for people of all faiths and beliefs to: mix and learn in neighbourhoods, workplaces, schools and universities and other contexts; visit places of worship of their neighbours and find out why their faith matters to them; get past stereotypes and misunderstandings and increase religious literacy; celebrate; dialogue; and volunteer together to help their local community."
Encouraging positive conversation between people of all faiths and beliefs is a key part of Inter Faith Week. People of all backgrounds can use the week as an opportunity to open up conversations with their colleagues, friends and neighbours of different faiths or non-religious beliefs. Tips and pointers are available at www.interfaithweek.org/resources/dialogue(external link)
Get involved using #Interfaithweek on social media and tagging @ifweek on Facebook, LinkedIn, Instagram and X.