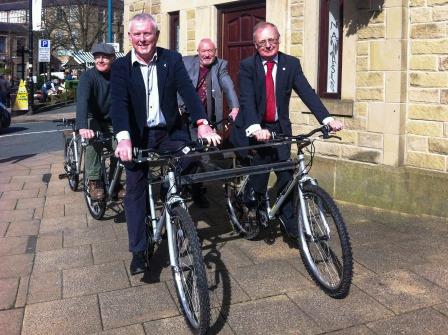 The Tour de France's Grand Depart has, for the first time in its history, a cultural festival to accompany it. It is an ambitious cultural event designed to promote the county's artistic richness and breath-taking landscapes to residents and visitors alike. 
This week is the start of the festival and there's lots happening across Calderdale throughout the 100 days. The first workshop takes place on Saturday 29 March at 2pm at the Birchcliffe Centre in Hebden Bridge, involving the innovative Cheer Sing project where you can learn to devise, lead and perform your own chant-songs and clapping-raps to raise a mighty wave of support for the racers on the Tour weekend. 
The Festival will consist of commissioned and independently produced activity embracing all art forms. The focus will be across Yorkshire, with Calderdale playing a key-role, co-ordinating local authority support for the Festival. The Yorkshire Festival runs for 100 days from 27 March to 6 July, building up to the Grand Depart weekend in July. 
The first commissioned project in Calderdale takes place on Saturday 5 April, with the incredibly ambitious The Grand Departs project. Imove is working with Hebden Bridge Piano Festival, local artists and some of Calderdale's most determined cyclists to pull a grand piano, on a PianoPorté designed and engineered by sculptor Andy Plant, up the longest continuous incline in England. While it climbs the six miles up Cragg Vale, local amateur and professional pianists, including star performers from Hebden Bridge Piano Festival, will play a specially commissioned musical cycle, live and in-transit.
 Councillor Tim Swift, leader of Calderdale Council, who has co-ordinated local authority support for the festival, said:
"There is a wonderfully diverse range of events across Yorkshire during the 100 days. This is our chance to show the world some examples of the creative spirit of our region – but at the same time, gives us all a chance to enjoy the build of excitement across Yorkshire throughout the 100 days leading up to the Tour de France. Our Council has been delighted to have the chance to coordinate support for the Festival and we know thousands of people are going to enjoy taking part."
Running alongside the main festival is a fringe event featuring an eclectic mix of projects.  Calderdale schools are involved in the exciting 'Rhythm in the Riding' project where local schoolchildren will write and create their own special Tour de France songs. Workshops starting this week will enable each school to write the lyrics and music for their own unique song, with support from famous poet Paul Cookson and composer Sam Dunkley, and members of school staff. All participating pupils will sing their songs in a flashmob at the Halifax Food and Drink Festival on Saturday 21 June 2014. 
Information about all the Yorkshire Festival activities are available on a dedicated website festival.yorkshire.com which will be continually evolving and growing, right up until July 2014. With such a varied range of events through the Yorkshire Festival 2014 there's something for everyone and lots of opportunities to get involved!
 The Grand Départ of the Tour de France takes place in Yorkshire on the weekend of the 5th and the 6th July. The second stage races through 35 kilometres of Calderdale on Sunday 6 July.  More details about the Tour de France in Calderdale are available online at visitcalderdale.com(external link) or follow Inner Cyclist on Twitter – @InnerCyclist
For more information on the events based in Calderdale and across Yorkshire 'like' Yorkshire Festival on Facebook or follow Yorkshire Festival 2014 on Twitter – @YFest2014