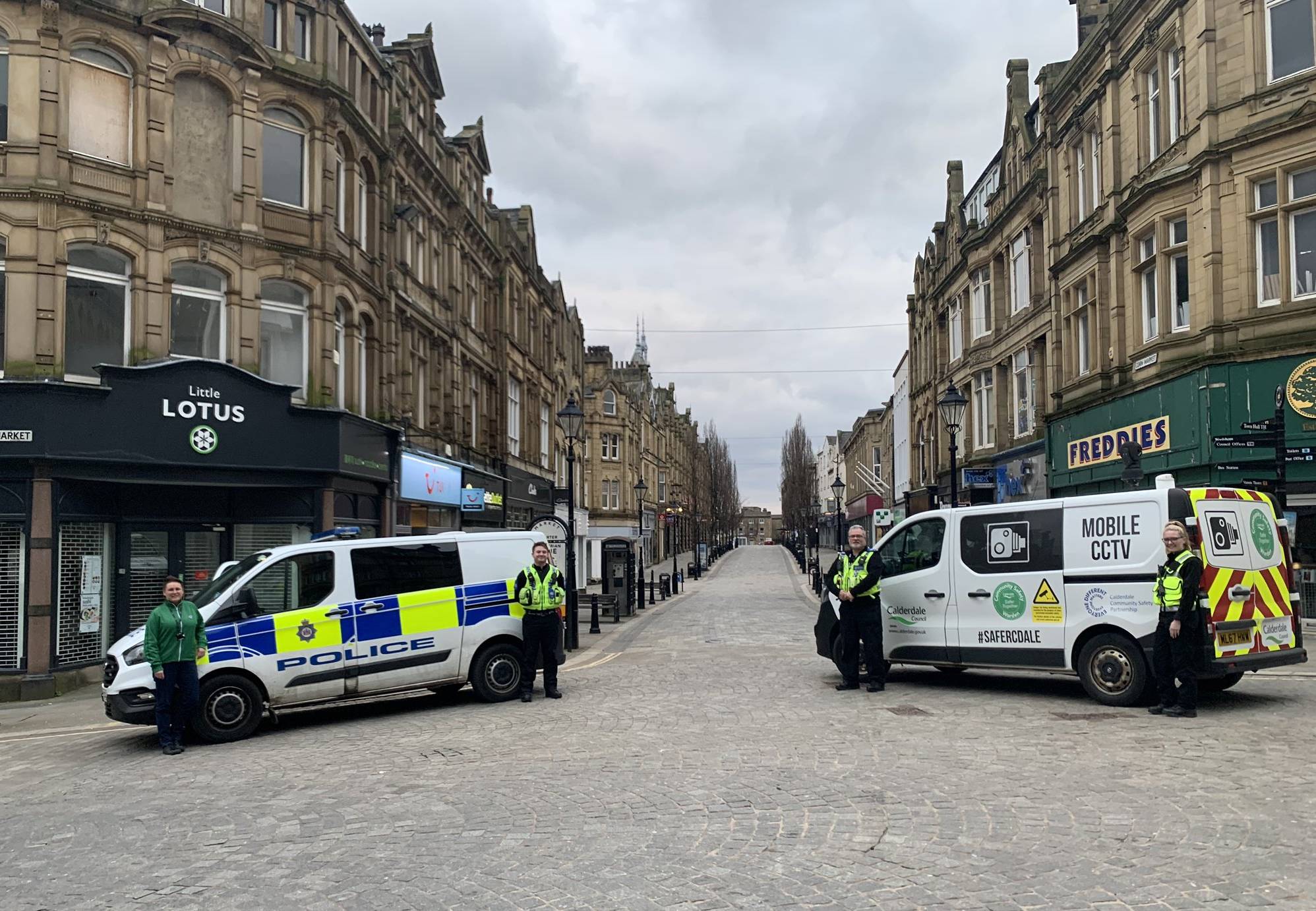 Calderdale Council and West Yorkshire Police are working together to help keep local people safe during the COVID-19 'stay at home' period.
The Government's guidance on staying at home and away from others (social distancing)(external link) is in place across the country to protect the NHS and save lives. To reduce the spread of the virus, we must all reduce our day-to-day contact with other people and follow the measures introduced nationally:
Requiring people to stay at home, except for very limited purposes
Closing certain businesses and venues
Stopping all gatherings of more than two people in public
The joint efforts of Calderdale residents to stay apart are having an impact – streets across the borough are much quieter, and that's a sign of the incredible national endeavour to fight this terrible virus.
Calderdale Council's Community Protection Team is working in partnership with West Yorkshire Police to look after Calderdale's communities and ensure people understand the national guidance so that everyone can play their part in protecting each other. Any enforcement will be proportionate and focused on ensuring public health and safety.
During their usual patrols (taking into account social distancing), the Council's community safety wardens and youth offending team, and Police officers are engaging with people in public areas, helping them to understand what they should be doing and why it's so important. They're out and about giving a reassuring presence at this difficult time.
If they become aware of instances where people are putting themselves and others at risk, such as large public gatherings, they will politely encourage compliance with the stay at home rules. If people do not comply, officers will advise and warn if necessary and may use powers under the new Health Protection (Coronavirus, Restrictions) (England) Regulations 2020 where there is no other option. These powers would be used sensibly, with everyone's safety in mind.
Cllr Susan Press, Calderdale Council's Cabinet Member for Public Services and Communities, said:
"We urge everyone to support the ongoing, united fight against COVID-19 by following the stay at home advice. It's there to keep us all safe and well.

"Our community safety wardens, in partnership with the Police, are out and about on the frontline providing support and reassurance at this testing time. I'd like to thank them all for their efforts, on top of their usual essential services.

"They all have our safety in mind and will only take enforcement action if they really have to. They would prefer people to voluntarily comply with the rules, and we know that many are, but they won't hesitate to enforce if people persist in putting their own health, and that of others, in danger."
The Council is also continuing with other kinds of monitoring and enforcement work throughout the pandemic – for example, ensuring businesses and premises are complying with the national guidance, and making sure cars aren't parked dangerously or inconsiderately following the temporary suspension of parking charges in Calderdale to support key workers.
If people become aware of any business malpractice, they are asked to report it by emailing communityprotectioncovid@calderdale.gov.uk
Any cases of anti-social behaviour can be reported on the Council's website. As well as the regular warden and youth offending team patrols throughout Calderdale, officers are ready to respond to any reports of anti-social behaviour.
The Council's Youth Service is continuing during the COVID-19 outbreak, providing mobile and web-based support to young people. This is to encourage them to take part in positive activities at a safe distance and to reduce any anti-social behaviour.
Breaches of the COVID-19 restrictions can be reported using West Yorkshire Police's online form(external link).
The work to keep local people safe and feeling safe, and to tackle any issues with offending and anti-social behaviour, is part of the Calderdale Community Safety Partnership, which is made up of several organisations and can be followed on Twitter using #SaferCalderdale.
For up-to-date and reliable information about COVID-19, use trusted sources such as:
www.gov.uk/coronavirus(external link)
www.nhs.uk/coronavirus(external link)
www.calderdale.gov.uk/coronavirus
The Council urges everyone in Calderdale to follow the Government guidance on Staying at home and away from others(external link). This is the single most important thing you can do to protect the NHS and save lives. As well as social distancing, you can reduce the risk of catching and passing on COVID-19 by washing your hands(external link) with soap and water often, for at least 20 seconds, avoid touching your face and follow the 'catch it, bin it, kill it(external link)' guidance.
Calderdale Council continues to work on all aspects of the response to COVID-19. At its Cabinet meeting on Monday 16 March, the Leader of the Council, Cllr Tim Swift, announced a 10-point plan detailing how the Council will respond to the risks related to COVID-19.
The Council continues to closely monitor the rapidly developing situation and rigorously follow national guidelines. All services are ready to adapt as necessary.
Keeping well, physically and mentally, is really important if you're social distancing. Your usual sports club may not be running, but there are lots of things you can do to stay active and still practise social distancing – go to https://active.calderdale.gov.uk/ for some great ideas. Equally, make sure you look after your mental health. This advice(external link) from the BBC gives you some ideas on how to do that.