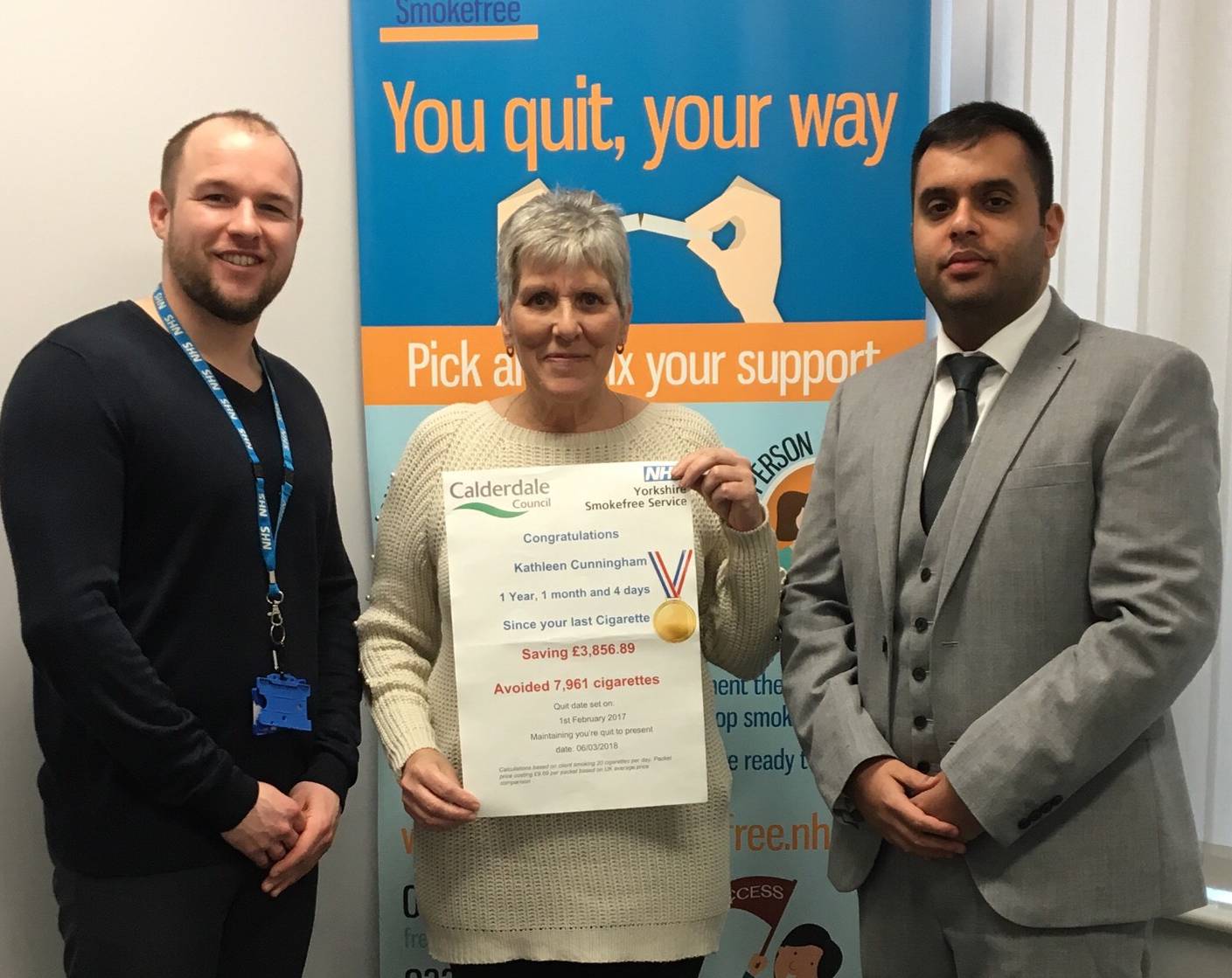 This No Smoking Day (Wednesday 14 March) Calderdale smokers are invited to give up the habit, with support from Yorkshire Smokefree Calderdale.
No Smoking Day takes place on the second Wednesday of March every year. It's a day to encourage smokers to quit and to promote the benefits of being smoke free.
This year, Yorkshire Smokefree Calderdale and Calderdale Council are reminding people that there is a variety of support available for anyone who is thinking of quitting smoking.
Yorkshire Smokefree Calderdale is a specialist stop smoking service to help people quit, funded by Calderdale Council and run by South West Yorkshire Partnership NHS Foundation Trust. There are several types of free support available, from one-to-one advice to group sessions, and support can be online, on the phone or in person in community venues across Calderdale, including GP practices, pharmacies and supermarkets.
Evidence shows that people are up to four times more likely to quit successfully with NHS support.
Quitters can also access a voucher for a variety of stop smoking medications, plus advice on using e-cigarettes as an aid to quitting.
Kathleen Cunningham, a Calderdale resident, stopped smoking with support from Yorkshire Smokefree Calderdale and says:
"My whole outlook on life has changed. I now go out walking with my dog and can walk and breathe better than I have done in 20 years. My cough has disappeared and I can sleep better. I have also noticed my dog's health has improved and I'm happier knowing he now lives in a smoke-free household."
Read more about Kathleen's story on the Yorkshire Smokefree website(external link).
Jan Spence, Manager of Yorkshire Smokefree Calderdale, said:
"No Smoking Day is a fantastic opportunity for any person thinking of quitting smoking. We know at Yorkshire Smokefree Calderdale that if you quit for four weeks with support and the right medication, then you are more likely to stay stopped for good."
Cllr Faisal Shoukat, Calderdale Council's Cabinet Member for Public Health and Inequalities, said:
"We know that quitting smoking can be difficult, but with support from Yorkshire Smokefree you're much more likely to succeed. There's support to help everyone.

"In addition, if you quit for four weeks, you can receive free vouchers to sample fitness or swim sessions at any of Calderdale Council's leisure centres. You'll not only feel the benefits of stopping smoking, but also those of regular exercise."
Paul Butcher, the Council's Director for Public Health, said:
"Recent National Stop Smoking Service statistics show that Yorkshire and Humber had the highest proportion of successful quitters in the country. Why not use No Smoking Day as the springboard to join them and give up smoking for good?"
For more information, contact Yorkshire Smokefree on 0800 612 0011 (free from landlines), or 0330 6601 166 (free from most mobiles) or visit www.yorkshiresmokefree.nhs.uk(external link)
You can also visit www.facebook.com/ysmokefree(external link) or twitter.com/YSmokefree